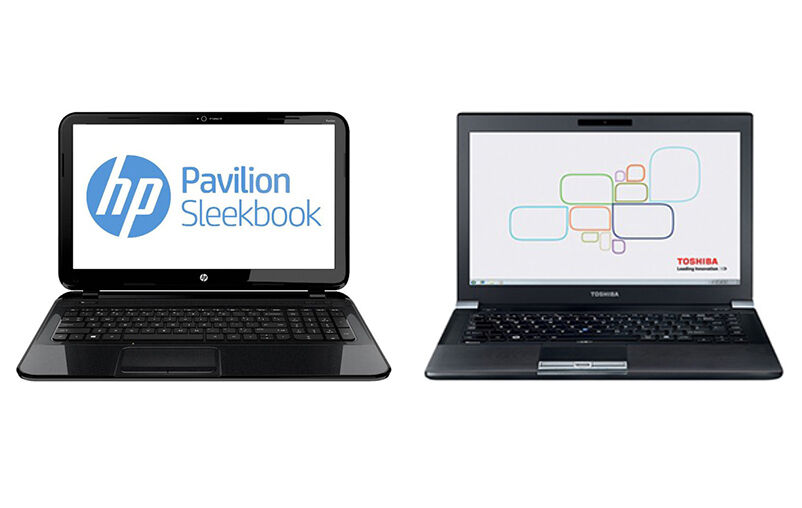 With so many options available, buying a new laptop can be an intimidating project. Two of the most popular laptops currently on the market are the Toshiba Tecra R94 and the HP Pavilion TouchSmart SleekBook. Examining the specifications on both of these laptops will help buyers to see their merits and decide between them.
Laptop Features
Designed for everyday home use, the HP SleekBook laptop comes preloaded with Windows 8 and has touchscreen capability. The Toshiba Tecra R940, on the other hand, is designed to be a great business computer. Listed below are the specifications for each laptop, followed by an explanation of what exactly these numbers mean.
Features

Toshiba Tecra

HP SleekBook

Memory

4GB DDR3

6GB DDR3

Processor

2.6GHz i5-3320M (Intel)

1.8GHz A8-455M APU (AMD)

OS

Windows 8 (64-bit) OR Windows 7 (64-bit)

Windows 8 (64-bit )
Hard Drive
7200rpm
500GB
5400 rpm
750GB
Graphics Processor
Intel HD 4000
AMD Radeon (7600)
Max Resolution
1366 x 768
1366 x 768
Display Type
14in LED screen
15.6 in touchscreen
Optical Drive
DVD Rewriter
DVD Rewriter
Processor
While both computers have quad core processors, the Toshiba Tecra's Intel i5 processor comes in at a full .8GHz above the HP SleekBook's AMD A8. This means that the Tecra is able to run several programs at once without slowing down or freezing, and won't have a problem keeping up with programs that have a high CPU usage. In layman's terms, the SleekBook is much more likely to start freezing up if its user is doing multiple things at once.
Memory
The HP SleekBook wins out in this category with 50 percent more RAM memory than the Toshiba Tecra. The lower RAM memory means that they Tecra can be slightly slower than the HP SleekBook. However, the Tecra's faster processor will compensate for this somewhat. Both computers have a maximum RAM capacity of 8GB, meaning that users can add more RAM memory if they wish (a relatively easy and inexpensive upgrade.)
Hard Drive
The winner of this category is entirely a matter of personal preference. The HP SleekBook has a 750GB hard drive, making it a superior choice for users who store a large amount of data (such as music and movies) on their computer. The Toshiba Tecra has a considerably smaller 500GB drive, which should be more than large enough for the average user, but could run out of space for users who keep a lot of data.
The Tecra's hard drive, however, has a much faster read/write speed than the SleekBook. This means that the Tecra will take much less time to load files and programs than the SleekBook, making it the ideal option for users for whom speed is the biggest consideration.
Operating System
Windows 8 was designed for touchscreen computing, meaning that it will work flawlessly on the HP SleekBook but may take a little getting used to on the Toshiba Tecra. However, used Tecras are likely to still have the Windows 7 operating system.
Graphics
The HP SleekBook has a dedicated AMD Radeon graphics card, whereas the Toshiba Tecra has an Intel integrated graphics card. This means that graphics intensive programs, such as video games, will run more smoothly on the SleekBook. The SleekBook's larger screen also makes it a better option for games and videos.

Buying a Laptop on eBay
There is a large selection of new and used laptops available on eBay, including both the Toshiba Tecra r940 and the HP Pavilion TouchSmart SleekBook. To begin browsing, navigate from the homepage to Electronics, Computers & Tablets, and finally Laptops & Notebooks. The options can be narrowed down to new or used laptops, or buyers can search by make or model.
When purchasing a laptop on eBay, always buy from sellers with a history of positive feedback. Look for laptop listings that contain detailed descriptions and plenty of pictures. For any additional information about the computer, don't be afraid to contact the seller; a reputable seller will be more than happy to answer any questions. Make sure that the listing explicitly states that the computer is in working order before bidding.

Conclusion
While both the Toshiba Tecra r940 and the HP Pavilion TouchSmart SleekBook are quality computers, they each serve a different function. Those in the market for a fast, high-powered business machine might prefer the Toshiba Tecra. On the other hand, computer users that need a machine built for entertainment purposes will find the HP SleekBook is the better option. No matter which computer buyers choose, eBay is one of the most affordable and easy places to buy a new or used laptop.