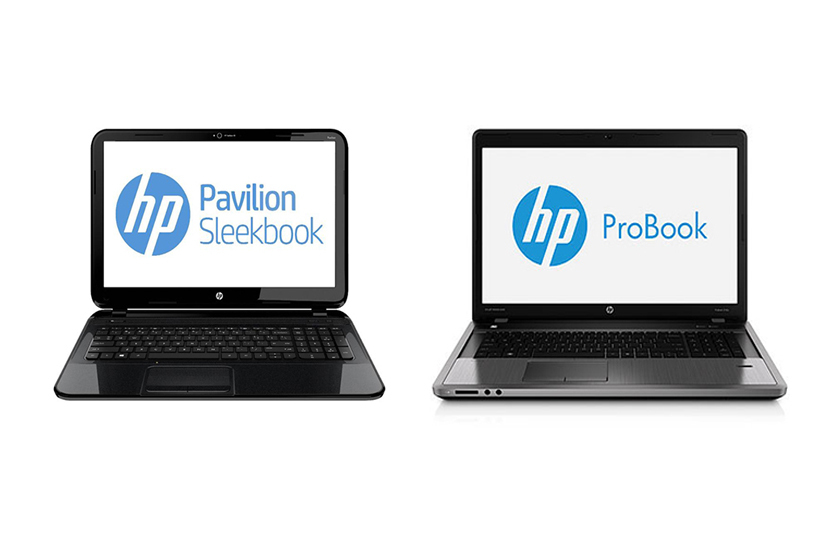 Comparing and contrasting two different laptops is not always easy. Whilst on the surface differences may be apparent when looking at specs, there are other matters to consider – the purpose and audience the laptop is aimed at for example. This guide will look at two HP Laptops – TheProBook Core i5 4740S and the HP Pavilion TouchSmart SleekBook – and examine their purpose, features and specs in detail, as well as give information about purchasing either on eBay.
Comparing Key Features
In order to understand these two laptops, the first thing to do is to get to grips with some of the notable selling points. To do this, the key features will be laid out next to each other, so that quick comparisons can be made. These features will then be examined in further detail, noting how each relates to the function of the two laptops. The key features are in the table below:
| | | |
| --- | --- | --- |
| Feature | HP ProBook Specification | HP SleekBook Specification |
| Processor | Intel Core i5-3210M 2.5GHz | 1.8GHz AMD A8-455M APU |
| Memory | 8GB (DDR3) | 6GB, 1,600MHz DDR3 |
| Hard Drive | 750 GB 7200 rpm SATA II | 750GB 5,400rpm |
| OS | Genuine Windows® 8 Professional 64 | Microsoft Windows 8 64-bit |
| Display Type | 17.3" LED-backlit HD+ anti-glare (1600x900) | 15.6 in Touch Screen |
| Max Resolution | 1600 x 900 | 1,366x768 |
| Graphics Processor | AMD Radeon HD 7650M with 2 GB dedicated GDDR5 video memory | AMD Radeon 7600G |
| Optical Drive | DVD+/-RW SuperMulti DL | DVD Rewriter (Records DVDs 8x & CDs 24x & Dual Layer Super Multi) |
What is initially apparent is that these two laptops are intended for different groups of users. The ProBook is a business laptop, complete with Windows 8 Professional and a Core i5 processor. It is robust and secure, making it perfect for the small-to-mid size business user. The SleekBook on the other hand is a multimedia device, with an LED touchscreen, suitable for a user who is looking to use it for basic programs and games and surfing the internet. To understand better why this is, some of the key features need to be examined in greater detail:
Processor
The HP SleekBook uses what is called an APU; basically a CPU with a graphics processor on the same chip. It is reasonably fast at 1.8GHz and is suitable for the average user.
This compares to the 2.5GHz Intel Core i5 found in the HP ProBook. This is a serious bit of kit, capable of processing even the most demanding of processes, as well as running multiple applications at the same time. This is why it is such a good business tool – it can multitask. That's not to say the SleekBook can't, it's just not as efficient.
Memory
Both of these laptops come with a fair amount of RAM – 8GB in the ProBook and 6GB in the SleekBook. Both use the highest quality DDR3 RAM which transfers data more efficiently than ever before. RAM is memory that is dedicated to system processes and helps the processor with multitasking. It can be upgraded in both depending on how many slots there are, and this task can be completed by users who have some confidence and knowledge when it comes to the workings of a computer.
Hard Drive
These two laptops both have 740GB hard drives, which give enough storage space for plenty of applications, documents and multimedia items. The difference is in the speeds of the hard drives – 5,400rmp in the SleekBook but 7,200rpm in the ProBook. This faster speed gives the latter an advantage when it comes to reading and writing information to and from the hard drive, meaning that documents and applications open and save quicker.
Other Features
Some other features that differ include:
· The display type: The ProBook has a 17.3 inch anti-glare LED screen which is perfect for viewing in tough lighting conditions. The SleekBook has a smaller, lower resolution screen but it does have touchscreen functionality, making it better suited to Windows 8.
· Both have aesthetically pleasing finishes – a brushed aluminium one on the ProBook and a black gloss on the SleekBook. Both will need a laptop case to keep them in good condition. A set of HP drivers is also recommended.
· Both have dedicated graphics cards, although the ProBook's is more powerful, with 2GB of dedicated memory. Both should be able to play the latest games on low-mid settings.
Buying an HP ProBook 4740S 17.4" Or TouchSmart SleekBook on eBay
After examining the key specs, the customer should be able to decide which of these laptops is best suited to them. They can then visit theLaptops and Notebooks section of eBay's Electronics category. There are then some features to help the customer find the item they're looking for:
Filters
The left-hand filter system allows the customer to refine a search or category result to only items which are relevant to them. Filters such as price range, condition and brand can be chosen from.
Product Details
By clicking on the remaining listings, a product information page for that item will be displayed, showing a detailed description, specifications, image gallery, and seller info. This allows the customer to properly research their desired items.
Sellers
The seller of an item also has their own information page where the customer can research previous customers'ratings as well as the option to contact the seller.
Buying Options
There are two types of listing on eBay. The first is Auctions, where bids are placed in the time limit and the highest bid winning. The second is called Buy It Now, where the customer can make a purchase without having to wait for the listing time to expire.
Conclusion
This guide has shown that these two laptops are each suited to different purposes, but that there are similarities between them. When shopping on eBay the buyer protection programme makes it safe for the customer to find and buy the right item.