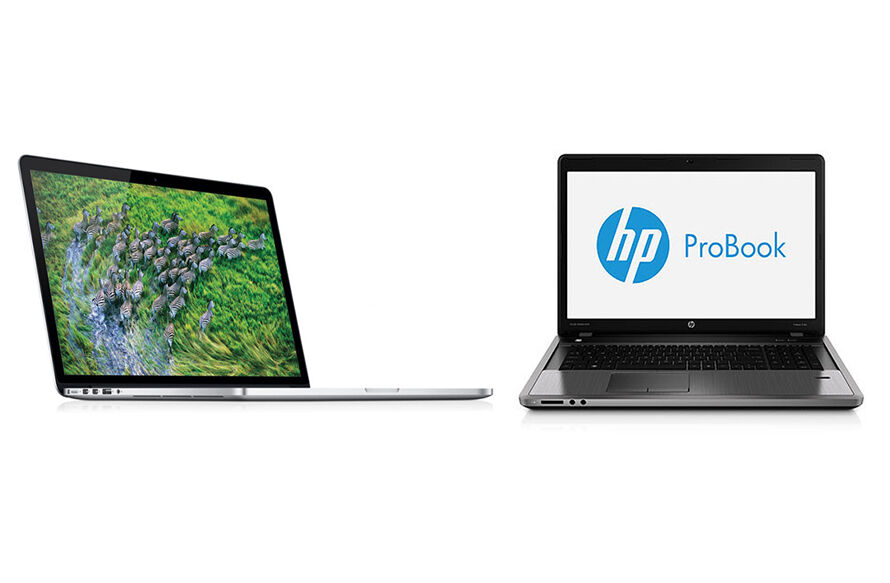 Buying a high-spec laptop is no easy matter, especially with the prices involved. Often the choice comes down to intuition or some factors that aren't particularly relevant. This guide aims to clearly lay out the differences between the HPProBook Core i5 4740S and the ProBook Core i5 4740S so that potential customers can discern which best suits their needs. This will involve and in-depth look at their features, as well as detail how to purchase on eBay.
Comparing Key Features
To understand these two machines and all they're capable of, the first thing to do is to examine the key specifications of each. This will allow customers to quickly glance at competing stats to see what's what. However, more detail is needed about how the specifications affect performance and make the laptops suitable for different user bases. As a basic overview, the HP ProBook is a business machine that would suit the owner of a small or medium size business. The Apple MacBook on the other hand offers users a brilliant multimedia and graphic performance machine. The table below shows the specifications of each:
| | | |
| --- | --- | --- |
| Feature | HP ProBook Specification | MacBook Pro ME665X/A Specification |
| Processor | Intel Core i5-3210M 2.5GHz | Intel Core i7 (2.7Ghz) |
| Memory | 8GB (DDR3) | 16GB (DDR3) |
| Hard Drive | 750 GB 7200 rpm SATA II | 512GB Flash Storage |
| OS | Genuine Windows® 8 Professional 64 | OS10.8 Mountain Lion Preinstalled |
| Display Type | 17.3" LED-backlit HD+ anti-glare (1600x900) | 15" LED Retina Display 2880x1800 @ 220 ppi |
| Max Resolution | 1600 x 900 | 1,920 x 1,080 |
| Graphics Processor | AMD Radeon HD 7650M with 2 GB dedicated GDDR5 video memory | Intel HD 4000 Graphics plus NVidia Ge-Force 650M with 1Gb |
| Optical Drive | DVD+/-RW SuperMulti DL | Integrated DVD+/-RW +/-DL |
It is clear to see that whilst both of these machines are filled with powerful components, there is a great difference between almost all of the different features. To understand this further, some of the key components will be examined in greater detail below:
Processor
Both of these machines use the powerful Intel Core processors; the 2.5GHz i5 in the ProBook and the 2.7GHz i7 in the MacBook. These are market leading processors and will deliver plenty of power for even the most strenuous processes. Whilst the i5 is more than adequate for most users, the i7 is targeted at those looking for advanced programs such as video and graphical software and editing programs.
Memory
There is 8GB of DDR3 RAM in the HP laptop, enough to multitask all but the most resource-hungry programs. DDR3 is the most up to date type of RAM, offering unrivalled data transfer speeds. The Mac has a huge 16GB of the same RAM, giving it power and resource to multi task the very top end of applications. RAM essentially dedicated its memory to system tasks, helping the processor deal with everything that is running on the machine.
Operating System
Windows 8 Professional is installed on the HP ProBook, giving users an unrivalled business experience. There are plenty of tools and programs to help keep on top of all business matters, and the platform is compatible with all industry-leading software. The Mac has the latest Mac OS (10.8 at time of release) and this platform is ideal for those looking to move into multimedia pastures. The sheer configurability and specialist programs make it a must-have for those editing and creating multimedia.
Other Features
There are some other comparable and contrastable points about this pair of high-end laptops:
Hard Drive : There is a difference here in that the HP model has an integrated 750GB hard drive with speeds of 7,200rpm, whilst the Apple model has 512GB of flash storage which is easier to upgrade but not as fast. Both have ample space for storing files, programs and multimedia.
Display Type : Whilst the HP has an impress HD LED screen with anti-glare coating, the Mac has a stunning LED Retina Display, with a resolution of 2880x1800. Although the screen is smaller on the Mac it offers a far greater resolution compared to the 1600 x 900 HP screen.
Graphics Processor : Both have dedicated graphics cards which are capable of playing the latest games on medium settings, but the HP laptop has 2GB of dedicated memory compared to 1GB on the Mac.
Buying an HP ProBook 4740S 17.4" or a MacBook Pro ME665X/A on eBay
It's clear that these two laptops are for different audiences, but whichever one a customer chooses, they'll be able to buy it with ease from eBay'sLaptops and Notebooks section of the Electronics category. There are some site features which help the customer out:
Side Refines
To the left of the site, after searching or navigating to a category, there is a series of filters which allows the user to narrow down the results that are displayed. This means that only relevant results are seen.
Product Listings
After clicking on one of the remaining products, that product's listing page will appear, giving further details such as a full description and spec list, image gallery and seller details.
Sellers
Sellers have their own pages where customers can review the ratings that previous customers have given them, as well as the option to contact the seller about a specific item.
Buying Options
When a decision has been made, there will be one of two choices when it comes to purchasing. Auctions require a bid to be made within a time limit, with the highest bid winning. There is also the choice on some listings to Buy It Now, purchasing the item there and then.
Conclusion
It is clear that these are two powerful laptops, each aimed at a different market segment. Choosing between the two should be easier thanks to the details laid out in this guide. When making a purchase on eBay there are numerous options to help the seller, who is protected buy eBay's buyer protection programme.