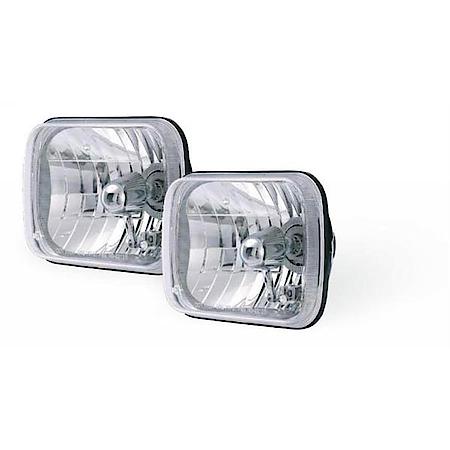 Halogen lights are one of the most popular options for headlights because they are more affordable and last longer than standard incandescent headlights. Halogen lights are simply incandescent light bulbs with halogen gas such as bromine or iodine. While halogen headlights are typically more affordable than xenon bulbs, they also last longer, which does make a huge difference to anyone on a budget.
Anyone who is looking for halogen bulbs is most likely either trying to replace broken headlights or to upgrade the lights on their vehicle. In either case, it is important to consider the make and model of the vehicle, and even the lens. It is also possible to purchase halogen headlights used from online stores like eBay, or to pay full price by buying them new. Things to consider when purchasing halogen headlights for a vehicle include the type, energy use, and quality of the headlights.
Choosing Headlights for a Vehicle
There are many things to consider before buying headlights for a vehicle because not all headlights fit every vehicle. Most vehicles have a wattage requirement based on the energy output of the engine, and most have a specific shape that the headlight must fit into. Other considerations include any special functions that the vehicle's headlights offer, or even specific electrical requirements.
Halogen Headlight Types
There are seven basic types of halogen headlight bulbs used in most cars, although there are additional options that are less common. These bulbs are given a code ranging from H1 to H11. These numbers indicate the exact size and shape of the bulb as well as its connectivity. Usually, the type of bulb needed for a specific vehicle can be found in the user manual of the vehicle, although it may also be listed on the side of the old light bulb. Finding this number requires that the owner either take the headlight apart or have it taken apart by a professional to get the bulb inside.
Taking the headlight apart requires the proper tools, which can usually be purchased quite cheaply. The bulb can then either be used to compare the exact shape to other bulbs, or used to check for the code on the side. This number should be H1, H3, H4, H7, HB3, HB4, or H11, depending on the make and model. Notably, models with a 'B' in the number are L shaped while single letter single numeral codes are straight.
Halogen Headlight Make and Model
The first thing to consider is the exact make and model of the vehicle. Write down both as well as the year of the vehicle before looking for compatible headlights. However, this is only applicable for anyone purchasing the entire headlight rather than only a bulb insert. If the new light is only a bulb, then it is more important to pay attention to the energy requirements of the make and model, and then to settle on a proper level of brightness. Anyone who is replacing the entire headlight can simply purchase the exact same make and model of light or look for a make and model compatible with their vehicle.
Halogen Headlight Energy Use
The energy use of the headlight is one of the most important considerations because it affects not only the brightness of the bulb but also its life and its compatibility with a vehicle. Some vehicles require a specific wattage rating for their light bulbs. Light bulbs, which are often called globes, can be chosen according to their lumen rating and their wattage.
| | | | |
| --- | --- | --- | --- |
| Wattage | Lumens | Brightness | Estimated Life (hours) |
| 20 | 320 | Dim | 4,000 |
| 50 | 530 | Dim | More than 3,000 |
| 75 | 1,000 | Bright | 3,000 |
| 100 | 1,600 | Bright | 2,000 |
| 500 | 9,500 | Very bright | 200 |
Most headlights are sold with 12.8 volts and usually an average of 70 watts or higher in order to produce the appropriate amount of light. Some older bulbs might have a lower wattage rating and some might have a higher rating, depending on how bright the lights are intended to be. Notably, it is usually not a good idea to purchase lights that are too bright because they may create problems for the drivers going in the opposite direction.
Halogen Headlight Quality
There are a couple of things to consider about the quality of the lights before making a purchase. While very affordable lights can be a great idea for anyone on a budget, it is important to pay attention to the material, the lumens, the materials used, and if possible the construction of the headlight before purchase. Quality plays a huge part in overall value so usually it is better to pay a little more for a better quality halogen headlight than to simply purchase the cheapest light available.
Glass and plastic headlights each have their own definite advantages with no clear winner. However, many people today prefer clear plastics because they are more durable, more shock resistant, lighter, less expensive, and more heat resistant. While glass headlights offer a variety of benefits including brighter light, they are also more prone to cracking and becoming damaged. The benefits of glass include that it is more weather resistant, more scratch resistant, and does not yellow with age like plastic. Both options are great options and it is usually a personal decision to choose between the two.
Buying Used Halogen Headlights
Halogen headlights can be expensive but it is possible to purchase used lights. Stores like eBay frequently have a wide selection of used headlights that can be purchased, many of which have barely been used. The important thing to consider when buying second hand halogen headlights is that the average bulb has 400 to 600 hours of life in it and then must be replaced. If the light bulb has seen a great deal of use then it is not very valuable.
Things to look for include a like-new bulb that is stated as not having been used for very long. Clear glass or plastic are also a good sign as it is usually an indication that the headlight is newer and might last longer after purchase. Like new bulbs, used ones must be compatible with the vehicles wattage, size, and make and model in order to fit in the vehicle.
Buying Halogen Headlights on eBay
eBay is a great place to look for both new and used halogen headlights because there is usually a wide range of options you can choose from. You can search for halogen bulbs or a full halogen headlight, and can also look for new, in box, or second-hand options, depending on your budget and preferences. eBay makes it very easy to compare multiple options and choose the best one based on your needs and budget so you do not have to spend a lot of time picking a headlight.
Important considerations include that you should always read the item description before buying. Sellers list new, used, antique, and sometimes even for-parts items on eBay, so it is always a good idea to check to see exactly what you are getting before committing to the purchase. Checking the shipping cost and time is also a good idea, depending on your location and when you need the item.
Conclusion
Buying halogen headlights is relatively easy as long as the buyers know the type of bulb they are looking for and the requirements of their vehicle. Usually, both can be found in the owner's manual of the car although a mechanic should be able to list the same information very easily. Anyone replacing the entire headlight should choose one made for their exact make and model of the vehicle in order to get the right fit, electric fittings, and size.
Buyers can choose to purchase new headlights, or go on a site like eBay and find a used one to get a better deal. Choosing a halogen headlight bulb should involve finding the correct wattage, correct energy usage, proper brightness, as well as a specific type of bulb. Buyers should also consider whether they want to purchase the full headlight or just the bulb, whether they want to buy it online or offline, and how much they can afford to spend on it before looking for the right product.
Halogen Headlight|Car Lights|Used Headlights|Halogen Bulbs|Light Bulbs