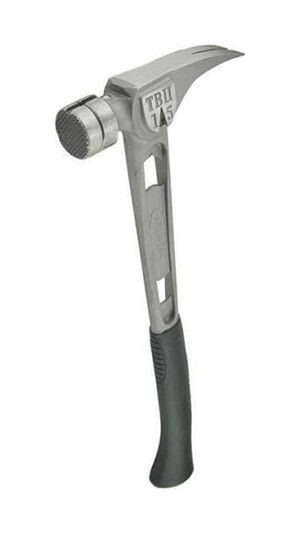 Every household should contain some basic hand tools to make life easier. Hand tools enable anyone to complete basic home repairs or minor improvements. Keeping a few necessary hand tools in a drawer or case could prove invaluable when tackling the everyday tasks that often spring up around the house.
When compiling a list of hand tools to own for everyday projects, the buyer should think about the tasks he might be performing often and what tool would work best to help him successfully accomplish the job. Here is a list of five of the top hand tools that no one should be without.
Hammers
A hammer is invaluable around the house. It can drive a nail into the wall to hang a picture or pull a nail out. A wide variety of hammers have also been designed to perform numerous other functions.
Carpenter's Hammer
A carpenter's hammer is often called a framing hammer or a claw hammer. It is designed predominantly for woodworking. A carpenter's hammer has a long handle, which gives it more driving force than a short-handled hammer. This driving force allows the user to hammer a nail into a surface with far fewer blows. When looking for a carpenter's hammer, focus on the hammer's grip. It should feature a non-slip surface so the hand does not slide along the handle with each blow. A carpenter's hammer is ideal for driving nails into wood or sheet rock to hang pictures.
Mallet
A mallet is made of rubber, plastic or soft wood. Its primary function is to drive things into soft delicate surfaces without marring.
Sledgehammer
A sledgehammer is a force to be reckoned with. This tool is ideal for home demolition because its sheer size and weight tear things apart with as few blows as possible.
Cross-peen or Warrington Hammer
A cross-peen or Warrington hammer is used to safely drive small nails into surfaces. It's a popular hammer to use when working with house cabinets.
Pliers
The three most popular pliers to have in a home's basic hand tool case are needle-nose pliers, vice grips, and wire cutter pliers.
Needle Nose Pliers
A pair of needle nose pliers can fit in small places and successfully grip any surface with ease.
Vice Grip
Vice grip pliers not only grip a surface, but will effectively hold the item in tight jaws so it can be pulled, twisted or turned.
Wire Cutter Pliers
Wire cutter pliers are similar to needle nose pliers, but they will also cut through wire.
Screwdrivers
Two of the most popular and commonly used screwdrivers are the Phillips and flat-head screw drivers. Usually, owning one of each is sufficient to remove virtually any screw in a home.
Wrenches and Sockets
A wrench and socket set allows a person to easily loosen and remove bolts and nuts from things such as plumbing fixtures. Allen wrenches come in handy when working on home appliances like garbage disposals. An Allen wrench set removes recessed, hexagonal bolts that a common wrench or socket set cannot loosen.
Saws and Other Cutting Tools
A simple wood saw will cut through a variety of wood surfaces with a bit of arm work. An alternative is to purchase a battery-powered or electric hand saw to quickly saw through both wood and metal. An axe is also indispensable for wood stove or fireplace owners.
Painting Hand Tools
Never underestimate the importance of having a few basic painting hand tools available for touch-up paint jobs or larger room painting. Paintbrushes, rollers, roller extenders for ceiling painting, and paint trays all make painting a breeze.
Chisels
Chisels are often overlooked in the home tool chest. A set of chisels can cut into wood, metal, or stone for engravings or other ornamental work.
Clamps or Vices
A set of strong clamps or vices helps hold an item in place so it can be worked on. Clamps can also be used to hold two surfaces together for gluing. A vice is often permanently mounted on a countertop or work bench, and used to hold an item in place while it's being worked on. It enables the worker to have an additional pair of hands for holding something in place.
Conclusion
Having a small, well-stocked hand tool set makes all tasks around the house easier. Tool chests often come fully stocked with basic hand tools, although individual tools are also available online on sites like eBay should you need them.