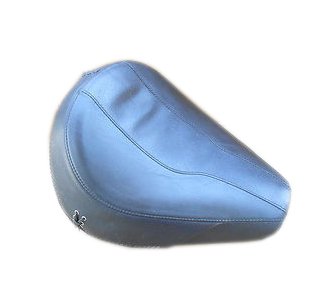 Buying the right motorcycle seat can prove to be a bit of a challenge even for the most experienced riders. There are multiple things to take into account when shopping for a new motorcycle seat, including the brand, level of comfort, compatibility, materials, and price. Whether a biker is getting ready for a short drive through town or wants to hit the road, comfort is one of the most important things to consider. Harley Davidson seats are popular with bikers of all ages and levels of experience, because they provide users with a high level of comfort and improve the quality of the ride significantly. By learning more about Harley Davidson seats, buyers can be sure they make an informed choice every time.
Things to Look For When Shopping for a Harley Davidson Seat
From air adjustable seats to custom-made ones, there are numerous types of Harley Davidson seats to choose from. Buyers who are looking to replace or upgrade the seat on their motorbike should pay attention to several factors before making a decision. The material of the seat, its type, and comfort are three of the essential elements bike owners should weigh in prior to making a purchase.
Seat Material
The material covering a Harley Davidson seat varies from one model to another. Some of the characteristics buyers should check out include the resistance to wear and tear, capacity to respire, and water resistance. One of the most popular materials used for creating Harley Davidson seats is leather, because it looks and feels good and has a high degree of breathability. The downsides of buying a Harley Davidson seat made of leather are the price, which is often high, and the fact that these seats are prone to water damage if users do not take care of them properly.
Another option for Harley Davidson seats is vinyl. The main benefit of opting for a vinyl Harley Davidson seat is that this material tends to hold its shape better than leather. It is also less expensive. Whether they opt for vinyl or leather, buyers should also purchase a waterproof cover for the seat to protect it when riding in the rain.
Seat Type
There are two main types of seats to choose from. These are rider seats and passenger seats . Another term often used for passenger seats is pillion. As their names suggest, these two types of seats are suitable for the rider and the passenger, respectively. Not all Harley Davidson motorcycles come with a passenger seat, but owners can decide to install one if space allows for it.
Rider Seat
When choosing a rider's seat for a Harley Davidson motorcycle, bike owners should first consider both the height of the seat and the shape of the saddle. The seat should allow the driver to sit comfortably and permit him or her to reach the ground easily. The width of the saddle often varies from one model to another. Sport bikes, for example, tend to have wider saddles, whereas off-road bikes often require narrow saddles that allow for greater leg extension.
Passenger Seat
Dual seats resembling an oversized solo saddle are typical for Harley Davidson motorcycles. While rider's seats always stand on a baseplate, passenger seats may stand on their own baseplate or be a continuation of the rider's baseplate. Buyers can choose to purchase a passenger seat that comes with a backrest in order for the passenger to enjoy the same lower back support as the rider. They can also opt for a backrest attached to sissy bars, as these may be of help when it comes to transporting luggage.
Seat Comfort and Looks
Comfort is essential when riding a motorbike, so buyers should pay attention to this aspect prior to making a purchase. The design and colour of the seat are also things to consider. Choosing a design that does not integrate well in the overall design of the motorcycle may ruin its appearance.
Open-Cell Foam vs. Closed-Cell Foam
The seat foam or cushion is an essential element to consider. There are two types of foam used for the cushioned part of a Harley Davidson motorcycle seat , namely open-cell and closed-cell foam. The main difference between open-cell foam seats and closed-cell foam seats is the level of firmness. While open-cell foam flattens completely when one applies pressure on it, closed-cell foam is not as easy to compress. Open-cell foam is softer than closed-cell foam, but it offers little to no support. On the other hand, closed-cell foam offers better support, but it is not very comfortable during a ride. Harley Davidson seats are available in open or closed-cell foam, but buyers can also opt for seats made from a combination of the two. By choosing this type of seat, riders can benefit from a good level of firmness and comfort at the same time.
Designs and Colours
Harley Davidson seats come in a wide range of designs and colours. Buyers can choose from simpleblack or brown seats, but they could also opt for seats featuring various patterns or decorative stitching. Different types of embellishments are available, and choosing the style of a Harley Davidson seat is often subject to personal preferences.
Types of Harley Davidson Seats
Type of Seat

Models Available

Relative Cost

Road Zeppelin

Pillow Seat 52341-97E

Fat Boy 52000148

$$$$

$$$$$+

$$$$$

Solo Seat

Sundowner

White Diamond

Black Diamond

Metal Flake Solo Seat

$$$

$$$

$$$

$$

Custom Seat

Sidekick 52000121

Sidekick 52000120

$$$$

$$$$
As with any purchase, used seats can help save on overall cost. The amount the seat was used, however, may directly correlate to the comfort of the driver or passenger since cushion tends to fade over time.
How to Buy a Harley Davidson Seat on eBay
By choosing to buy your new or used Harley Davidson seat on eBay, you can take advantage of the large selection of seats available on the website. Moreover, you can benefit from various offers in the eBay Deals section. Type the words 'Harley Davidson seat' into the search bar of the website and browse through the results you get. Read the product description carefully and have a close look at the pictures provided by the seller. Asking the seller for additional information is a good way to learn more about the product you want to buy prior to parting with your money.