Why buy a Hasselblad body ?
Hasselblads are the world leaders in Film and Digital medium format, interchangable components cameras and used by professionals worldwide. Using large image film (120, 220 and 70mm plus Polaroid) and Full Frame Digital they excell multiple times over 35mm, who cannot get anywhere near the quality of the larger format.
The really great thing about buying the top of the range Professional camera is you can buy it in stages.
First get some info. Get older Catalogues to see a whole range of cameras, accessories and see how the various cameras are made up, what goes with what !
Manuals give you the detail on the type of Hasselblad system you're interested in, so you start to get the feel of the system. Normally a Hasselblad manual deals with all components to complete the camera, operation, care and maintenance of Bodies, Backs Viewfinders, Screens and accessories.
Manuals can cost from about $5 for an online 24hr PDF delivery, to say $15 for a CD and $15-30 for an original. A huge range is in the eBay online store-
HASSELBLAD from paul addix
'the more you learn the more you earn'.
Buy a body, complete with Screen,Viewfinder,Winder one week, buy a back/s a couple of weeks later and then add the most expensive item, the lens.
In a month or so you have one of the best cameras in the world.
The Quality of the Workmanship is outstanding and cameras from the 1960's still demand a high price.
When purchasing Hasselblad Camera Bodies, decide whether you want one with the Lens Shutter 500 C C/M, 501 C C/M, 503 CX CXi CW or Focal Plane Shutter 2000 FC FC/M FCW, 2003 FCW, 201 F, 202 FA, 203 FE, 205 TCC FCC, then look for the best overall condition.
One quick note, before Hasselblad really got themselves organised with a camera numbering system they had a period of 500c that were actually 500c/m (main change was inter-changeable screens) sometimes called transition models.
They are a good find, as a number of sellers go by the name tag and don't realise they are selling a 500c/m at a 500c price. see photo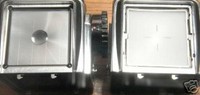 (screen catches which are on 500c/m and some 500c)
Of the two, lens fired shutters were the most popular originally and so are the most available.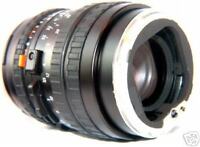 There are several other types of Hasselblad Cameras;
Electric or Electronic Motor Drives 500 EL EL/M ELX, 553 ELX, 555 ELD in general they are not so popular.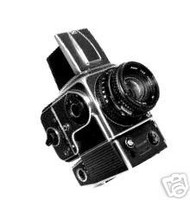 Very Very Wide Angle SWC SWC/M 903 SWC 905 SWC hard to get hold of and even older models are expensive.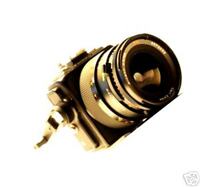 Arc and Flex Bodies which are the Hasselblad of Professional rail cameras like large format counterparts, also hard to get hold of and expensive.
The present H series from H1 to H3 have both Film and Digital Backs. The camera name is normally affixed with the size of the digital back where digital backs are on the camera sold, such as HASSELBLAD H3-39 is a H3 with a 39mp Back, YES 39 MEGAPIXELS !!! H1 and H2 are very similar and H1s can be factory upraded to H2s for approx $500.
Digital Backs are available for All Hasselblads from Hasselblad and other manufacturers (Kodak, Phase One etc.).
Cameras can be over 40 years old. Older ones do not neccessarily mean poor condition ones, they were built to last !
Finding out the age of a Camera.
As with Hasselblad Camera Backs the age is shown in the alphabetic prefix in the serial number printed on all Bodies and work as follows;
memo*** VHPICTURES = (Victor Hasselblad) PICTURES
V=1 H=2 P=3 I=4 C=5 T=6 U=7 R=8 E=9 S=0
So, UE=79 = 1979
ER=98 = 1998
SH=02 =2002
= 1971
Age does not make a bad camera, condition does.
In 500+ series Look for;
Vulcanite (leather surface) intact, not torn or broken and not shrinking at the edges.

Dents - sometimes are hard to spot.
Check Chrome/Black edges are not marked or dented and 'Brassing' - Chrome or Black wearing out.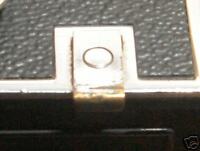 Camera Body attachment hooks and mounts - they should not show too much wear, check hooks are complete and not worn.
Check all screws are in place and not damaged
Check the drive gear on the side - if it looks too worn don't buy.
Check Lens Mount if it looks too scratched or marked.
If camera is shown with mirror up, and the Shutters Closed, check with Seller if camera working, as Body could be 'locked up' ie damaged
Check Secondary Shutters intact, overlap and do not show signs of damage or cracking. That Secondary Shutters open Fully.
Remember these can create Light Leaks or mask part of the image.
Check winder is complete, Round Knob Chipped or cracked and handle on Speed Winder not bent, handle complete and spring still works.
Check for Focussing Screen intact and not scratched or marked.
Be wary of sellers who strip down cameras too much, handle and screen removed, there is a good reason not to sell complete. (normally a camera that fails is stripped down and parts used as spares)
Is there screen and a viewfinder WLF (Waist Level Viewfinder) ?
Check name plate marries with desciption
Look at listed photos carefully, look for areas that do not hold continuity this could be a sign of doctoring the image.
Be wary of sellers who have very dark photos they could be trying to cover something up.
Finally most Sellers conform to good Buyer relations and would not knowingly sell poor quality items.
Seriously consider Ebay Stores, such as 'HASSELBLAD from paul addix', because they might be slightly more expensive because of the costs of operating the store and eBays higher end price charges, it is a safer way to buy relatively high cost Hasselblads.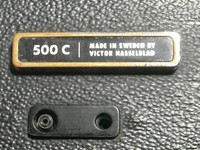 (a bit of brassing - Don't get Brassed Off ! )
Ask your seller questions about any or all the above....
***Now, you must have learnt something from these notes, so please react with a positive YES to the question below, I assure you there's no form to fill in, just one click that's all it takes !!! ***
"there's a song in there somewhere..."