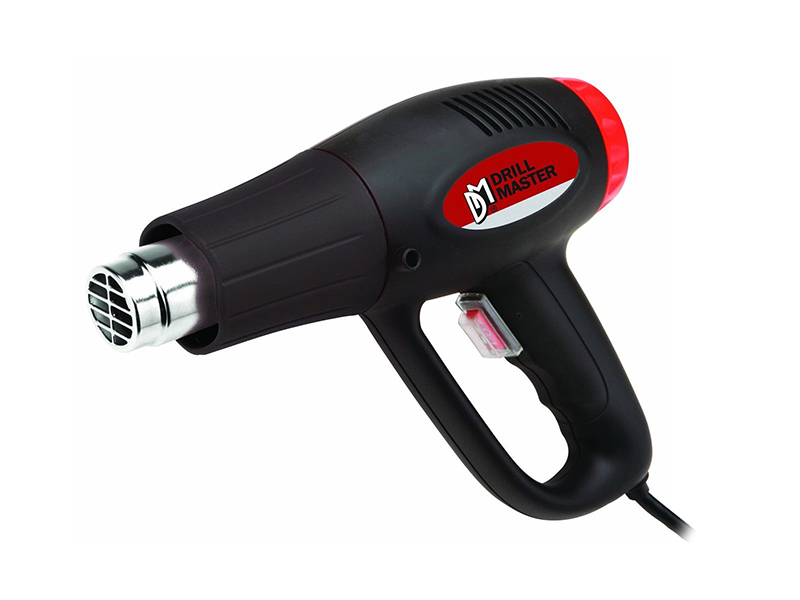 A heat gun is a power tool that emits streams of hot air from a nozzle attached to an elongated handheld device, which has a trigger or switch to turn it on and off. The basic purpose of a heat gun is to dry, melt or thaw hardened surfaces or coatings on surfaces.
While considered as a power tool, heat guns can be used for a variety of arts and crafts projects, and they come in handy for ordinary repairs and in resolving minor problems around the home. Practical uses of heat guns include thawing frozen pipes during winter, melting frost on car tires, drying damp wooden surfaces, removing hardened adhesives on old furniture and removing labels. With a good heat gun, one can accomplish various household tasks without having to call for professional help.
Types of Projects Where Heat Guns Are Used
The right kind of heat gun to be used in a particular project depends on the size and complexity of the work to be done.
Industrial-scale projects: Large-scale projects used by construction, electronics and manufacturing industries and in laboratory works like testing heat-resistant protective gears.
Heat guns used in these jobs need to have precision heating controls, heat-proof casing and multiple power functions that can work in different environments. They also need to be heavy duty to withstand long hours of operation.
Professional services: Mid-scale projects that still require professional skills in handling such as soldering steel, welding iron, melting plastic and stripping paint.
Heat guns used in these projects need to have power flexibility to adapt to different jobs, options for manual setting for better control, and ergonomic design for more convenient handling.
Personal projects: Small-scale projects like jewelry making, wire art, simple repainting jobs (bicycles and pipes), decorative projects and woodwork.
Heat guns used in these projects are basic models designed for handheld or benchwork use, lightweight and with a single or dual-temperature setting.
Important Features
Choosing a good quality heat gun should not be complicated, as all models share the same basic features. Here are the essential ones to consider when buying a heat gun from an online store.
Temperature setting
Basic heat guns have only one or two heat settings, while others have variable temperature functions. There are also digital models that have programmable settings, enabling users to work on a specific temperature for industrial or professional jobs requiring delicate heat contact.
Heat range
The heat range of the heat gun determines the level of work that it can accomplish. Basic models heat up to 93 degrees to 315 degrees Celsius, while professional models reach up to 1,093 degrees Celsius.
Parts and accessories
The nozzle is the most important part of the heat gun, as it dictates the concentration and direction of the heat being diffused by the tool, depending on the size and shape. Reducer nozzles control the temperature for direct heat while flat nozzles diffuse even, scattered heat on a surface. For accessories, there are heat gun stands or plates (for hands-free work), trigger pads to protect the fingers during work and multiple-length power cords for easy movement around the workshop.
Safety features
The basic safety features are the thermal cutouts that prevent overheating and a main control switch that automatically turns off the heat gun when it is accidentally dropped or encounters a friction. These features are meant to protect users from the most common mishandling incidents (like idling or dropping), and care must be observed at all times when using a heat gun or any power tool.
Popular Heat Guns for Different Types of Projects
There are thousands of heat gun models available in the market today, with new lines being launched as new features were added or fresh designs were incorporated. While the technical details may differ, one can never go wrong with the most popular and trusted brands of heat guns, which have proven their mettle in terms of quality, flexibility and durability.
Bosch
A top brand in the power tool market, Bosch heat guns are popular premium power tools in Australia for industrial, professional, and small-scale projects. They are a good choice for personal use for the innovative features like non-drip heat emission, insulated body shell, and minimum trigger pressure requirement.
Makita
Makita is another popular heat gun choice in Australia for its high quality and long-lasting service. Features include minimal noise, heat control, and multiple-temperature settings. New models include stored application settings and LCD setting displays.
Steinel
Manufactured in Germany, Steinel heat guns have a good following in Australia from workshop professionals to DIYers, hobbyists, and even artists for its outstanding, on-target, precision heating.
Wesco
A good brand for mid-scale and personal projects, Wesco heat guns are popular in DIY workshops requiring stripping, repainting, and refurbishing of surfaces. Its best features include a built-in paint scraper and continuous heating for even, seamless work.
Worx
Ideal for home or personal projects like decorating, small soldering and refinishing jobs, Worx heat guns have user-friendly features that include basic 3-way temperature settings with lock-on switch, easy pistol grip, and hands-free position.