Heavy Haulage Trucks
This is one of many illustrated classic heavy haulage guides I've created for the community. I hope you enjoy it. If you wish to find out more about the classic heavy haulage art featured in this guide please click here.
This guide features well known names and classic vehicles of the heavy haulage road transport scene during the 1950s and 1960s.
Foden (4x2) ( Edward Beck & Sons Ltd )
The Beck family, E. Beck, J.E. Beck and S.A. Beck, were first involved in heavy haulage under the banner of Contractors (Transport) Ltd, before forming Edward Beck and Sons Ltd, a company remembered for its distinctive yellow-liveried fleet. Working out of Gret Street, Reddish, Stockport, the haulier favoured ERF and Foden traction, such as the S20-cabbed tractor. Dating from 1961 it carries a typical Caterpiller load, Caterpiller being a large customer of Becks at the time.
Scammell 4x2 ( Chris Miller Ltd )
Although the firm of Chris Miller Limited can trace its transport life back to 1837, it wasn't until the 1949 nationalization programme rippled round the country that this Preston based family concern moved into heavy haulage. This form of haulage remained exempt from nationalization and Millers' bought their first secondhand Scammell from one of the petrol companies. One of these vehicles was a bonneted Scammell in artic tractor form.
Diamond T (6x4) ( Robert Wynn & Sons Ltd )
From 1947, the Chicago built Diamond T 980/981 battle tank transporters were released onto the open market as military surplus. Wynns realised their potential and soon became big users of the 6x4, working them hard for a number of years. Not the quickest vehicle on the road, the Diamond T was capable of a maximum speed of about 25mph. The original engine for the model was a six-cylinder 14.6-litre Hercules DFXE unit producing between 185 and 201bhp @ 1600 rpm.
Scammell Junior Constructor (6x4) ( Hill & Sons Ltd )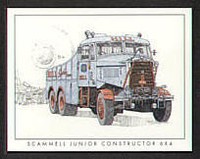 The Scammell Constructor was launched at the Commercial Motor Show of 1952 and such was its versatility that it was eagerly seized upon by specialist hauliers who were anxious to re-equip their fleets with state-of-the-art tractor units. The Scammell company responded to demand with the Junior Constructor model, a 6x4 version aimed principally at the on-highway sector of the market.
Scammell Constructor (6x6) ( Siddle C. Cook Ltd )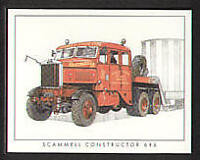 The company Siddle C Cook Ltd were founded in 1945 beginning their operations in Consett, County Durham. One of their best known machines was "SPT 600", a 6x6 Scammell Constructor purchased new in the mid-fifties and fitted with the Rolls-Royce C6NFL 12.17-litre engine. Although originally built as a ballasted tractor, Siddles demanded that SPT 600 took on a variety of roles, converting it as and when desired to a 100-ton artic.
Foden FGTU 8/80 (6x4) ( McKelvie & Co Ltd )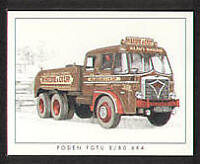 McKelvie added the Foden FGTU 8/80 to their fleet in 1957. Having the eight-cylinder Gardner engine, eight-speed gearbox and two-speed rear diffs, these Fodens offered one of the best available heavy haulage crew cabs of the period. Although heavy haulage is not today a McKelvie speciality, during the 1950s and 1960s they had risen to become Scotland's largest operator in this form of traffic.
Scammell Contractor (6x4) Pickfords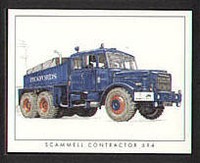 There is probably no more famous name in the annals of heavy haulage than that of Pickfords. One of the lorries that Pickfords employed was a Scammell Contractor 6x4 ballasted tractor rated at 240-tons and fitted with the four-door crew cab. Weighing in at 16-tons, up to 30-tons of ballast could be added to the rear compartment taking the operational weight to a massive 46-tons unladen. The impressive lines of Scammell's premier product are evident in this all-time classic of the heavy haulage.
Thornycroft Antar (6x4) ( Elliot Ltd )
Thornycroft built over 1000 Antars, although few ever entered the UK heavy haulage scene, so the Elliot of York examples are something of a rarity. Originally conceived as a tank transporter the ex-military Antar Mk3 model used the 330 bhp Rolls-Royce straight-eight engine. Fitted with a six-speed overdrive gearbox, the Mk 3 Antar was capable of a sedate 30mph, its specification also including very good breaks.
Rotinoff GR7 "Atlantic" (6x4) ( Stunter Bros Ltd )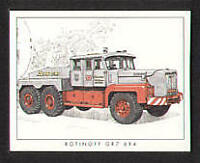 Sunters were probably the best-known operators of these massive Rotinoff GR7 road tractors. The Rotinoff marque was produced between 1952 and 1960, being offered as the Atlantic GR7 and the Super Atlantic GR7. After 1960 they were marketed as Atlantics until their demise in the 1962. Engines were six or eight-cylinder Rolls-Royce, producing 275 and 366bhp respectively.
Thank you for reading my guide and I hope you found it interesting!