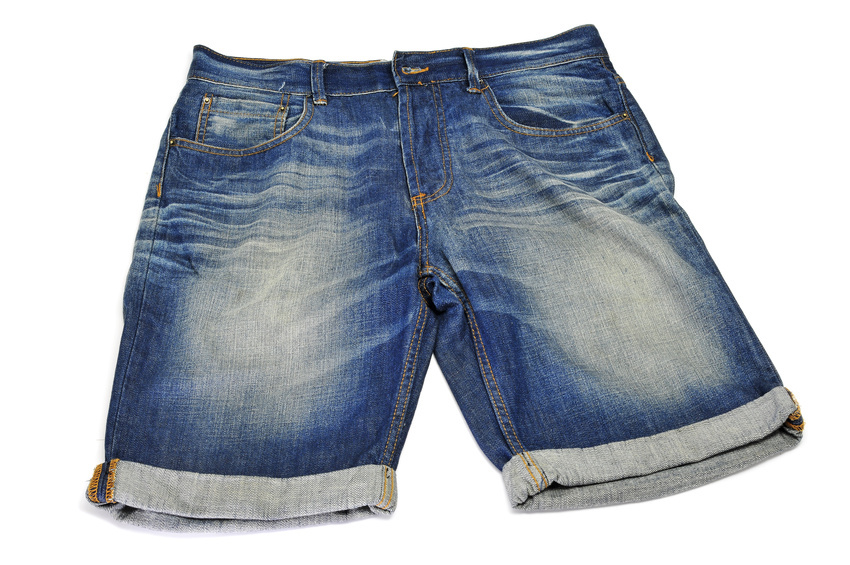 Buying a pair of pants that are too-long is no longer the end of the world. Consumers without sewing kits, or those who simply want to avoid costly tailoring, can shorten their pants successfully without using a needle and thread.
Neatly hemming pants without a sewing kit is a money-saving option that can be easier and faster than having pants professionally tailored. Plus, with this method, the hem can easily be undone to accommodate the different lengths required for heels and flats.
Steps to Hemming Pants
Pants are Pinned: Safety pins or straight pins should be used to keep the new hem straight and in place. This is also helpful for checking to see where the hem will fall before it is secured.
Pants are Tried on for Size: To ensure pants aren't too short, they should be measured to hit around the bottom of the heel when the desired shoes are being worn. Pants are then pressed to remove any wrinkles that may change the length of the pant or result in a crooked final hem. Shoes that will be worn with the pants should always be worn while trying on the pants for size.
Pants are Measured: A tape measure is used to make sure the pant's legs are of equal length. The pins should be adjusted as necessary.
A Hemming Option is Chosen: A no-sew hemming option from below can be chosen to finalise the pant's hem within a matter of minutes.
Hem Tape
Specially made tape, or hem tape, is double-sided for hemming purposes. To use the tape, the pants are turned inside out and placed on a flat surface. The tape is placed along the inner cuff and the edges are pressed together. The packaging details should be read before purchasing, as some hem tape requires a heated iron to secure the tape to the pants. Hem tape, which can be easily removed, is preferred if there is a chance the length of the pants will be changed. A seam ripper can be used if the hem won't lie completely flat.
Scissors
Cutting a new hem with scissors is an easy and quick fix that is ideal for jeans or other casual pants looks. Trendy designer jeans created with this done-at-home look can cost big money in the store, but it can be created for free with an existing pair of jeans and scissors. It is advised to pin the desired location of the hem to keep a straight line. Furthermore, a ruler placed on the jeans can help. Once the jeans have been cut, they should be put in a washing machine and dryer to create a casual look similar to cut-off shorts. While the hem can not be made longer at this point, it is easy to make the hem shorter if desired.
Safety Pins
Another impermanent solution is the use of safety pins, which can temporarily shorten pants. For this method, about a dozen smaller safety pins are necessary. With the pants turned inside out, the hem is pinned up and out of the way. Smaller pins will create a less bulk and are less likely to be noticed. In any case, pins should be removed before the pants are placed in the wash. For jeans, gold-tone pins can be placed close to the gold thread often used on jeans.
Fabric Glue
Fabric glue is a near permanent solution that doesn't require cutting the hem. With pants inside out, the new hem is secured in place with a pins. Then, fabric glue is carefully applied to the pant's cuff and pressed into place. Once the glue has dried, the pins can be removed. Fabric glue, like hem tape, can stand up to laundering. A special adhesive dissolver can be purchased to remove the glue.
How to Purchase Pants on eBay
Pants can be purchased new or used on eBay from reputable sellers. Each listing will have the seller's ratings and reviews so buyers can be assured they are buying from an authorised merchant. To find pants, search terms can be entered into the search box on any page. Search results can be filtered by size, brand, colour or price. Buyers can also look under the men and women's clothing sections on the Fashion page, which is accessed from eBay's home page. For any questions about a listing, the seller can be contacted directly before purchase.
Conclusion
Purchasing custom tailor-made pants or buying pants and having them tailored can be expensive. However, hemmed pants can look luxurious without paying a high price. For people who don't enjoy sewing or own a sewing kit, simple options that don't involve a needle and thread can keep any wardrobe looking custom-made.