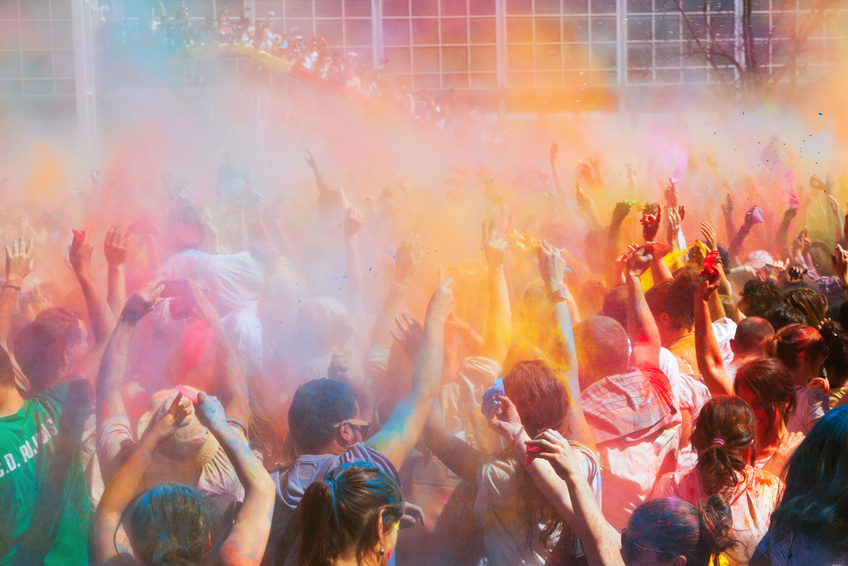 Each spring, people run through the streets of villages in India dousing each other with coloured water and powder. This is part of the annual celebration of Holi, a Hindu festival that honours the ideals of renewal and harmony. Drawn to the stunning colourful displays and general merriment, people outside of India also enjoy participating in Holi festivities throughout the world. In order to do so, they need to understand the history of this day and the types of rituals that comprise it.
Holi history
Holi ties together the legends of Hiranyakashipu and Krishna. In Indian mythology, Hiranyakashipu was a demon king who planned to avenge the death of his brother at the hands of Lord Vishnu. His son, Prahalad, however, was an ardent worshipper of Vishnu and he betrayed his father by refusing to participate in his plan. Hiranyakashipu punished his son by forcing him to sit on a pyre with Holika who was immune to fire and could make sure Prahalad burned to death. Instead, Prahalad escaped unscathed because of his devotion and complete submission to Lord Vishnu, and Holika perished because of her wickedness.
In a later legend, Krishna appeared as the reincarnation of Lord Vishnu. When he was a teenager, Krishna enjoyed playing with Radha and other gopis by spraying colours on them. Over time, this legend became a tradition as the Indian people adopted it in their culture. Some communities in India also associate Holi with the triumph of good over evil as part of the legends of Shiva and Kaamadeva.
Holi rituals
Holi is literally a colourful celebration, and by the end of the day, entire towns and the people within them are rainbows of colour. The fun commences with a large symbolic bonfire, transitions to a colourful day of merriment, and concludes with a tranquil dinner with family and friends that ushers in the warmth of spring and renewal of the year.
Holika bonfire
Holi celebrations begin with the ritual Holika bonfire on the eve of Holi. In the weeks leading up to the day, people gather wood and other items they plan to use to build the fire and keep it burning through the night. Young people often playfully steal objects to toss into the burning flames. After lighting the fire at sunset, the community gathers to sing, dance, hurl insults at the legendary demons, and celebrate the triumph of good over evil. Some people even gather embers from the fire to start their own domestic Holika fires and continue celebrating at home.
Carnival of colours
The primary and best known Holi ritual takes place on Dhuleti, the day following the fire. It is a day for complete enjoyment, and the people even neglect their daily prayers and indulge in a variety of beverages and sweet treats. They spray each other with coloured water, smear coloured powder on their faces and limbs, and spend their time in the streets singing and dancing in traditional Indian costumes. The people in southern India use the day to worship and give offerings to Kaamadeva, the god of love.
After party
At the end of the colour day, after the entire town is awash in a sea of brilliant shades of blues, greens, and pinks, everyone goes home to clean and change clothes. Most people don white attire to represent cleanliness and spend the rest of the night eating and drinking with their loved ones. Typical foods and drinks include Thandai, a milk-based beverage flavoured with nuts and spices, like cardamom, and buttery flat bread called Puran Poli.
Another Holi delicacy is a sweet rice dish flavoured with caramelised saffron, cardamom, nuts, and sultanas. Even though they move from house to house, the evening provides the opportunity to recover from the day and prepare to move on with ordinary life.
How to buy Holi gear on eBay
Preparation is the secret to a successful Holi, and sellers on eBay make it easy for you to find the supplies you need. To find everything from coloured Holi powder to toss on your loved ones to white clothing for the final dinner or even tickets to a nearby festival, type key terms into the search box and click to see the results. Keep in mind that general merriment is the essential component of Holi, so look for items that catch your eye and appear fun to use and play with. No matter what you are looking for, shopping on eBay will help you find the Holi gear you need.