On December 17, 1903, at Kitty Hawk, North Carolina, the Wright Flyer became the first powered, heavier-than-air machine to achieve controlled, sustained flight with a pilot aboard.
December 2003 will mark the 100th Anniversary of this historic and groundbreaking achievement. Learn how two small town businessmen invented a technology that would define the 20th century.
Although there is a lot of controversy around the first manned flight it is widely accepted that the Wright brothers were the first to sustain powered flight.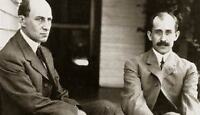 This is a picture of Wilbur and Orville Wright, the designers and builders of The Wright Flyer.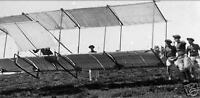 This is The Wright Flyer.
in 1906 and 1907, several Europeans made short, straight-line flights of comparable length to the Wrights' first powered flights. In North America, some notable successes were achieved by the Aerial Experiment Association. Formed by famed inventor Alexander Graham Bell in 1907, the A.E.A. built several powered aircraft, including the first airplane to fly in Canada, in 1909. The group included Glenn H. Curtiss, who went on to become the leading producer of aircraft in the United States before World War I.
Aeronautical activity picked up significantly during the Wrights' flying hiatus of 1906–07, but no one came close to matching the brothers' flight performance of 24 1/2 miles at Huffman Prairie in October 1905.
While the Wright brothers were negotiating the sale of their aircraft, they let no one witness a flight or even see the airplane until they had a signed contract in hand. By the spring of 1908, the Wright brothers' had received their patent in America and in several European countries. They had contracts with the U.S. government and a French syndicate of financiers. They were finally ready to share their invention with the world.
There was little press coverage of the Wrights' breakthrough flights in 1903, and they made no effort to publicize their flights at Huffman Prairie in 1904 and 1905. Now, facing what they perceived as a growing public relations crisis in light of the acclaim being showered upon other aviators, the Wrights began a campaign to set the public straight on what they had accomplished.