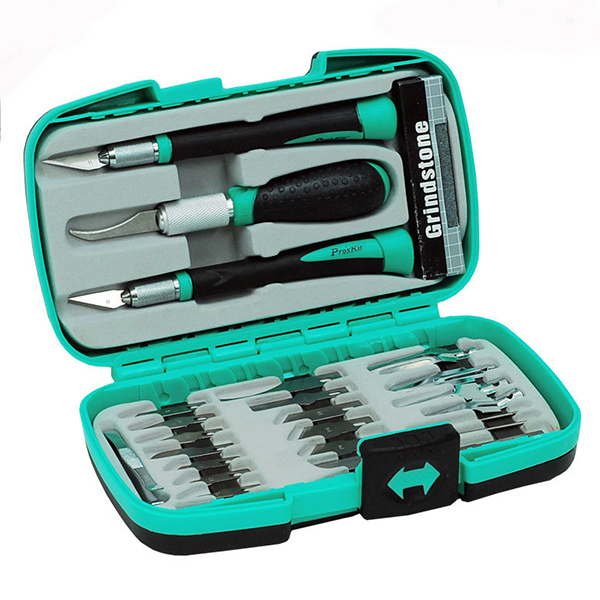 Hobby tools are smaller sized specialty tools used for making models, building robots and working on other projects involving tiny parts. The tools provide the precision required to work in tight environments and are often useful when working on electronics. Shoppers can buy their hobby tools separately or in kits at hobby stores or online at sites such as eBay. The following are some of the most popular hobby tools available.
Crafting Knives
One of the most basic and versatile hobby tools to purchase is a crafting knife. Favourite brands include X-Acto and Swann-Morton, and they each have their own special elements. X-Acto knives can be fitted with many different types and sizes of blades, easily adapting the knife to multiple functions. These blades are also very easy to change, which improves both functionality and safety. Swann-Morton knives, on the other hand, are very similar to surgical knives. They're sharper and the handles are much thinner, making them perfect for the detailed work needed in the tightest work spaces.
Tweezers
Tweezers used for plucking eyebrows or removing splinters will do in a pinch for many projects, but eventually you will need the shape and precision of tweezers made for hobbyists. They may also be called engineer or modelling tweezers, though their exact shape or features can be endless. Straight and curved tweezers are available in a range of sizes to fit a multitude of tasks. Sometimes they simply take the place of jigs, holding small pieces for the sake of making them easier to work with.
Abrasives
One of the reasons most hobbyists stay away from the term "sand paper" is because the abrasives used in most small jobs don't need to be very rough. The grits needed tend to be hard to find in regular stores. Emory paper, also called "Wet and Dry," is preferable because it lasts longer than sand paper and because it can be used on a wider range of materials, including metal. It's called Wet and Dry because when used with certain media, the paper can be moistened to control or clean out dust. It's an essential tool for most hobbyists at some point during a project, but especially for those working with materials that are dangerous to inhale.
Flush or Sprue Cutters
Hobbyists who regularly cut plastic parts from a sprue will benefit from a specialty cutter. Using a crafting knife to remove these parts can be risky for several reasons. Not only can you destroy an element with the wrong move, but crafting knives are also sharp and sometimes hard to handle; so special cutters will help you avoid injuring your fingers.
Conclusion
Hobbyists can guide their tool buying process by knowing which types and sizes of tools they use most often, and which ones are suited for the materials they work with. Each type of tool often comes in many sizes and forms.