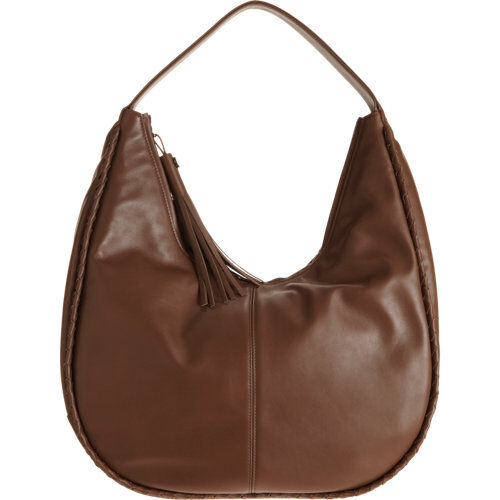 Anyone who has found themselves cramming things into a tiny handbag knows how frustrating it can be. The hobo bag is an ideal solution. These large, crescent-shaped shoulder bags have spacious interiors to hold an array of belongings. Their soft structure falls along the side of the body for an easy, casual grace that works perfectly for day errands and activities. And while hobos are a bit too laid back for professional occasions and fancy dinners, many can moonlight for informal evenings on the town or a casual office setting.
Finding the right hobo bag is a highly personal matter. In order to navigate the wide array of choices, buyers should consider things like personal style and body type, when and where they plan to carry the bag, and what they want to keep in it. Doing so can help them find a versatile, comfortable, and stylish hobo bag just right for them.
Matching a Hobo Bag to Body Type
Any kind of handbag is a prominent accessory, and therefore should complement one's body type. This is an aspect of bag shopping that some buyers may overlook, but it bears consideration. A general rule of thumb is that the bag should balance the shape of the body by accenting positive features and contrasting the overall shape. The bag should also be scaled to one's height.
Hobo bags are traditionally medium- to large-sized, with a slouchy structure and crescent shape. However, there are many variations on the theme, and buyers should consider a wide spectrum of hobo bags before settling on one that suits them best. The following chart offers suggestions about what to look for in a hobo bag, based on different physiques.
| | |
| --- | --- |
| Body Type | Hobo Bag Suggestions |
| Petite | A large hobo is likely to overwhelm petite frames; look for scaled-down versions that fall at the elbow |
| Tall | Opt for larger, slouchy hobos; avoid bags that end just under the arm |
| Curvy | More structured hobos complement a curvy figure |
| Plus Size | Look for slimmer versions that fall close to the body; hardware and accents on handles is a bonus |
| Thin | The soft, shapely hobo bag adds the illusion of curves; look for larger versions that fall around the hips |
An additional consideration when choosing a hobo bag size is how much one plans to carry. There should be enough room in the bag so that it does not look overstuffed when full. The hobo is itself capacious, but it should fall along the body in a slim profile. With their loose structure, hobo bags tend to hang differently when emptier. It helps to try the bag on when shopping to accurately gauge how it looks with varying amounts of contents.
Style Features
When it comes to choosing a hobo bag to match one's style sensibility, there are plenty of options, from simple, understated bags to those decked out with fringe, zippers, rivets, embroidery, and more. Because hobo bags are essentially a fairly casual style, buyers may want to consider a fun accent bag that works well for daily outings and informal occasions. Those looking for a bag that can do double-duty in casual office settings should look for a hobo with more subtle features, such as a single tassel or buckle, or unique stitching details.
Organising Features
The hobo bag is designed to carry nearly everything one could need in a day: wallets, mobile phones, books, sunglasses, accessories, lipstick, and more. To keep things organised and easy to find, it helps if a bag has inner pockets and compartments. Many come with a special pocket for mobile phones, and some have additional outer pockets for additional space. If security is a concern, buyers should look for a hobo bag that zips shut, or has inner pockets that can be zipped.
Material Options for Hobo Bags
Hobo bags come in wide range of materials. Lightweight nylon, supple leather, rugged suede, and casual canvas are all options. Those who like the look of leather or suede can also opt for faux versions. The material affects the bag's overall look, but also durability, price, and required care.
Leather is highly durable, as is suede, and the classic look of these materials is hard to beat in terms of style versatility. However, they tend to be more expensive than other materials, and may need to be treated in advance to avoid damage from rain. Faux versions are usually more lightweight and affordable, and easier to clean. Canvas is lightweight, making it perfect for a casual day bag that goes everywhere; the fabric can get quite dirty, especially if in lighter colours, but is usually machine-washable. Shiny, sport nylon hobo bags, such as those by LeSportSac, are also good options for a casual, lightweight carry-all.
Hobo Bag Colour Options
Choosing a colour can be challenging when shopping for a hobo bag. Given the bag's everyday practicality, many buyers may want to look for one that works with the widest range of outfits. Buyers should also think about which seasons they plan to carry their hobo bag; some colours may be more suited to certain times of year, while others can work all year long.
Neutral, solid colours tend to be the most versatile: brown, black, beige, grey, and blue, are particularly good for those who want a bag that can work in casual office settings, as well as informal evening outings. That said, consumers can also opt for a bag that shows off personality, with bright shades, stripes, eye-catching graphics, or even animal prints.
Hobo Bag Brands
Shoppers have a broad spectrum of hobo bag manufacturers from which to choose, from luxury designers to budget brands. Designer handbags, such as Gucci or Coach, are made from high-quality materials with meticulous attention to detail. Many of them are iconic pieces and retain their value for years if well cared-for. While buying a new designer handbag may not be financially feasible for the average consumer, purchasing one second-hand is a more affordable option. However, in order to ensure that a designer handbag is genuine, buyers should educate themselves about certain telltale details, such as hardware, tag placement, and colours available for a certain model.
On the other hand, there are plenty of more affordable, stylish, quality hobo bags on the market, both new and used.
Where to Buy a Hobo Bag
Many fashion retail shops sell hobo bags, from discount shops to high-end boutiques. Department stores are likely to carry a range of bags at different prices. Online, buyers can shop through Internet merchants, or find deals on a range of accessories, including hobo bags, on sites like eBay.
How to Buy a Hobo Bag on eBay
eBay has an extensive selection of new and used hobo bags on its website. With user-friendly browsing tools and competitive prices, shopping can be easy and fun. To start, go to the eBay home page and type keywords into the search bar: for example, "blue leather hobo bag", or "hobo bag fringe". Keeping search terms general enough helps ensure you get a broad selection of listings.
When you have found a bag you are interested in, check the full listing for important details, including condition, dimensions, and materials. Verify payment details and whether there are additional postage fees. If you have questions, you can contact the seller through eBay. Finally, don't forget to check the seller's feedback score and comments left by past buyers.
Conclusion
Hobo bags make a great carry-all for casual day use and even informal nights out. When shopping for the perfect hobo bag, there are several things to consider.
First, buyers should look for a bag that is scaled to their stature and complementary to their body shape. They should also be certain that the bag is adequately sized to hold all of their things without looking bulky. Organising features make it easy to access smaller items, and zip closures provide added security. Material is also important in terms of durability, weight, style, and maintenance, while style features and colour affect the range of outfits and occasions which the bag suits. Whether opting for a designer bag or a discount one, following a few steps helps buyers find the right hobo for them.