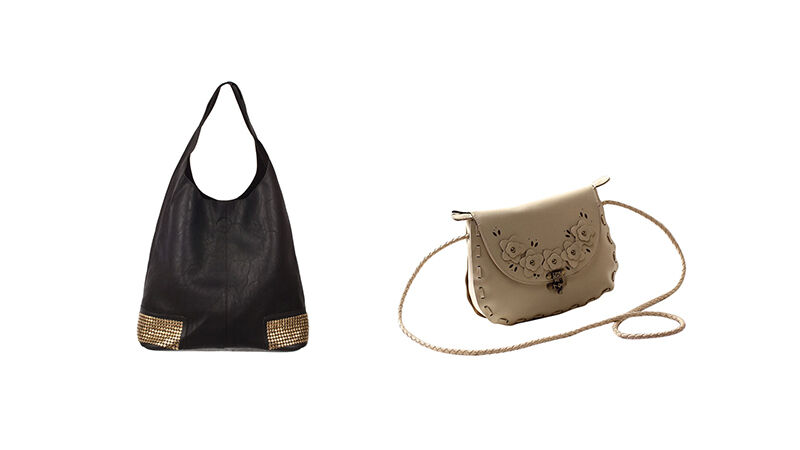 Handbags are a useful everyday item for both men and women and can be used to carry wallets, cell phones, medications, work papers, and any other number of personal items. Commonly associated with women, there are many handbags designed specifically for men, as well as a variety of gender-neutral options. While there are many different styles of handbags (including clutches, baguettes, totes, half-moon purses, etc.) this guide examines two of the most popular everyday options: hobo bags and satchels.
Hobo Bags
Hobo bags are large, slouchy, and unstructured handbags with a single long strap. The hobo bag received its name because of its resemblance to the common cartoon portrayal of a hobo's brindle hanging off of a stick. Hobo bags are crescent shaped and worn slung over the shoulder. They are made from soft materials, giving them a loose and unstructured look. While these purses can vary in size, they are most often large. A more recent style of handbag than satchels, hobo bags are often seen as stylish and trendy. Because of this, hobo bags are often available in a large variety of colours and bold patterns. Cloth is the most common material used to create hobo bags.
Satchels
Satchels are designed to be unisex bags and were originally created to carry books. Some satchels are designed to look slightly more feminine, while others have a more masculine aesthetic, but all satchels have the same basic rectangular shape. They are considerably more structured than hobo bags (while remaining softer than a traditional briefcase) and have a strap that is meant to cross the wearer's chest. As a classic handbag design, satchels are often seen as a timeless style accessory. Because of this, satchels are most often available in neutral colours (although brighter options are available). Leather is the most common material choice.
Choosing between a Hobo Bag and Satchel
While both bags can easily carry the same objects, they have slightly different purposes. Hobo bags are generally viewed as more casual and laid-back, while satchels are more conservative and can be used in a professional environment.
Satchels are made with a more rigid material and tend to have a structured shape, which makes them more attractive to some buyers. However, the loose, soft material of hobo bags makes them the more comfortable option to carry.
Because satchels are often geared toward more professional buyers, they are more likely to have organisational features such as multiple pockets, pen holders, and sometimes even laptop compartments. This can make them more convenient for buyers who need to be able to find small items such as cosmetics, pens, or papers quickly. Hobo bags, on the other hand, tend to consist of a single, large pocket (although they occasionally have a small cell phone compartment). This can make them a better option for buyers who tend to carry large items with them.
| Hobo Bag | Satchel |
| --- | --- |
| Commonly viewed as feminine | Commonly viewed as gender-neutral with masculine and feminine varieties |
| Trendy | Classic |
| Unstructured | Structured |
| Single pocket | Multi-pocket organisational system |
| Medium to large sizes | Small to large sizes |
| Casual | Casual or professional |
Buying Satchels and Hobo Bags on eBay
While satchels and hobo bags can be found at a variety of retailers, eBay has one of the largest selections of handbags available. To begin browsing, potential buyers can navigate from the homepage to Fashion, Adult Unisex, and finally to Backpacks & Bags. From there, they can choose to view only new or used bags, or they can narrow it down to a specific style using the search bar on the top of the page. If a buyer prefers a more gender-specific handbag, he or she can navigate to either Men's or Women's Accessories straight from the Fashion page.
When purchasing an item on eBay, buyers are advised to look for sellers with a history of positive feedback and only bid on items with a detailed description and plenty of photographs, especially if the item is used. If buyers need any additional information on an item, they shouldn't hesitate to contact the seller. Reputable sellers are more than happy to answer any questions buyers may have.
Conclusion
Handbags are a fantastic way for both women and men to express their personalities. While both hobo bags and satchels are practical options, satchels are more suited to professional events, whereas hobo bags are more suited to casual outings. The size of bag a buyer needs and the amount of organisation he or she prefers are both major factors to consider when choosing a new handbag. A quality handbag is an investment that, if taken care of, can last for years. eBay boasts a great selection of quality satchels and hobo bags.