Having problem with broken key buttons in VE WM Commodore UTE or SEDAN?
Will also suit : HSV, SS, Omega, Berlina, Clubsport
Dealership are quoting over $300 for a new key ! You can Fix your remote with Our Silicone Buttons .
No reprogramming needed

.

Silicon Buttons will Save you Money and Time with Very Easy to follow replacing procedure.
If you remote key still works but buttons are badly cracked or worn simply buy
Silicone Buttons
not whole remote.
Our Replacement Pad is made from LSR Silicone and will not brake, due to deteriorating effects of sunlight, water and chemicals commmonly encountered in services such as detergent, oil, methanol. Unlike old cover, our silicone pad is flexible and will not deform, change shape, degrade and brake over period of time. It is designed to last
You can trust quality of our well tested
Truly Australian product
invented, designed and manufactured by West Australian company.
Check our Feedback
for total sustomers satisfaction comments.
IP Australia Registered Design Pending Number: 2001110079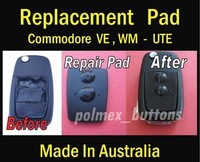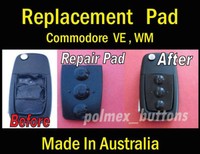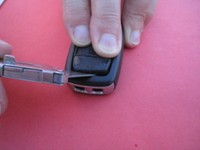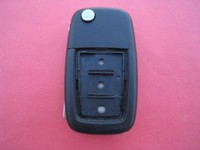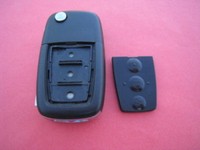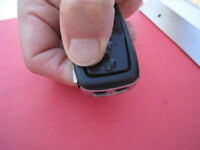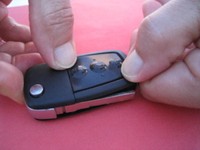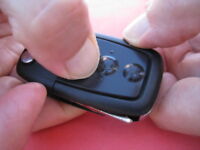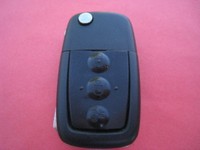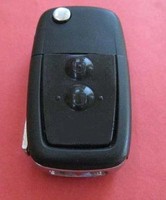 Replacement Instructions:
1. Using stanley knife, gently lift worn buttons pad and remove it from top part of your remote.
Grooves in your remote should be clean ad free from any rubber remnants and dirt.
Use small flat screw driver to remove any pieces from grooves.
DO NOT USE any sharp objects.
2. Place a new silicone pad over top part of your remote.
Using rolling motion when positioning pad in grooves and press firmly til pad engages with hard shell all around edges and in the middle.
If a new pad does not sit properly, remove it, clean grooves again, and re fit.
DO NOT USE any lubricants or detergents for cleaning grooves as it will affect firm seating of a pad.
3. Test your remote with new buttons fitted in. Once replacement finish it will work without any need for re programming.