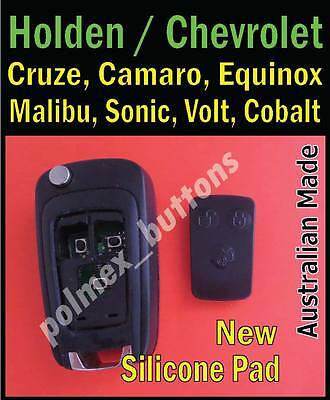 If buttons in your Holden Cruze remote are broken or perished already you need replacement Silicone cover from polmex_buttons store.
Our pads are made form high purity LSR Silicone and will not: deform, change shape, become brittle and break unlike original cover. It is a great fix at a fraction of the price of new remote and re-programming.
Our Silicone pad will suit following remotes and many others as long as your remote looks like the one in our picture gallery.

Holden / Chevrolet: Cruze, Cobalt, Camaro, Equinox, Malibu, Sonic, Spark, Volt
Vauxhall; Astra, Insignia
Fitting instructions are very simple and include following steps:
1.Using a Stanley knife, gently lift worn buttons pad and remove it from the top part of your remote. You may use small flat screwdriver to remove any remnants from grooves. DO NOT USE any sharp objects.
2.After removal of the old pad, your remote should look like the one in the picture above, free of any old rubber pieces & dirt.
3.Place a new silicone pad over top part of your remote. Use rolling motion when positioning pad in grooves and press firmly till pad "engages" with hard shell all around edges. If a new pad does not sit properly, remove it, clean grooves again and re-fit it. DO NOT USE any lubricants or detergents for cleaning grooves as it will affect firm seating of a pad.
4.Your refurbished remote should look like the one in the picture above, with pad sitting firmly and flat all around edges. No re-programming is need it.

For more detailed instructions and images please visit our polmex_buttons store.