Its a head! Its the fanciest, most eccentric electric ceramic jug ever produced and prized for its power to make you smile. Why? Because it smiles right back at you! Made by Sunshine Electrix circa 1935, the face is believed to have been cast as a caricature of T. R. Barclay, a director of Sunshine Electrix. Produced at the height of the art deco era, the face jug was a status symbol and is forever a huge hit at high tea parties. Some sample size face jugs are known to exist but these are very rare.
Green, Blue, Brunette and Blonde Hair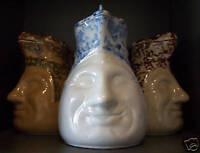 Height = 225mm Width = 220mm Depth = 160mm
Made by Sunshine Electrix in Bendigo VIC circa 1935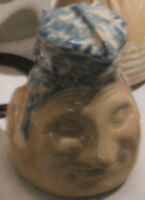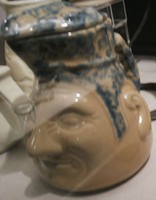 The Powerhouse Museum's face jug
The face depicts a smiling old man with rounded face and even features, its made of stoneware ceramic, slip cast and fired in Bendigo VIC. Above the face, the jug narrows to the spout and ceramic swing lid cover. Speckling/mottling covers the thick D-shaped handle and continues around the jug's body to create the characters hair and extended sideburns. No two jugs are alike and there will always be glazing differences especially in hair colour from brown, blonde, green or blue and between.
Two transfer stickers were applied, one on the side above the left ear showing the Sunshine Electrix brand logo in red and gold while technical details are given underneath.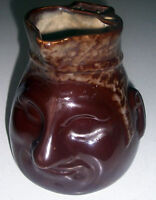 Ultra-rare dark brown face jug

Transfer above left ear. Profile

Some crazing is to be expected in ceramics this age but if seriously investigating look for signs of repair, check for signs of wear and evidence of transfer stickers. Jugs in unused condition with intact transfers are worth a small ransom.

Since you've read this far I am sure you found this guide useful so
please vote
!