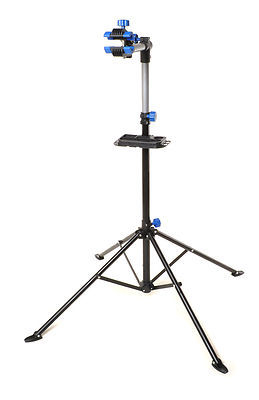 I purchased this bicycle repair stand from eBay seller letour-cycles. I was so impressed with the quality and the price at only $57.85 delivered, the item and seller was worthy of my first review. To top it off, delivery was received in two business days!
The stand is solid built and can hold my light road bicycle to my heavy downhill bicycle without the stand grips slipping or the stand leaning. The bike can be mounted to the bike stand clamp from the frame or seat post and is fully adjustable in angle, height, and distance from vertical post of stand.
Although the photo explains the majority of features available, some other specs are:
Folds for easy assembly and storage.

Multi purpose tool tray with magnetic compartment.
Clamp is suitable for frame tubing from 25mm to 40mm diametre.
Bicycle can be rotated into multi positions.
Ultra sable 4 legged base.
Max load of 30kg.
Telescopic height adjustment 105-190cm.
Adjustable brace for front wheel stability
Material: Steel, ABS
Quantity: 1pcs
Load capacity of 30kg

Similar and even lower quality, bike stands sell for close to twice the price at local bike shops.
Although I have been riding bikes for many years, I was always too cheap to purchase a bike repair stand. Using this stand now and purchased for the price letour-cycles sold for, I wonder how I managed without it.
This is a must have for any cyclist.