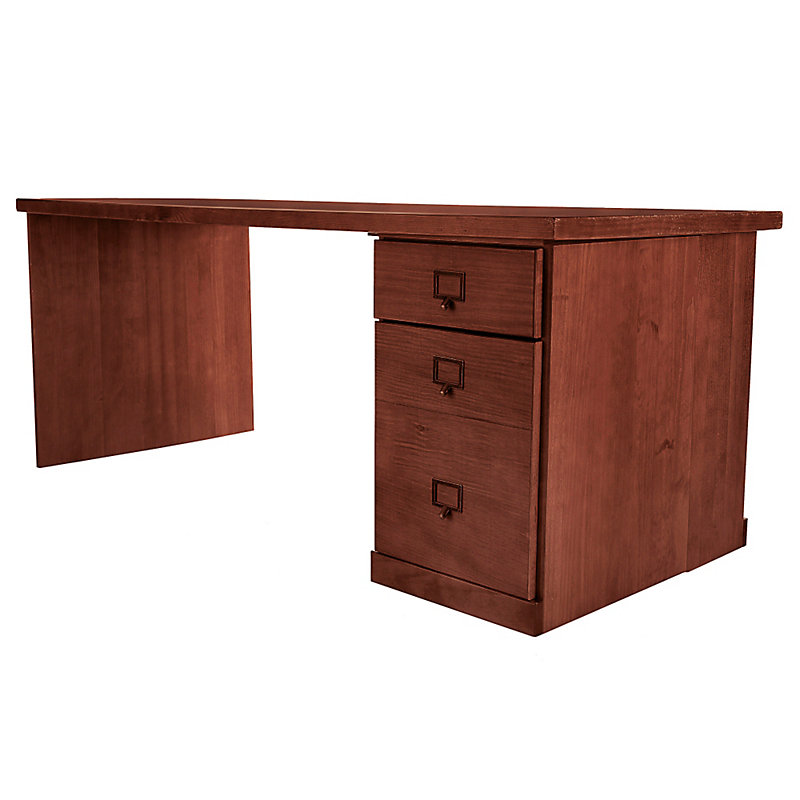 In a modern family home, a home office can be more than a place to escape during the day to work from home. It can also double as a study room and a computer room. Therefore purchasing the perfect office desk requires thought and consideration to ensure it fits all the functionality required. Not only that, but as a large piece of office furniture it also has the capacity to become a feature in the room.
There are many different places to shop for a home office desk from speciality stores to online. Auction sites like eBay's offer extensive ranges for both new and used products. This guide gives an introduction on how to buy a home office desk.
Getting Started
Before jumping straight into browsing for desks, there are a few questions to consider that will guide the buying procedure. These are:
· Measurements. What size room does the office desk need to fit in? What is the shape of the room? What other furniture will also be in the room? Take time to gain a realistic overview of the room and accurately measure out the space so there are no quick purchases that won't actually fit or compliment the space.
· Style. Based off the measurements taken, this will uncover suitable styles on offer. General styles of office desks include computer desks and classic desks.
· Functionality. What is the required functionality of the desk? Are shelves required or draws? How many computers does it need to house etc? Although providing a similar service, the functionality of a desk can change dramatically. Take time to assess the needs of the users so an accurate match can be made.
Different Types of Home Office Desks
Home office desks come in many different shapes and sizes and, offer endless functionality. As a result most desks are categorised by the material they are made out of. Functionality is as individual as the buyer and often additional functions can be added. Different materials used to make desks are:
| | |
| --- | --- |
| Glass | Glass desks can offer a neutral finish that will match with any existing room aesthetic. Glass is also easy to clean and maintain, but will scratch easily |
| Melamine | Melamine desks are a wood replica finish. Melamine is easy to clean and scratch resistant. |
| Solid Wood | A solid wood desk is a strong item of furniture. Because of the beautiful natural finish, a solid wood desk will often not have any additional finishing other than varnish. |
| Wood Veneer | Wood veneer desk is a replica material to solid wood. By using multiple layers of wood compressed together, wood veneer gives off a solid wood finish. As a result it is a more affordable option. |
| Wood Effect | Again, wood effect desk is a replica finish to wood veneer. Using other materials like MDF or particle board, the advantages are the ease in which it is to clean and the smooth finish. This is a more affordable option to wood veneer. |
Caring For an Office Desk
The best method for caring and cleaning for an office desk will depend on the material the desk is made out of. Below are some basic care instructions for different desk surfaces.
· Waxed or polished desks should be wiped with a dust cloth on a regular basis. To help keep the shine, a waxed desk should be bees waxed once or twice a year.
· Glass desks should be cleaned with a specific glass cleaner.
· Acrylic finish desks should be cleaned on a regular basis with soapy water.
· Sometimes it is appropriate to use a spray polish, but always read the label to ensure it is the right product for cleaning the desk.
It is important to bear in mind that direct sunlight will fade the desk over time. Where possible, position the desk out of direct sunlight. Artificial heat can also have adverse effects on the desk. Keep away from radiators or other heating devices.
Buying Considerations
There are a number of buying considerations to take into account. These include:
· Comfort. Does the desk have enough leg room? Is it the right height?
· Materials. Is the desk made out of sturdy and durable materials?
· Budget. Does the desk fit into the desired budget? Be sure to always set a budget that is realistic and is prepared for all incidentals like delivery that may pop up.
· Delivery and Installation. Does the desk come assembled? Or is it flat pack? Are tools required to set the desk up? Or is it a straight delivery job. If a straight delivery job, will the desk fit into the house via the front door?
How to Buy an Office Desk On eBay
Purchasing an office desk on eBay has never been easier. Not only this, but the sheer range of products means that there is something to suit every shopper. This section offers an introduction to eBay and how to engage with the site.
· Where to start. The best place to start is by searching the site for the desired item, in this case, a home office desk. To do this, simply engage with one of the search functions on the site: keyword search bar, advance search or categories. Each search will collate all the available products relating to the search term on to one page ready for browsing. It is possible to advance a preliminary search further by using the filter functions located on the left hand column of the site.
· Is the product right? Once a product has been identified, always read the description provided and address the photograph. Use these tools to cross reference the item and ensure it is in the condition the seller has outlined. Ask the seller additional questions if required.
· Refunds and exchanges. Always be aware of the seller's refunds and exchange policy to avoid any issues. Thankfully eBay sellers are customer service focused but just in case, eBay has an extensive buyer protection program in place.
· Payment. If everything is in order, it is time to make the purchase. This can be done by using a debit or credit card or, using PayPal. PayPal are a third party site set in place to facilitate the exchange between buyer and seller. All options are safe, secure and easy.
· eBay deals. eBay deals is one of eBay's new products. They offer additional deals not found on eBay. Be sure to check out home office desks on eBay deals for any different deals that may be suitable.
· Additional information. If additional information is required, eBay suggests visiting their buyer's tips page. Here an all manner of questions are asked and answered to ensure all customers use the site to its fullest capacity.
Conclusion
A home office desk is more than just a piece of furniture. It is the place where work takes place, exams are studied for and important communication takes place. As a result, time and consideration needs to be invested into the buying process. By addressing the above suggestions, it is possible to find the perfect desk to suit the needs of the home office it will be servicing.
With eBay's extensive range of literally hundreds of home office desks, both new and used, makes it the perfect place to shop.