Too many young children are over-confident about water and, as a result, the incidence of drowning in Australian backyards is still alarmingly high.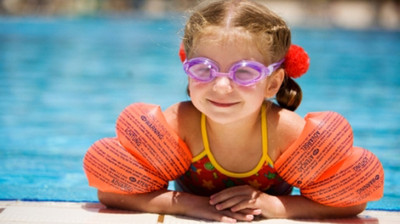 The water should be a fun place for children to play and be active, but it is equally important for them to be aware of the potential dangers around them.
For children under 5 years of age, home swimming pools are the most common location in which drowning occurs. This is an environment where, all too often, parents forget about basic pool safety and accidents happen. Unfortunately, some of these accidents are fatal.

Combining the following factors should reduce the likelihood of a fatal drowning or serious accident happening in your home pool:
Active adult supervision – for children under 5 and children who are not confident in the water, this means being at arm's reach. For older children and strong swimmers, this means having them in your line of sight and within earshot, at all times.
An effective and well-maintained barrier - the fence around the pool should be:

No more than 100mm from the ground
At least 1.2m high
Secure and sturdy
Comply with all legal requirements

A secure gate – pool gates must open outward from the pool, and must have:

A latch that is no lower than 1.5m from the ground
A self-closing latch that closes on the first swing
A secure latch that remains closed after the first swing
Comply with all legal requirements

A safe area surrounding the pool - this means having all pool toys out of reach when not in use and the removal of all objects which may be used to climb into the pool area, e.g. tree branches, crates, etc.
Emergency preparation – by law, a resuscitation chart must be displayed in the immediate pool area. Having one or more family members trained in cardiopulmonary resuscitation (CPR) is highly recommended. As is having a first aid kit and a charged phone near the pool.
While there is no way to "accident proof" a child, ensuring they are a strong and confident swimmer is an excellent way to help prevent serious accidents in the water.
It's never too early to introduce a child to the water. As soon as they are ready for lessons, find a great swim school program and stick with it. Boosting their water skills will give your child a love and respect for the water, as well as making playtime even more satisfying.
Pool safety education
Involving kids in home pool safety is easy.
Creating awareness about behavior around the pool, learning safe entry and exit techniques and building skills like floating, treading water and swimming under water are simple ways to help improve a child's water safety skills.
Children can even be involved in making sure the family pool and surrounding areas comply with safety standards with a fun checklist.
Be safe in the water and enjoy all that swimming has to offer.
The Team @ RedSplat