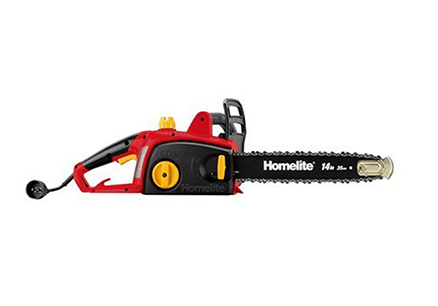 Homelite (originally the "Home Electric Lighting Company") made its first chainsaw in 1949. The company is famous for its industrial grade chainsaws. However, Homelite has ceased production of professional chainsaws and now manufactures consumer chainsaws and other power tools for gardening. Older Homelite chainsaws, some of which are collectibles, are still available if bought used. Buyers looking for Homelite chainsaws can choose from electric or gas-powered ones of different sizes. An understanding of what to look for when choosing a chainsaw can help buyers make an informed decision. Those looking for older collectibles should also know how to find accessories and parts to return an old chainsaw to working condition.
Electric Chainsaws vs. Gas-Powered Chainsaws
All chainsaws are either electric or gas-powered, and Homelites are no exception. Buyers should consider the location where they anticipate using the chainsaw, its access to a power source, and the type of work they plan to do, before choosing one or the other.
Type of Chainsaw

Characteristics

Powered by electricity

Ideal for low-power work such as trimming, pruning, or light cutting

Easy to start

Less maintenance required

May be corded or cordless

No fuel required

Gas-powered chainsaw

Powered by two-stroke gasoline engines

Greater power

Can be used anywhere

May be heavy and noisy
Electric chainsaws are also lighter than gas-powered models, and are often a good choice for first-time users. Gas-powered chainsaws, though heavier and louder, are ideal for heavy-duty use, and in situations where an electric power outlet is unavailable. They are also better suited for cutting hard woods.
Other Factors to Consider When Choosing a Homelite Chainsaw
Once buyers decide whether an electric or gas chainsaw suits their requirements, they must next consider factors such as size and power. Bar length determines the size of a chainsaw, while engine displacement determines the power of gas-powered chainsaws. Buyers should also consider other features that improve a chainsaw's safety and comfort.
Bar Length
A chainsaw's bar length is the distance from the tip of the chain to the point where it enters the chainsaw housing. It represents the active cutting area, and the largest size of wood the chainsaw can cut in a single pass. Chainsaws are available in sizes from six inches and higher.
Bar Length

Usage Scenarios

Occasional and light-duty use

General purpose home use

Larger jobs

Farm or rural use

Frequent, heavy-duty usage

large-diameter wood cutting
Chainsaws with bar lengths longer than 20 inches are heavy and hard to handle, and should only be used by experienced users. The current range of Homelite chainsaws features chainsaws with bar lengths between 14 to 18 inches, though older models were sometimes longer.
Engine Displacement
Experts measure engine displacement in cubic centimetres (cc). Engines with larger displacements are more powerful, but also heavier. Models made for home use have engine displacements below 62cc, and the current Homelite gas-powered chainsaws come equipped with 42cc engines. Older Homelites were available with larger engines.
Automatic Chain Oiler
An automatic oiler, as its name suggests, automatically oils the chainsaw's chain. Some automatic oilers stop oiling when a chainsaw's engine is idling to prevent oil wastage. Older chainsaws did not have this feature and the chain needs manual oiling at regular intervals if this is the case.
Vibration Isolation and Ergonomic Handles
Vibration isolation systems dampen vibrations that reach chainsaw users' hands. This can reduce fatigue, and increase the life of the saw. When coupled with ergonomic handles, vibration isolation (also called vibration "dampening") can make a chainsaw user's work much easier. The current range of Homelite gas-powered chainsaws features a "3-point vibration isolation handle".
Sprocket-Tip Cutting Bar
A sprocket-tip cutting bar reduces friction around the bar tip. This maximises cutting speed and prevents the chain from dragging around the bar nose. Current Homelite chainsaws also feature an additional "Safe-T-Tip" that prevents rotational kickback.
Side-Mounted Chain Tension Adjustment
A correctly tensioned chain is essential to safe operationn. Side-mounted tension adjustment allows users to adjust the chain's tension quickly and easily. All current Homelite chainsaws feature either side access, or tool-less chain tensioning.
Availability of Spare Parts
The availability of spare parts and the ease of maintenance are important factors to consider when choosing a Homelite chainsaw, especially an older, non-production model. Gas-powered chainsaws have engines, and these require maintenance like any other engine. If parts are not available, buyers can end up with a non-working chainsaw. However, NOS (New Old Stock) parts are available for Homelite chainsaws.
Another factor to consider when buying vintage Homelite chainsaws relates to safety issues. Buyers should make any safety modifications recommended by the manufacturer.
How to Buy Homelite Chainsaws on eBay
Homelite chainsaws have been in production since the 1940s. Though Homelite's current range of saws includes only consumer-grade models, older ones made to a professional standard are still available second-hand. Buyers looking for Homelite chainsaws must choose from electric or gas-powered models. They should also consider other factors, such as size, power, and availability of spare parts before choosing a chainsaw.
Buyers in the market for a chainsaw can find a range of Homelite chainsaws, both new and old, for sale on eBay. They can quickly locate what they are looking for by using eBay's search bar. Buyers can contact sellers if they have any questions about a listing. They can also browse eBay for deals on garden and landscape tools.