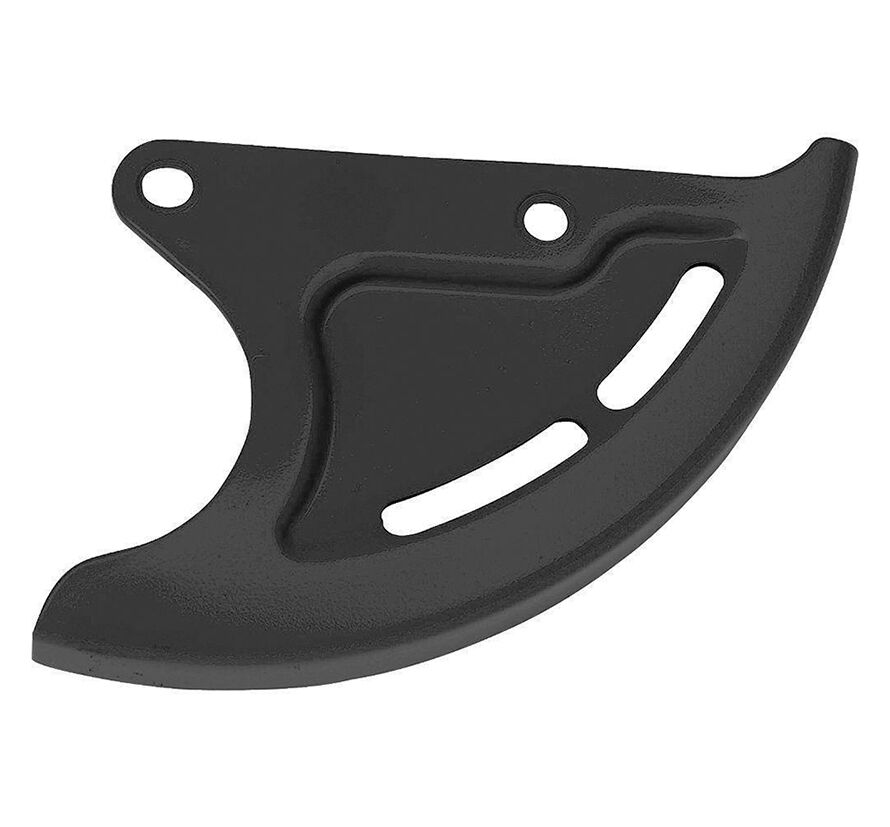 Motorcyclists encounter all sorts of obstacles that find their way into their path. The front and rear brake discs are particularly vulnerable to damage from stones, branches, or other debris that may fly up into the bottom of the motorbike. Although a particularly common hazard in off road riding, all motorcycles are vulnerable and riders should ensure they have both brake discs covered. Those with a Honda motorbike can find all the bike accessories they could ever need on eBay or eBay Deals, but the various types of disc guards listed can alter the appearance and style of a motorbike. Customers should ensure they only choose guards that are compatible and that enhance the appearance and protective qualities of their bike.
The Importance of Disc Guards
Disc guards are essential motorcycle components because they protect the front and rear rotors and brake calipers from impact damage from foreign objects. The motorcycle's braking system also needs guarding against various other debris that can shorten its life and even bring the motorcycle to an untimely halt. Disc guards are not generally standard features, but they can be indispensable for the rider as they can prolong the life of the braking system.
Honda Disc Guards
Honda motorcycles are manufacturing giants in road and dirt bike production. They have been leaders in the industry since 1959 and continue to produce motorcycles to a high standard to cater to a wide range of enthusiasts. Although disc guards are not factory installed on road bikes, customers can purchase high quality and OEM standard Honda disc guards for virtually any Honda model on eBay. Many types of motorcyclists insist on using disc guards, but especially those who engage in a good deal of off road riding. Nevertheless, they also make a popular addition on racing bikes.
Front Disc Guards
Front disc guards for Honda motorcycles vary greatly and buyers have a wide choice. However, they should be careful in their selection. Some front wheel disc guards cover more of the rotor than others, and some plastic guards restrict airflow to the rotor and may cause the front brake to overheat. Customers may need to purchase a mounting kit separately.
Rear Disc Guards
Rear disc guards are shaped differently to those at the front due to variations between front and rear rotor structures. They are widely regarded as more important than front guards because the rear rotor is generally exposed to more debris from the ground.
Important Factors in Choosing a Disc Guard
There are several important factors that motorcyclist's should think about before they choose their disc guards. The type of motorbike a customer has should feature quite strongly in their decision making, as should their riding environment. Naturally, road bike owners are going to want a disc guard that is stylish and not overly noticeable, whereas this may not be a priority for the off road rider.
Typical Riding Environment
Motorcyclists should consider their most typical week-by-week riding environments when selecting front and rear disc guards. They should think about purchasing the sturdiest disc guards if they have a dirt bike and frequently ride over rough terrain, but a more lightweight style should suffice for the open road.
Ventilation
Whichever Honda disc guard a customer chooses, it is important that it allows for adequate rotor ventilation so that brake components do not get too hot. Buyers should avoid certain plastic varieties of disc guards that cover too much of the rotor.
Design
Motocross and offroad riders should ensure they choose a disc guard that has an open design to prevent mud from caking the rotor and inadvertently damaging the brake calipers. A more open plan disc guard also helps prevent heat build-up.
Materials
Motorcyclists can choose between aluminium, carbon fibre, and various types of plastic disc guards. Buyers should purchase according to which material offers the best performance for the type of riding they engage in, keeping in mind that materials factor heavily in determining the cost. Racing bikes should use polycarbonate, carbon fibre, or other light and high strength materials.
Aluminium
Aluminium disc guards are a popular choice for a wide cross section of Honda motorcyclists due to their modest price point. Riders can purchase these in different thicknesses according to their requirements. Aluminium disc guards are commonly an enclosed design, providing better protection to the rotor in dusty conditions. However, designs that allow proper ventilation to the rotor should be a prime consideration for those who use these disc guards.
Plastic
Plastic disc guards are a cheaper option for those who do not need a lot of protection from debris. These disc guards vary greatly in quality, and customers must ensure they choose a guard that offers adequate rotor ventilation.
Carbon Fibre
Carbon fibre disc guards are more expensive but are extremely strong. Carbon fibre is a reinforced polymer and is one of the lightest materials available. Its minimal weight, ultra strong performance, and its manufacturing flexibility makes it a favourite material choice for motorcycle racers. This flexibility allows it to form into virtually any shape and provide exceptional aerodynamic style.
How to Buy
If you know the type of Honda disc guards you want for your motorcycle, enter the type in the search bar, such as " Honda Shark fin disc guards". If you want a broader overview of availability, make a general search request. Once you have located your preferred product, save and look for another seller with the same item so that you can make listing comparisons to ensure you get the best deal. Carefully read all product information so that you can be sure of compatibility. Take special note of the seller's returns policies and terms of sale. Check your seller's eBay reputation by noting their positive feedback score. It goes a long way towards boosting your buying confidence.