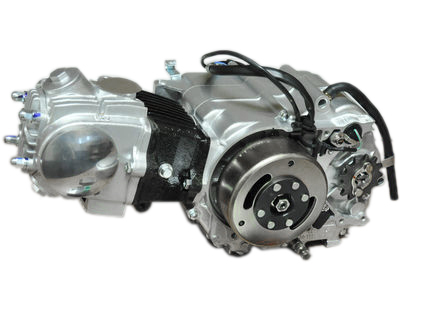 For some, motorbikes are a fuel-efficient, convenient way to get from point A to point B, while others have an abiding passion for the thrill of the ride. As one of the world's leading motorbike manufacturers, Honda has a reputation for producing excellent-quality bikes that bring years of enjoyment, provided the owner practice proper maintenance. In some cases, however, an engine needs repair or replacement. Honda owners should familiarise themselves with the steps necessary in identifying correct engine for their motorbike, as each model has unique engine specifications. Learning more about their engine can also help them make informed decisions, such as when to choose between a pre-owned or new engine, or whether to buy OE, OEM, or aftermarket parts.
Important Motorbike Information
To a large extent, the motorbike determines what kind of engine one needs. A certain model requires a particular engine, so buyers should know the precise model and year of their Honda motorbike. Sometimes within a model year there is a special edition that has different motor: this is also important to know. If the original engine is available, its serial number is another vital piece of information.
Finding Model and Engine Information on the Motorbike
Honda motorbikes produced after 1980 have a colour label. Lift the seat of the motorbike and find the label attached to either the top of the rear fender or to one of the frame rails. Alternatively, look for the vehicle's unique frame number on the frame headstock or the VIN plate. Each Honda motorbike engine has its serial number stamped directly onto the silver of its side. The serial number has a 4- or 5-letter prefix and then a 7-digit identification number. Have this information on hand when shopping for a new motor or for engine parts.
Motorbike Engine Specifications
An engine model has several important specifications that are indicative of its power capabilities and efficiency. The following chart outlines and defines some of the most common terms.
| | |
| --- | --- |
| Specification | Definition |
| | Volume displaced in cylinders as pistons move from highest to lowest point, measured in cubic centimetres (cc) |
| Cooling | Method of controlling engine heat; may be by liquid, air, oil, or some combination thereof |
| Number of Cylinders | The number of cylinders in the engine's construction; single-cylinder typical for small bikes; two-cylinder common for motorcycles; four-cylinder engines are in more powerful bikes; six-cylinder engines rare, in models like theHonda CBX or Gold Wing 1500/1800s; configuration may be at an angle (V), parallel in vertical position, or in-line flat |
| Four Stroke | Describes four-stroke process of air-fuel intake; most Honda motorbike engines are four-stroke |
| Bore and Stroke | Bore is the cylinder diameter; stroke is the distance a piston travels up and down in the cylinder |
| Compression Ratio | Compares the capacity when piston is at the bottom and top of the cylinder; higher compression ratio tends to mean more power |
| Valves | Specifications may indicate how many valves per cylinder, or for entire engine; SOHC (single overhead cam), DOHC (double overhead cam), and unicam indicate method for opening and closing valves |
| Fuel System | The method for preparing and controlling movement of air-fuel mixture into engine through valves; typically either carburetor (specs indicate type) or fuel-injection |
Although many factors affect engine performance, it is a general rule of thumb that things like greater capacity and more cylinders mean greater power. Educating themselves about engine specifications helps Honda motorbike owners understand how their machine works, and can assist in finding the right replacement parts, should they need to.
OE, OEM, and Aftermarket Engines for Honda Motorbikes
Assessing whether one wants to replace an entire engine or repair it with parts is an important step when working on one's motorbike. If a full replacement is necessary, it is advisable to choose a Honda-manufactured OE (original equipment) engine. Honda has a reputation as one of the world's leading engine manufacturers; buying an engine that replicates the bike's original Honda motor, one can expect the same high level of performance. If buying parts for a Honda engine, there is a bit more flexibility. OEM (original equipment manufacturer) parts are from manufacturers to whom Honda consigns the production of one or more elements of the engine's construction. While these come with a label from a different manufacturer, they meet Honda's specifications and rigorous quality demands.
Aftermarket brands are third-party manufacturers and do not have any connection to Honda. As such, quality can vary. Some aftermarket parts are in fact upgrades on OE or OEM equipment, whilst others are far inferior in quality. If considering aftermarket replacement parts for a Honda motorbike engine, do plenty of research in advance to see how expert and user reviews rate the manufacturer and product.
Used and Refurbished Engines
Purchasing pre-owned or refurbished Honda motorbike engines can be an economical way of replacing a motor, but buyers should exercise caution. It is difficult to confirm the condition of a used engine, particularly when from the owner directly. Buying a pre-owned or refurbished motor from a reputable source is a better approach, since not only the performance but the safety of one's bike is at stake.
How to Buy
There are many ways to shop for a Honda motorbike engine. You can browse local listings in the newspaper, check with authorised Honda dealers, or look through websites specialising in motorbike parts. eBay is another excellent resource, with deals every day on motorbikes, parts, and accessories. Type keywords into the search bar on any eBay page to find the latest listings for Honda motorbike engines. Verify the engine or parts are right for your bike's specifications, and note shipping fees or local pickup options. Also, check the seller's credentials: look at their feedback score to ensure they are knowledgeable and reliable. Following these steps helps informed buyers get the right Honda engine and get back on the road.