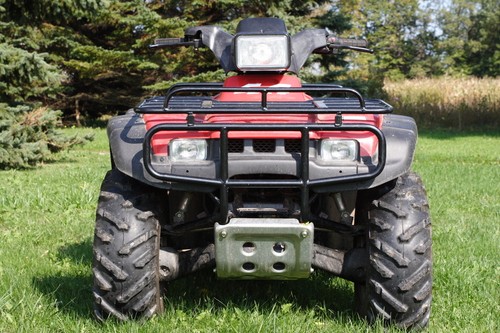 Buying a Honda quad or ATV bike requires research and a budget. Quads are versatile, but buyers should still consider different factors including the purchase price, model, condition, and intended purpose of the quad. For example, Honda manufactures quads for utility, recreation, and sport, and each of these may be the right choice for different owners. Factors such as driver's weight and height, and the driving terrain also affect the type of quad that is appropriate for a person. Some buyers may want to get second-hand Honda quads to save money. Buyers should consider all of these factors and the quad's specifications before purchasing a Honda quad.
Different Types of Honda Quads
There are several types of Honda quads to consider and most of those choices depend purely on intended use. However, some factors such as terrain, driver's body weight, and the bike's price might also affect the buyer's decision. The following are the main types of Honda quad makes, although there are usually two or more specific models available for each type.
Honda Sport Quads
Honda sport quad bikes are for high-speed sports like motocross racing and, as a result, feature a great deal of suspension to handle rough riding. These quads are lightweight, fast, and stable at high speeds. Owners can drive them across a variety of terrain, and this is especially important when taking fast turns, going up hills or obstacles. Sport quads do however have low weight capacity and less power for work or carrying gear. Sport ATVs are one of the most popular styles and usually because they have a very fast 350 cc or higher engine.
Honda Utility Quads
Utility ATVs are heavyweight and durable work machines. Their short suspension makes them uncomfortable and impractical to use for racing, but large engines and large bodies make them perfect for work and heavy duty recreational use, including driving, hunting, and travelling. Most utility quads from Honda are actually designed for hauling gear or tools over rough areas such as heavily wooded hills or similar. Utility quads can support more weight compared to other types of quads, and owners sometimes use them to pull small trailers.
Honda Recreation Quads
Recreational quads are comfortable for use on trails or moderate ground. Most are an average quad with specifications somewhere in the middle between power and speed. One type of Honda recreational quads is the Side by Side, which usually features a roof similar to that of a golf cart, small wheels, and large comfortable seats. This quad is suited to leisure use and to driving on roads or trails. Another type of Honda recreational quad is the entry level four-wheeler or standard recreational quad. This quad looks and feels like utility or racing quads but offers less power, and has a 125 to 250 cc engine; however, it has better fuel mileage compared to other models.
Honda Youth Quads
Honda also produces the occasional youth ATV. Youth ATVs are smaller, lighter, and have considerably less power than other models, making them more appropriate for younger riders. Some ATVs are intended for agriculture or farm work. The common engine size of youth ATVs is in the range 50 to 125 cc.
Honda Trikes
A trike is a road legal quad that owners can use as means of transportation. It is possible to purchase road legal Honda ATVs new. However, many people do purchase and modify a Honda quad for road use and then later sell it as a trike. It is important to get an inspection to ensure that the trike is road legal before driving it on public roads.
Honda Quad Features
Different Honda ATVs are made with different engines, different amounts of power, and different capabilities. Researching these capabilities can help buyers to find a quad that suits their needs. Specific quads such as racing quads do need more powerful engines in order to keep up on the track.
Engine
Most quads, whether labelled as sport or not, should have a 350 to 750 cc engine in order to compete in a race. Horsepower is also a consideration for anyone who plans on hauling gear or towing trailers with their ATV. Anyone who is more than 140 kilogrammes in weight or who plans to ride double should also consider getting a higher horsepower Honda quad. Utility Honda quads usually have higher horsepower compared to other Honda quads.
Fuel Usage
Very big and powerful engines and very fast engines are not as fuel efficient as mid-range models. For example, a 750 cc engine is a great deal faster than a 250 cc engine, but gets lower fuel mileage rates. As a result, the average ATV owner might actually be better off with the 250 cc as it saves money for anyone who does not need a heavy duty racing bike. Actual fuel mileage does vary depending on the make, model, and age of the Honda, as well as the terrain the owner is driving on. However, Honda does have relatively good gas mileage compared to many other quads.
How to Buy a Honda Quad Bike on eBay
Some buyers may want to look on eBay for new makes and models of Honda quads. Other buyers may want to look on eBay Deals for Honda quads or search eBay for second-hand ATVs. These are typically cheaper than brand new models but are not usually as powerful as new models. Buyers can find new or used Honda quads by typing relevant keywords in the search box located on any page of eBay. Buyers should consider the class of ATV they are looking for based on engine and speed specifications. Most buyers can choose between new and used bikes by setting a budget based on intended use, and then making a decision.