Honeycomb Blinds are the best blind solution for your windows, to save energy & money
We all want to save money and when it comes to window furnishings, Honeycomb Blinds are the best answer for reducing your heating and cooling energy bills.
Due to the unique hexagonal cell structure of the blind, it allows a body of air to be trapped inside the cell, creating an insulated layer. Couple that with the air between the blind and the glass and you have an added bonus.
Blockout honeycomb blinds also have an inner foil lining to the cells, which helps maintain the insulation even longer.
When you compare the energy efficiency of a honeycomb bind to all other blind types on the market, they are streets ahead and offer the best value for their performance.
The only other window furnishing on the market that will perform better than a honeycomb blind, will be a fully lose lined curtain with a pelmet. So when you compare the prices from the curtain option to the honeycomb blind, you will have a lot more spare cash left over, and that's always helpful when you are redecorating or building.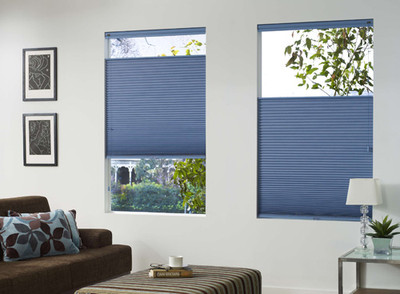 Photo courtesy of blindsonline.com.au
When it comes to buying honeycomb blinds, there are 3 cell/fabric types to select from - Blockout single cell, Light Filtering single cell or Light Filtering double cell.
The double celled honeycomb blind, allows you to have a higher insulating blind, without having to totally darken the room. This is an ideal option when you want to have the blinds down during the day, to maintain privacy or to diffuse the light, but still want to keep the heat in or out depending on the season.
Below is an image of a double celled light filtering honeycomb blind.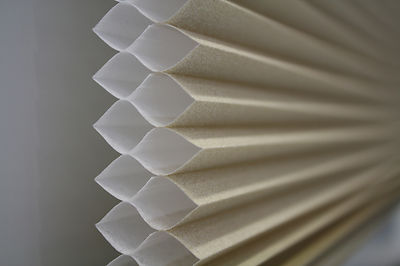 To help achieve a higher level of insulation, we recommend that you recess the honeycomb blind into the window frame, rather than mounting it on the face of the window or architrave. This then allows the blind to sit neatly inside the frame, and due the cloth going practically the full width of the blind, the gap down the sides will be minimal and helps trap the air between the blind and the glass.
Where to buy honeycomb blinds?
Due to the increased popularity of the product, most retail blind stores now carry this line. Alternatively to save you more money, blinds online is now becoming the way to purchase your window furnishings. It's easy to measure you own windows, then go online and enter all your details and get instant prices. This then allows you to easily shop in your own time and within your own budget, customising your blind so it will fit your window perfectly.
The online stores even post out fabric swatch colours, so you can see the colours in your own home, helping you to match your décor. Buy buying your blinds online, you can save up to 50% off "bricks and mortar" store prices.