AIRBAG Safety jackets for Horse Sports


Horse sport riders
now have a range of new
safety vests and jackets
available with a
built-in airbag system
.
In an accident, when the rider is thrown from the horse an airbag built into the jacket or vest is activated by a short lanyard (coil wire) fitted to the saddle D-ring or monkey bar.
The airbag protects the riders chest, neck, shoulders, back, spin and bottom instantly.
This is a new level of protection against injury or death. The HIT AIR system has been used successfully since 1985.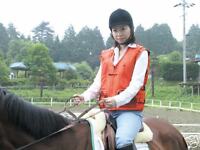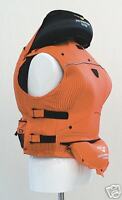 The airbag system is
reusable
if it is not damaged, and can be reset by the rider within 5 minutes. The CO2 gas cartridge costs $23 and the vests around $600. Jackets range from $750 to $1000. Vests are around $600.
NOTE
: This guide is based on the Airbag jackets and gloves by
HIT AIR
from Japan (
Mugen Denko Co Ltd
) which have been on the market since 1985 and have a proven safety record. HIT AIR is the market leader with several thousand units sold throughout Asia, Europe, Australia and now also the US. We are the exclusive
Australian
distributors of this product and wish to provide this
advice
for
eBay users
as we are strongly interested in the safety of riders and pillions.
We do not sell by eBay but directly over the web from our own website, but may do so in the future if there is interest. Few jackets/vests ever appear on eBay as owners do seem to keep them close!
HIT AIR have provided their airbag system to many other jacket manufacturers, esp. in Europe, but now produce their own range of jackets and vests. There are now some copies from Taiwan and Spain and a few other airbag designs on the market.
We have briefly described the system here and have provided more detailed information at our own site:
www.hitairaustralia.com.au
with links to many other safety and interest areas.
This Guide is NOT meant to be read as a commercial, but as these products are design leaders there are few competitors so other gear has to be examined and compared with the additional features offered by these models.
Description.
The HIT AIR jackets provide instant airbag safety from accident impacts and are REUSABLE, if not damaged, by replacing the CO2 gas cartridge (it costs only $23). (There are some 20 styles currently available in the HIT AIR range and our prices range from $600 to $1000).
Activation is by a short lanyard (coil wire) secured to the horses' saddle which pulls a spring loaded trigger out of the riders jacket when the rider (and/or pillion) is thrown from the bike. Accidental activation is not likely as a 25kg force is required - so if the rider forgets to unclip from the coil wire the airbag will not be inflated, only feel a strong tug to remind him/her. Riders soon adapt to the new
clip-on / clip-off
attachment system.
The airbag is fully inflated within 1/2 a second, and will absorb the impact forces of a fall or collision with any objects. Protection is provided by the airbag to the riders' chest, neck, shoulders, hips, spine and bottom. The
riders' neck and spine are especially protected
as the jacket acts as an air splint preventing movement. The inflation of the jacket also prevents the jacket from being stripped off, snagging, or riding up and presents the jacket material tightly for best abrasion resistance.
The airbag is fitted with an air release valve which deflates the airbag over a 3-5 minute period. The trigger mechanism and CO2 cartridge can be reset/replaced by the rider easily within a 5 minute period.
The small sound of the gas release during the airbag triggering in a fall or accident has not been shown to startle any horses.
All jackets have
a back pad protector and shoulder and elbow CE armour
and have many other design features such as air vents, waterproof pockets, reflective panels, removable winter liners, removable sleeves, full or partial mesh construction as well as a range of colours.
Chest protectors
are also available ($45) and these are recommended for horse sports.
These protectors are recommended when working alongside your horse, and are far less cumbersome than other BETA approved protection gear.
The vests weigh about 2kg and the jackets 2-3kg.
There is now a series of "Naked" airbag vests that weigh only about 1kg !!
AREAS of USE.
Airbag jackets are worn by Police in several countries and may also be worn by other horse sport riders such as:
training and trackwork,
harness work,

rodeo,
cross country, as well as
pony club riders,
eventers,
disabled rider activities,
mustering, and station work, as well as
camel riding
ATVs (Quads)
motorcycles and motorscooters, etc.
The system has a proven record of success in accident injury protection. The airbag system is also used by
motorcyclists and pillions, ATV or Quad riders, etc
.
The gear may be very useful from operators of learner rider schools, tour groups and extreme sport riders (provides confidence to new riders and possibly reduced PL insurance costs).
Buyers
need to consider their own safety as well as their pillions so the airbag jackets/vest provide a great additional measure. The current BETA standard horse riding vests are an alternative (and are indeed mandated in some areas). Future testing and development will examine the comparative differences and may perhaps incorporate the current standards in new designs. The existing choices include model, size, and colour.
It is noted that horse sports are inherently risky and children and young adults do not have extensive experience or strength to control their mount so safety gear is essential.
Other brands of airbag jacket are available so compare the models, quality, features, effectiveness of the triggering mechanism, technical reliability and testing, and dealer service.
Models
from HIT AIR include:
summer, winter and between season styles;
commuter, sports and touring uses;
waterproof or rain resistant;
high visibility or general design;
jacket or vest (some jackets have removable arms/sleeves);
a variety of materials, including full or partial mesh for coolness and ventilation;
a range of colours.

Depending on the model
sizes
range from XXS to 4XL with
colours
including Red, Blue, Black, Yellow, Grey, Silver, Beige.
HIT AIR is prepared to consider special requirement designs - eg. airbag systems built into special /official or club jackets.
HIT AIR also offer a range of unique and effective PALM PROTECTION gloves which provide a new approach to impact force distribution and reduced friction to minimise the potential for hand, finger and wrist injury.
Now, the answers to the general critical discussions
(
on motorcycle, riding forums, etc)
on airbag jackets:
Require a lanyard/coil wire to activate:

Yes, but more simple and reliable than experimental electrical or explosive triggers using accelerometers, etc.

Don't inflate until separated:

Yes, but jacket has protectors and padding, and abrasive resistant materials as any other quality jacket. In addition you have the additional layers of airbag and airbag protector sleeve between you and the ground. (PS: no airbags have yet been reported as having been damaged).


Not fully inflated for 500 milliseconds (1/2 second):

True, but inflation is of course progressive and inflation occurs instantaneously building to full inflation. Substantial airbag protection is already available in first 100-200 ms. It's the final full pressure build up that takes the extra time as one knows when ever inflating any product such and a ball, airbed, or tire.


****NOW NEW HI-SPEED ACTIVATION UPGRADE UNITS ARE AVAILABLE: full inflation within 0.3 seconds!****




Accidental inflation:

Highly unlikely, as force required is 25+Kg. Getting off your horse is not enough - unless the distance to the ground is more than the coil wire length - unfortunately the is likely to be the case on a horse so you MUST disconnect first. General movement within the range of the coil wire cannot provide sufficient force to activate the airbag accidentally. The product would be a dud if it was always going off accidentally wouldn't it!

I wouldn't wear one!:

Well OK that's up to you, but why should other peoples taxes have to pay for your treatment and recovery!

Testing by authorities:

There's been plenty of testing, laboratory, dummies, stunt riders, real accidents, etc. - but no real way to test for accidents though we've been trying with a couple of independent authorities, here in Australia. Their effectiveness has been reported by many clients who have had activations.

Why don't racing riders use them?

Some do - useful for track work, etc! There are some racing versions but formal regulatory requirements are not yet mandated, however racers have very good course conditions, grass and pebble run offs, protected cushioned barriers, etc. so impact accidents are minor compared to cross country riding - although the risks of injury from surrounding horses in a fall are very high.

They are too expensive!

Well what's your life worth, or the cost of ambulance, hospital, medical, loss of work, trauma, recovery, pain and suffering worth? How much are your responsibilities worth to cover/replace? Why not get the latest generation of safety gear available to reduce or eliminate these injury related costs?

What about legs and arms?

Life and major injury threats are to the body and organs, neck and spine! The jackets have shoulder and elbow protectors and one should wear good riding pants and boots. Check out the HIT AIR gloves too which provide Palm Protection as well!!

REMEMBER it's not the falling off that's the problem, but it's hitting things. The airbag will absorb the impact!
Note too, that an accident my not be your fault, it could be the riding conditions or another rider, horse shying, etc. so your skills may not be enough.
More information, including downloadable videos
can be found at our website www.hitairaustralia.com.au.
We welcome any further website contact enquiries, feedback, comments and interest. Contact: info@hitairaustralia.com.au
Please contact us if you would like to get links to see some videos of the system in operation with horse riders.
DID YOU FIND THIS GUIDE USEFUL ?
If so please check the review box below. Completing this task will assist raising the rank of this Guide for more attention/awareness.

` V

` V

` V
` V