Put simply, an Environmentally Friendly Ebay Seller is someone who shows a concern and regard for the environment throughout the selling process, especially during the shipping of items while continuing to maintain a high level of professionalism and customer service. This practical guide shows you how to save money and contribute towards a better environment.
Recycle Packaging
I started out as a buyer and gradually started selling items, mainly music (CDs and LPs) I no longer listened to. Early on, I headed off to the store to buy packaging supplies. Once my packaging stocks has run out I decided not to rush out and buy "new" stuff but instead turned to the packaging that I had kept from my own previous Ebay purchases.


Think about the amount of packaging you accumulate during the buying process. Packaging such as plastic and cardboard mailers, envelopes, bubble wrap, cardboard tubes and loose foam bits used for padding can all be kept and reused to ship future items sold. I keep a couple of boxes of packaging odds and ends handy and have found I only ever need to buy sticky tape. The rest is recycled!

Here are two quick and easy tips to 'reclaim' a used package and prepare it for reuse.

Tip 1: Recycle a Cardboard Mailer
Directions:
-Cut a piece of paper large enough to cover up the old delivery and sender addresses.
-Tape onto mailer.
-Your mailer is ready to use.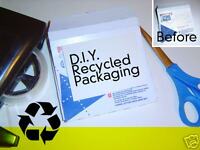 Tip 2: Recycle a Padded Envelope
Directions:
-Cut a piece of paper large enough to cover up the old delivery and sender addresses.
-Tape onto envelope.
-When ready to ship, put sold item in envelope. Roll or fold open end closed and secure with staples.
-Cover staples (sharp end side) with sticky tape to prevent snagging onto other mail, parcels and people's fingers.




Save Trips to the Post Office
Saving trips to the post office means cutting down on fuel and emissions into the environment. Anything you can do at home will ultimately save you money and time!
Here are some tips:
Buy stamps and packaging (if necessary) in bulk.
Invest in some cheap weighing scales, a flexible tape measure and make your own small letter measurement device following the specifications applicable to your country.
Calculate correct postage using online postal services applicable for your country.
Where possible, walk instead of driving to your local post box!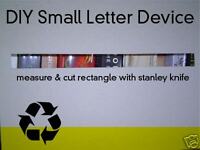 Spread the Word
Make your buyers aware of your concern for the environment. On my sender stickers I print "Where possible, please recycle this package".
Sign Up
The most obvious way to become an EFES is join Ebay and become part of one of the most amazing recycling machines on the planet. Think of how many items are bought and sold, rather than disposed of and saved from the rubbish tip! You can make a difference!