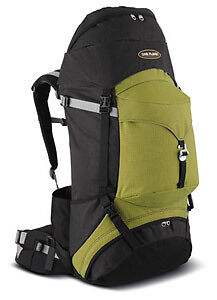 How To Choose a Backpack
Backpacks come in a range of different sizes and styles designed to fulfill the requirements of a multitude of different activities.
When choosing a pack the first thing to decide is what size of pack you require.
Often this will depend on the length of time that you intend to be away for.
As a rough guide we have split the pack capacities into four ranges relating to the intended length of time that will be spent away from home
0 - 30 Litres Daypack Good for a few hours to a day away from home
30 - 50 Litres Technical daypack or Overnight pack Full days out when more gear is required eg. winter walking, climbing or for lightweight overnight adventures
50 - 80 Litres Hiking Packs Suitable for one night to a week in the bush
80 Litres + Expedition Packs Designed for extended stays in the wilderness
When you have decided the rough size of the pack you need to consider what activites the pack will be used for.
These are a few of the activities our pack range caters to.
Hiking, Cycling, Snowboarding, Skiing, Mountaineering, Climbing, Expeditions, Travel, Commuting and Everyday use.
Below is an overview of some of the different styles of pack designed with specific end uses in mind showing some of their common features.
Although packs are often designed around a specific end use many are able to cope with a range different activities.
Our main pack categories are.
Everyday/Travel/Commuting
Daypacks
Daywalking Packs
Snowsport Packs
Bike Packs
Fast and Light Packs
Alpine Packs
Hiking Packs
Expedition Packs
Everyday/Travel/Commuting Daypacks
Capacity: 10-35 Litres
Common Features: Panel Loading, Multiple compartments and pockets, Fixed harness
Generally the everyday daypack will be panel loading, it will have one to two compartments and a range of internal and external pockets for organising gear, it will more than likely have a laptop sleeve. Panel loading means that the pack will have a zip that zips across the top and down the sides allowing for excellent access into the main body of the pack.
It will have a fixed harness with a basic hipbelt, generally made of 25mm webbing with a side release buckle. Many are removeable if not required. Due to the fairly basic nature of the harness a pack like this will not offer the same level of comfort for all day carrying as a more specialised daywalking pack.
The packs tend to be styled towards the urban environment with sleeker lines, looking less technical than some other daypacks.
[Lowe Alpine Helix 27] The sleek looking Helix 27 from Lowe Alpine is a great everyday pack suitable for many situations. It has a main zip accessed compartment with a laptop sleeve, a smaller organiser pocket. A stretch mesh pocket on each side for a water bottle. If commuting on the bike it has a blinker light attachment point too. Perfect for travel, commuting, uni and a the occasional trip into the hills.
Daywalking Pack:
Capacity: 10-35 Litres
Common Features: Panel or Top Loading, hydration system compatible, many have a single main compartment plus a number of bottle pockets and organiser pockets, harness with chest strap and wide hipbelt with some padding, walking pole attachment points, compression straps.
These packs are designed to carry, comfortably, everything that you will need for a day out in the country. Most will have a single main compartment and be either top loading or panel loading.
The harness length may be sized or adjustable and it will offer a reasonable amount of strap adjustment to tailor the fit. A slightly padded, wide adjustable hip belt that contours round the hips will help to transfer the weight of the pack and it's contents from the shoulders to the waist relieving pressure from the spine.
Some of todays daypack harnesses use meshes, stiffened framesheets and other techniques to hold the pack away from the back slightly, helping to increase airflow and reduce the chance of getting a sweaty back.
A sleeve located inside the main compartment or sometimes between the main compartment and the harness is designed to carry a hydration bladder such as a Camelbak Antidote reservoir. Carrying your water, which is quite heavy, close to your back like this helps to keep your centre of gravity closer to you aiding balance when moving over uneven terrain.
There will be a range of smaller pockets, zipped, mesh or stretch, either in the lid on the front or sides, internally or on the hipbelt for snacks, phone, keys, first aid kit, torch, maps and anything else that you want to keep handy.
Compression straps on the sides of the pack are critical to well balanced load carrying especially as the size of the pack increases. They help to restrict the load from moving around inside the pack and draw the load in towards the back.
A couple of loops often located somewhere on the front of the pack will give you a spot to stow walking poles when not in use.
[Osprey Atmos 35] The Osprey Atmos 35 has everything you need in a 3 season daypack. Ventilated, sized harness with foam hipbelt offers the best in customisation and comfort of fit. Zip pockets at the top and on the hip belt are great for snacks etc.. It has stretch mesh pockets on the front and sides large enough for water bottles and a wet weather jacket. The large main compartment has plenty of room for extra layers, camera and lunch. Compression straps on the side help to stabilise the load.
Snowsport Packs
Capacity: 5 - 30 Litres
Common Features: Ski or Snowboard carry options, hydration compatibility, area to stow snow shovel and avalanche probe, compression straps, organiser pockets, panel loading main compartment
Snowsport packs need to be stable packs that fit close to the body and allow excellent freedom of movement while having enough space to carry safety gear, layers and whatever else you may need for a day on the slopes.
All feature some means of attaching a snowboard either vertically or horizontally and skis either vertically or diagonally.
Usually a sleeve on the inside of the pack will accomadate a hydration bladder.
On some packs the tube from the bladder will run down an insulated sleeve on one of the shoulder straps reducing the chances of the water in the tube and bite valve from freezing.
Sleeves located down the side of the pack or internally and compression pouches on the front of packs will provide dedicated places to stow a snow shovel and avalanche probe.
Most are panel loading allowing excellent access into the main body of the pack to get to your gear.
[Osprey Karve 16] The Osprey Karve 16 was specifically designed for snowsports. It has diagonal ski and vertical snowboard carrying capabilities, a z compression system down the sides for load stability, a sleek narrow design and stowable hipbelt for excellent freedom of movement, it's hydration compatible with an insulated hydration sleeve running down one of the shoulder straps and a sleeve down the side of the pack will take an avalanche probe and shovel handle.
Bike Packs
Capacity: 5 - 30 Litres
Common Features: Panel loading, come with hydration bladder or are hydration compatible, dynamic/minimal hipbelt, compression straps, narrow, spot to attach a light, facility to stow a helmet, reflective patches,
Bike packs range from packs able to carry an extra layer, some snacks, water and tools for a couple of hours riding to packs large enough for a epic day of trail riding.
They must be narrow, stable, contour the body and fit well without being restrictive. Hipbelts will be simple 20 or 25mm webbing or wider but still flexible foams.
Above about 10 litres packs will have compression straps for load stability.
There will be small pockets for snacks, mobile etc.
A lot of our bike specific packs come already kitted out with a hydration set up.
Packs have increased visibility with reflective patches and a point to attach a blinker light.
[Camelbak MULE] The Camelbak M.U.L.E. is one of our most popular bike packs. The narrow design and stripped down dynamic harness allow great fit and freedom of movement. It comes already kitted out with a 3 litre reservoir. Compression straps stabilise the load in the pack. It has a main panel load compartment, compressible overflow pocket for a lightweight jacket and organiser pocket for tools, mobile, keys etc.
Total capacity is 11 litres. Perfect for a couple of hours to a full day in the saddle
Fast and Light Packs
Capacity: 10 - 50 litres
Common Features: Lightweight fabrics, stripped down harnesses, use of 20mm or less webbing and shock cords for compressing the pack, dynamic harnesses for good freedom of movement, external mesh or stretch pockets, hydration compatible
we have wide range of what we class as fast and light packs. These range from small 10 - 15 litre packs suitable for a short adventure race or ultramarathon, to packs up in the 50 - 60 litre range designed to carry enough for several days hiking.
For this style of pack manufacturers attempt to pare down as much as possible the weight of the pack while trying not to compromise on comfort and durability. Every aspect of the pack is looked at to see where grammes can be shed. Lighter fabrics are used, narrow webbing or lightweight shock cords replace traditional 25mm and 20mm webbing straps. Pack designs are simplified reducing the number of seams and zips and other elements than can add to the overall weight.
Harnesses are designed to be supportive yet dynamic to accommodate moving at a faster pace.
Most will be hydration compatible. Mesh, stretch and small zip pockets on the outside of the pack will allow for stashing any overflow gear or gear that needs to be easily accessed.
As lighter fabrics have been used in these packs, although durable, these packs will not have the same life expectancy as some of the more heavyduty packs. A degree of care must be taken when using this type of pack to get the best life out of it. If you are the sort of person who likes to push their way through scrub and bush or tends to be a bit rough with gear it may be worth considering something a little more sturdy.
[Terra Nova Laser 20] At the smaller end of the fast and light packs the Terra Nova Laser 20 pack comes in at just 328g. By using lightweight fabrics, shock cord, light weight foams and a no nonsense minimal design, Terra Nova have managed to shave off every gramme possible while still maintaining a comfortable and stable pack ideal for day walks, mountain biking and adventure racing. [Osprey Exos 58] At the other end of the scale Osprey has designed the Exos 58. With a fully ventilated suspension harness Osprey have not compromised on carrying comfort but have still come up with a pack that weighs just over a kilo.
Suitable for trips from a few days to over a week.
Alpine Packs
Capacity: 30 - 50 Litres
Common Features: Narrow design, top loading, Removable or stowable hipbelt, ice axe and pole loops, floating lid, hydration system compatible, haul loops, compression straps
At the larger end of what would be classed as a daypack are our 4 season and technical daypacks with a range of features designed to accommodate extra gear and increase freedom of movement.
The narrow design of many of these packs helps to increase the users freedom of movement critical for activities such as mountaineering or ski touring.
Single compartment top loading packs are the norm. A minimal design like this helps to keep the weight of the pack down, increase weather resistance and durability (less seams and zips etc the less there is to go wrong with it.).
Less pockets and stretch panels on the front or side of the pack mean less chance of it getting snagged and caught up on rocks. Although some packs will have some kind of compression pocket on the front for storing a snow shovel, crampons or other safety gear.
Hipbelts tend to be removeable or can be wrapped around the pack and fastened out of the way, again this increases freedom of movement but also keeps them out of the way when wearing a climbing harness.
Many have lids that can be extended some distance above the pack. This allows you to overfill the bag if extra gear is required. An additional webbing strap beneath the lid will allow for the secure stowing of a rope.
When the terrain becomes vertical and climbing whilst wearing a pack is not an option haul loops allow for the pack to be attached to a rope and pulled up after you.
[Lowe Alpine Alpine Attack] Lowe Alpine's Alpine Attack has all the features of a classic Alpine pack. Single compartment design with extendible lid. Side Compression system to stabilise the load. Stowable hipbelt. Ice tool attachment system and some extremely tough fabrics come together to make a simple yet innovative mountain pack
Hiking Packs
Capacity: 50 - 80 Litres
Common Features: Top Loading, Large padded hipbelt, Sized or adjustable harness, hydration compatible, compression straps, base access, side pockets (strectch, mesh or bellows), lid pockets.
Hiking packs are designed to carry all the gear your going to need for a several day trip into the bush. For the average person this often means carrying loads of 20-25kg. Hiking packs have a number of features that aid you in carrying such loads comfortably for the duration of your trip. They also have a range of features to ease the process of unpacking and packing your gear when you reach camp and move on the next morning.
Compared to smaller packs hiking packs have a higher level of adjustability and support. On most you will be able to adjust the harness length and some have specific harness sizes to suit men and women or different back lengths. Hip belts will be substantially stiffened and beefed up to help transfer the load comfortably and efficiently on to the hips.
[One Planet Packs are available at great prices] The Exact Fit harness developed over two decades by One Planet allows for a high level of customisation of fit. Packs are available in in eight harness fits (4 male and 4 female) across three back lengths. There is also adjustment within these back lengths to fine tune the fit of the harness. The product of this is a supremely comfortable harness with extremely efficient load transfer. [Osprey hipbelt thermoforming oven] Osprey's BioForm CM and IsoForm CM hipbelts are able to be custom molded to bring an extra level of comfort and fit. The hipbelt is heated in a special oven for ten minutes and then worn for ten minutes. By this time the hipbelt will have cooled and permanently molded perfectly to shape of the wearers hips.
Compression straps are essential on the sides of packs of this size to ensure the load is centralised and stabilised in the pack. Additional straps at the top or base and mesh or stretch pockets on the side provide a means of attaching gear to the outside of the pack such as a tent or sleeping mat.
Internally many packs will be split into two compartments. A divider between them will be draw corded or have a zip enabling you to convert it to just one single compartment if desired. On the back panel inside the pack will also be located the hhydration bladder sleeve.
Hiking packs for the most are top loading using a pocketed lid covering a draw corded entry. Some lids are extendible allowing you to overfill the pack if required.
[One Planet Styx] One Planet's Styx 2 has all the features of a classic hiking pack. Ranging from 65 to 75 litres (depending on the harness) and made from a combination of bombproof canvas and abrasion resistant nylon.
It is top loading with a pocketed floating lid and a compartment at the base of the pack. There is also an additional large, zippered pouch on the front of the pack and bottle pockets on the side.
Compression straps on the side stabilise the load.
All that combined with the Exact Fit harness create a well organised and comfortable pack tough enough for anything the Aussie bush can throw at it.
Expedition Packs
Capacity: 80+ Litres
Common Features: Top Loading, Large padded hipbelt, Sized or adjustable harness, hydration compatible, compression straps, base access, side pockets (strectch, mesh or bellows), lid pockets, extremely durable fabrics, incresed load carrying capabilities.
Expedition packs are designed for long extended stays in the wilderness often with the potential for adverse weather conditions and little or no support where a lot of gear has to be carried. They have many of the same features of the hiking packs described aboves. The harnesses though will be designed to carry greater loads and the fabrics will be more durable to withstand the rigours of expedition use.
[Lowe Alpine TFX Expedition] The Lowe Alpine TFX Expedition is a robust and weather resistant backpack designed to comfortably handle expedition-sized loads. The AdaptiveFit hipbelt is combined with Lowe Alpine's TFX 10 back system to comfortably handle the extra weight. It features a single large main compartment with extendible lid, DWR coated fabrics, and a reinforced base to repel the elements. Multiple compression straps stabilise the load while compression extenders provide extra attachment options on the outside of the pack
This is just a brief overview of the wide range of pack styles we carry hopefully aid you in choosing the correct pack. If you do have any further questions on selecting a pack or a specific pack please feel free to contact one of our knowledgeable sales team, on 1800 303 353, they will be more than happy to run through things with you.