Make garden hedge maintenance quick and easy with a powered hedge trimmer and with so many products to choose from, selecting the best one for you depends on a number of considerations.

This guide explains some of the things you need to consider before selecting the hedge trimmer that's most suitable for you.


Blade Length
The length of the blade to choose will depend on how much hedge you have to trim. Large blades allow more hedging to be cut faster, however they are heavier and more unwieldy than shorter blades. A 35-60cm blade is usually sufficient for normal garden use while a 75cm blade may be required for more extensive hedging.

Single Or Double Action Blades
Trimmer blades can be either single or double action. They both have a pair of blades but the double-action trimmers have blades that move in opposite direction to each other making them vibrate less and more efficient. On the other hand, one of the pairs of blades on the single-action trimmers is stationary and is not to be confused with single-sided trimmers where only one side of the blade has teeth.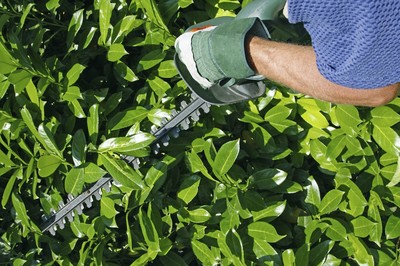 Teeth Spacing
Hedge trimmers with wide teeth spacing can cut through thick branches but leave a rougher finish than those with narrow teeth spacing. Therefore hedge trimmers with narrow teeth are more suitable for regularly trimmed hedges.
Weight
Another important aspect when selecting the right machine is the weight of the trimmer that is comfortable for you. A light trimmer is around 3kg and is usually electric while the petrol machines can weigh more then 5kg. When considering the weight, think about how long the project may take and your general physical condition to handle the machine.
Types Of Hedge Trimmers
Power source is a major factor when choosing the right hedge trimmer and the three main types of trimmers available are: petrol, electric and battery powered.
Electric Hedge Trimmers
These trimmers are very economical, light, quiet and simple to use and are best suited for occasional trimming and general garden maintenance. The main limitation is that users must work within range of an electric power source and a major safety concern is keeping the power cord out of the way of the blade.
Cordless Trimmers
Cordless hedge trimmers have a battery that can be removed and recharged and are as easy to use as an electric trimmer. Cordless trimmers can be used for up to 60 minutes on a single charge and use either NiCad or lithium batteries. Lithium ion batteries are better because they don't lose cutting power as they discharge and are lighter in weight. These quiet trimmers are an ideal choice for those who live in areas with strict noise restrictions. They usually cost about the same as an electric trimmer however are less powerful than their electric counterpart.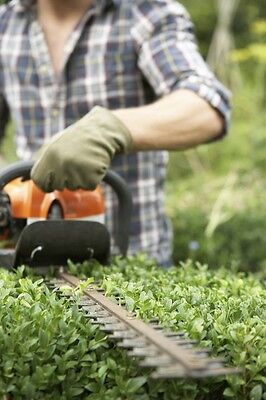 Petrol Trimmers
Petrol trimmers are more powerful and ideal for larger hedges and tougher jobs. They are noisier, heavier and more expensive than other trimmers, however they cut faster, are easily portable can be used just about anywhere and in all kinds of weather.
Safety Features
This guide wouldn't be complete without a word on safety. Make sure to read the manual before operating, always ensure you are wearing appropriate protective gear and always work on firm steady ground or a steady ladder. Front handle shields and special automatic power switches are also available on some machines to help prevent dangerous situations.
We truly hope this guide has given you an insight into some of the things that need to be considered prior to your purchase. Happy hedge trimming!