Beautiful eyebrows frame your eyes and complete your make up, creating a gorgeous arch that accentuates the natural beauty of your eyes. Well-shaped eyebrows can make you look younger, visually correct the face shape and add harmony to the overall look. The secret of ideal eyebrows is the quality tweezers that work for you. This article explains how to choose perfect tweezers, so your eyebrows always look their best.

Number #1 rule when looking for the best tweezer, is that there is no ideal tweezer. Based on the individual characteristics of your eyebrows and your personal preferences, you need to choose the tweezers that give you the best service and you are most comfortable to use. Today, the choice is abundant when it comes to eyebrow tweezing tools. Let's look at what makes good quality tweezers and which tweezer type suits your needs.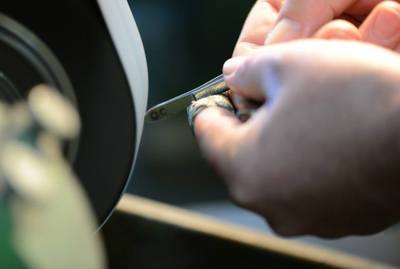 Add a caption
Niegeloh Solingen Craftsmanship Of Quality Eyebrow Tweezers
What Makes Good Quality Tweezers
Quality is the most important factor you need to consider when buying eyebrow tweezers. Quality defines how the tweezers will perform and how long they will last. Traditionally, eyebrow tweezers made from fine stainless steel crown the list because they are more durable and can be kept in humid environment, e.g. bathroom.

However, not all stainless steel tweezers are the same. World leading manufactures like Niegeloh Solingen, have been mastering the art of producing professional eyebrow tweezers with impeccable quality since 1936. By using only the finest German stainless steel, the tips keep sharpness for a very long time, allowing you to grab unwanted hairs at the first attempt. For added benefit, Niegeloh's TOPINOX line represents the best possible stainless steel approved for decades in surgical instruments without harmful elements (i.e. nickel), so it is perfect for those with sensitive skin.

The process of crafting tweezers for eyebrow shaping involves multiple-step detailing and honing of the edges. Niegeloh uses world-renown Solingen traditions and sophisticated technologies, to produce professional quality eyebrow tweezers with perfectly aligned tips - sharpened to perfection - and non-slip handles, to give you maximum control when manoeuvring around the sensitive eye area. These tweezers grab the unwanted hairs at the first attempt, without missing, and keep their original performance for a very long time. Niegeloh artisans manually test each pair of tweezers to ensure the tips meet up precisely, to guarantee excellent accuracy and durability.

Visit eBay store germanmanicuresets_com_au to view the collection of authentic Solingen tweezers by Niegeloh – with truly unique craftsmanship and professional quality, for precise eyebrow shaping.
Type of Tweezers
Different tip shapes are designed to help you find the best tweezers, depending on the thickness of your eyebrow hairs and handling preferences. You can find tweezers with magnifying mirrors, mini-tweezers, automatic tweezers – there are tweezers for everyone, whether for plucking eyebrows, removing unibrow, getting rid of stray eyebrow hairs or splinters. Yet the main question remains: Which type of tweezers suit my eyebrows? Let's look at the main types of tweezer tips and define their best use.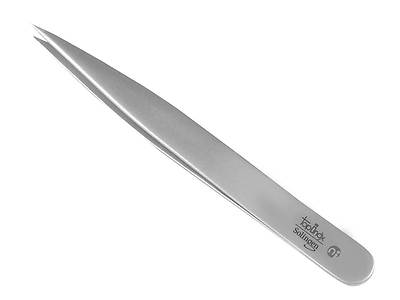 Add a caption
Professional Pointed Tweezers TOPINOX by Niegeloh (Solingen, Germany)
Pointed Tweezers
Tweezers with pointed tips are ideal for removing splinters, tiny or fine hairs. The tips of these tweezers are very sharp and allow you maximum precision, to isolate specific hairs or handle a very short hair.

Ensure you have plenty of light, good vision and steadiness of your hand, to use them safely though. Pointed tweezers require good hand-eye coordination and in return, they award you with eyebrow shaping in professional style.

Advantages: The pointed tip is ideal for precision tweezing, pulling out individual fine hairs or ingrown hairs.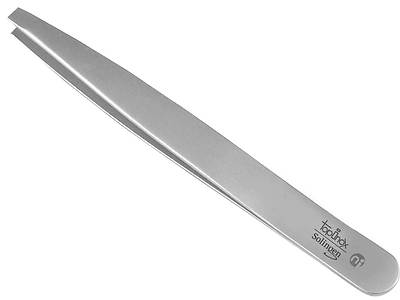 Add a caption
Professional Straight Tweezers TOPINOX by Niegeloh (Solingen, Germany)
Straight Tweezers
Tweezers with straight tips are much more forgiving than pointed tweezers - thanks to a larger surface of the tip, they are less likely to pierce or scratch your skin. They are equally well-suited for beginners just learning how to use a tweezer and for women who have been tweezing for many years.

Held at the straight angle, this tweezer is designed to give you a firm grip. And it is particularly good at targeting and removing individual and coarse hairs – enabling so-called "search and pluck" technique.

Advantages: Thanks to the larger surface of the tip, straight tweezers are ideal for removing stray hairs or plucking several hairs at once.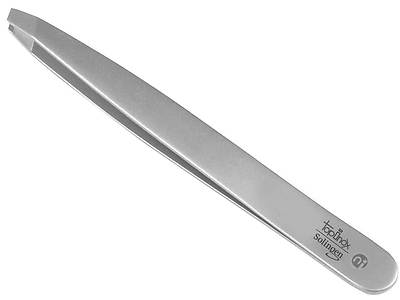 Add a caption
Professional Slanted Tweezers TOPINOX by Niegeloh (Solingen, Germany)
Slant Tweezers
Tweezer with slanted tips is the most popular tweezer as it blends the precision of a point tweezer and the "search and pluck" advantages of the straight one.

The pointed tips allow you pinpoint accuracy with removing small or fine hairs, while the straight edge – with a slight adjustment of the hand – gives you the ability to pluck coarse or stubborn hairs, from your eyebrows or chin area. Compared to a tip point, slant tip gives you more speed with just a little less accuracy.

Advantages: Slant tweezers are the most versatile style and allow you to pull the hair out of its root, as well as reach for a specific hair.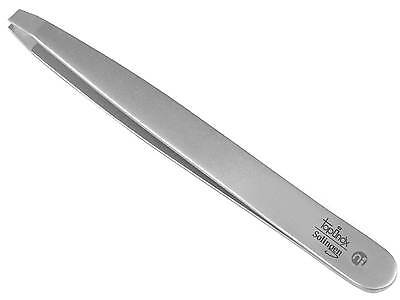 Add a caption
Professional Claw Tweezers TOPINOX by Niegeloh (Solingen, Germany)
Crab Claw Tweezers
Tweezers with claw tips are a popular choice for body tweezing after waxing or removing hair from larger, flat surfaces. Claw-like tips are designed for greater grasping control and allow you to get as close to the root as possible, to get rid of the most stubborn or coarse hairs quickly and efficiently.

Claw tweezers come with slanted or straight edges - both great for accurate tweezing – and just require a slight adjustment of the hand, depending on your handling preference.

Advantages: Claw tweezers allow you to remove difficult reach hairs and pluck hair close to your skin without piercing it.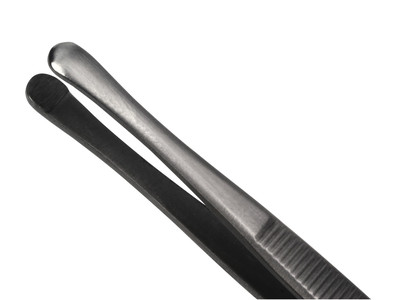 Add a caption
HK-MEDICURE Rounded Tweezers For Sensitve Skin by Hans Kniebes (Solingen, Germany)
Rounded Tweezers
Tweezer with rounded tips is perfect if you have sensitive skin or if your hands are not as steady as they once were. The rounded edges mean there are no sharp corners and you can hold it at any angle that is right for you. Well-made rounded tweezers are gentle on the skin and have perfectly ground tips able to grasp the hair and hold it until you pull it out.

HK-MEDICURE rounded tweezers are an ideal choice for people with diabetes, thanks to safely ground tips and hypoallergic stainless steel – that can be sterilised as frequently as needed.

Advantages: Rounded tweezers are a "kinder" type of tweezers and are a great choice for anyone who is less comfortable with extremely sharp edges.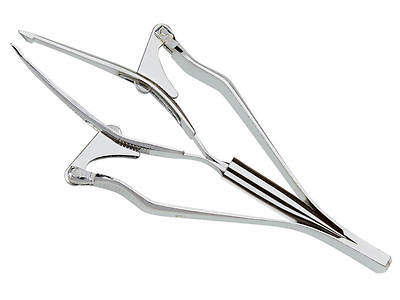 Automatic Tweezers
For people with limited strength in their hands, due to arthritis for example, automatic tweezers are an ideal choice as they bring the grips together without requiring you to close your hand entirely.

All you need to do is to navigate the tweezers and once you've identified the unwanted hair, slightly press the lever. The tips automatically close and the hair is pulled back, with absolutely minimal effort and with equal precision of traditional tweezers.

Slanted tips in automatic tweezers are most common thanks to a larger surface and convenient angle that allows to perform general tweezing with ease and comfort.

Advantages: Automatic tweezers offer added support for people with limited strength in their hands and require minimal effort to press the lever.


Tweezers can be used not only for eyebrow shaping but also for arts and crafts, or even picking pin bones out of fish! Whichever type of tweezers you choose, make sure they are precise and actually grasp what you are trying to get a hold of.

Try world-famous TOPINOX tweezers by Niegeloh Solingen loved by professionals and eyebrow enthusiasts for amazing precision, excellent gripping abilities and lasting performance.

Visit eBay store germanmanicuresets_com-au