Without beautiful, well-groomed nails, no outfit is complete. Well-kept nails add a personal touch to your overall look, help you perform daily tasks comfortably and can also help accentuate certain details of your individual style. And the great news? A stunning, affordable manicure is easy to do with the right tools and knowledge of basic nail care.

Keen to make your next manicure the DIY kind?

Here is a helpful guide.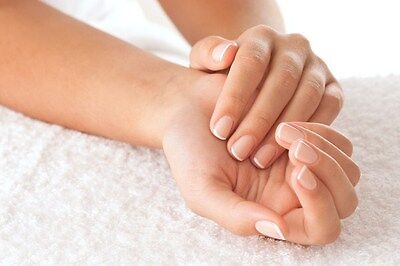 Basic Steps
It is possible to have gorgeous hands without being a professional manicurist.
The secret is twofold: basic skin care and clean neat nails.
Add to that a desire to experiment and the consistency of careful nail care maintenance, and you will have a perfect formula for a professional quality manicure.
A benefit of performing DIY manicures in the comfort of your own home is that you can have peace of mind, knowing that you are the only one using the instruments. Unless your salon is pedantic about sterilising all of the tools after each and every client, doing your own manicure minimises the risk of contracting nasty bacteria that like to stick to the blades of the manicure and pedicure instruments.
Finally, the DIY manicure option is a lot cheaper AND you can do it as soon as you notice your nails are due for a treatment. No appointment necessary.
With a little bit of practice, you will soon have flawless nails without travelling to the salon. Here's how:
You will need:
Tub with warm water
Nail polish remover, if you have any pre-existing nail polish
Nail file or emery board
Cuticle lotion or oil, or cuticle remover
Cuticle pusher
Hand cream or moisturiser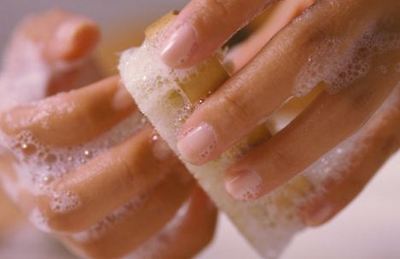 Step 1 - Wash your hands

To have a clean start is important to wash your hands to remove any residue. Once you washed it thoroughly, please dry them completely.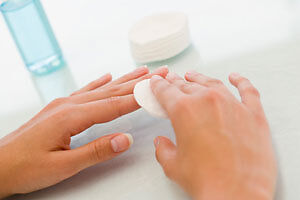 Step 2 - Remove old polish

If you have previously applied nail polish, remove it by using a cotton ball soaked in nail polish remover.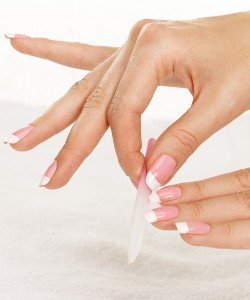 Step 3 - Shape and file your nails

Before you file your nails, look at the shape of your cuticle. Its natural curve will give you an idea how the nail edge should look, according to your individual nail type. Rounded or slightly squared edges are most common shapes and always look very elegant – no matter what your overall style.

Use a quality nail file or an emery board suitable for your nails. If your nails are thick, or you need to file away excess nail length, then use a sapphire file or a rough side of an emery board. For brittle nails, it is better to use a glass file or a fine side of an emery board or sapphire file – they are more delicate and are perfect for detailed filing. You should always check the grit number of your file before using it. Holding the file at a slight angle towards the nail plate, begin filing the nail from the corner, towards the centre of the nail. Repeat from another corner.

The most common mistake when filing nails is sewing back and forth. It may save time but it damages the nail and can lead to splitting. Always file your nails in one direction only. Not only will this result in an even and beautiful shape – it will also preserve the long-term health of your nails and hands. At the same time, ensure your hands are completely dry before filing them to avoid nails breaking or chipping.

If your nails are long enough, you may need to shorten them first. You may find that nail scissors, clippers or nail nippers (or pliers) are more comfortable for cutting your nails. It's a personal choice, really. Just research different things and decide on the instrument that works best for you.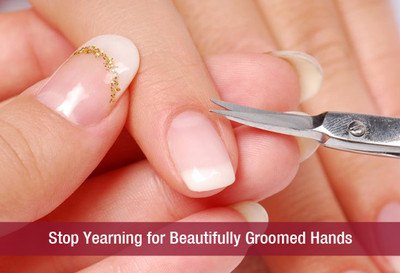 Step 4 - Remove the cuticle

Soak your hands in warm water for five minutes, or apply a cuticle treatment, such as cuticle oil or lotion. Alternatively, you can apply a cuticle remover. This will soften your cuticle, making it easier to remove.

Gently push back your cuticle with a cuticle pusher around the nail bed, starting from the middle towards the sides of your nails. You will see the dried skin as it comes off the nail plate. With the tower end of the cuticle pusher, remove the dirt from under your nail tips.

Useful tip: To prevent cuticle overgrowth, push it back regularly.

Important: Cuticle is a part of skin in your nail bed that protects the surrounding skin from infections. It acts like a barrier by keeping any bacteria away from the base of your nail. Using low quality instruments can damage this protective barrier, causing an infection called paronychia – a very unpleasant and painful inflammation of the skin around the nail, which needs to be treated by a specialist. Ideally, the cuticle should not be cut. In case your cuticle is jagged or otherwise overgrown, be extra careful when trimming the cuticle and use only high quality manicure instruments, such as cuticle nipper or cuticle scissors. They have an excellent reputation for quality nail care and are made from high quality stainless steel, which keeps its cutting properties and impeccable precision for many years – delivering many neat, safe manicures for healthy, happy hands.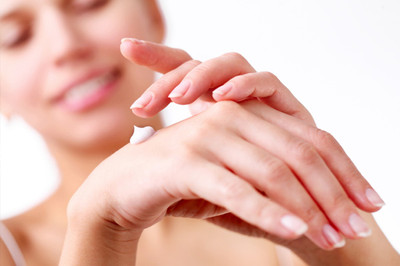 Step 5 - Moisturise your hands

Apply hand cream or moisturiser for soft and glowing skin.

If you are not planning to apply nail polish, then you are done.

Or, get painting for some added glamour.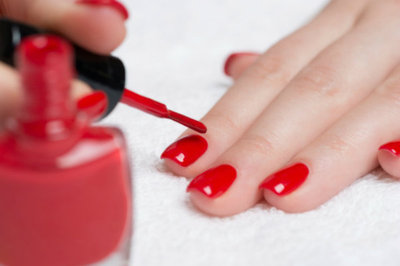 Step 6 - Paint your nails

Finish your manicure by applying a base coat or nail hardener. It protects nails, smoothes the surface and primes for the polish.

Next, apply nail polish by brushing on a thin coat from the middle of your nail base, down to your nail edge. You should be able to cover the entire finger in three strokes. Wait a few minutes, to allow for drying, then apply another coat. To remove any paint from surrounding skin, gently use a toothpick or an orange stick wrapped in a piece of cotton and dipped in polish remover.

Finally, apply a clear top coat to make your nail colour last and keep its shine for longer.

Tip: Paint your dominant hand first, moving from the pinkie finger to your thumb.


DYI Manicure tips:
Refresh your manicure every week
Trim your nails after a bath or a shower, when they are a little soft
Make sure they are completely dry to reduce breaking splitting.
Always choose a file with the right grit number
Follow the natural cuticle shape when forming your nails
For essential manicure sets and implements, view our exquisite collection at our eBay store: germanmanicuresets_com_au.
Enjoy your beautiful manicure!