If You Find This Guide Informative Please Click the Yes Button at the Bottom of the Page. Thank you.
Reading is great for all children and all ages. Books usually keep children entertained for hours, discovering new worlds and fantasies with in the pages from the words and the illustrations.
This is great, because reading can open there eyes wide to the whole world. The intensity of the book can keep the child spell bound. Can you remember picking up a book when you were younger and you were so transformed by what you were reading that you could not even hear your parents talking to you! Depending on the type of book you're reading, to how transformed your whole life can become.
While reading is very popular amongst the girls, sometimes boys consider reading to be "too un-cool". They can even be teased at school because reading is considered to be what the "nerds" do, not what boys are supposed to be in to. It makes it very difficult for boys to be able to be interested in reading.
While a typical teenager might not last a whole book, every minute they do read counts! It will make a difference for their mind to grow if they even read the newspaper. Like all things that can expand their minds, reading can start out as a warm up and gradually build up over time to a novel. Starting out small and before they know it they will be reading more and more.
All ages, both boys and girls, can enjoy reading once they realise it is "not being a dag", or "being a nerd". It is actually becoming more and more popular. One writer to interest boys and girls is of course J.K.Rowling with her Harry Potter series. Every one of her books are spellbinding, funny, quirky, imaginative, bewitching and enchanting.
J.K.Rowling and her Harry Potter Books are a rare thing, with all stories adored by both parents and children. As a mother of five boys, I am interested in making sure they are into reading books, and no other book is more read in our house then all of the Harry Potter series.
Here are four of the Harry Potter series that I highly Recommend.
I recommend investing in the series, even one or two of J.K. Rowling books, even if your boy or girl doesn't like to read, because after picking up these spellbinding books they will be lost forever into a whole new world. They are a rare story line, and have the potential to wake up a whole generation to reading.
If you have boys or girls that love to read, or even don't love to read, then these are the books your house needs. All of the Harry Potter Stories will join a small hand full of books that will be read and re-read into adulthood. All you need is a comfy chair, a big drink (because you wont want to move ever again!), and no where to be for the next few hours because Harry Potter and The Philosopher's Stone or any of her series will take you to another fantasy world. PS:- Make sure you have dinner pre-pared a head of time because time will soon fly! By the way, you might need more than one copy so no one misses out!
Reading in the comfort of your own home is an excellent, safe and fun way to expand your child's mind, while increasing their vocabulary, spelling and imagination. Because you pick up the book any time of the day, you will see their eyes light up with endless possibilities. You will see results within there school work, and their social skills will improve. Your child will become healthy, happy and excited and you will see results with the more they read.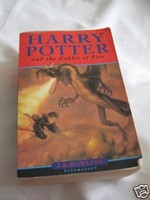 Harry Potter and the Goblet of Fire

Harry Potter and the Prisoner of Azkaban
Harry Potter and The Philosopher's Stone

Harry Potter and The Chamber of Secrets.
Here are the first four books in the Harry Potter Series, guaranteed to get children excited about reading or even get adults back into reading again.
My name is Lisa and I am a Mum to five boys, four who have a passion for reading, thanks for stopping by and reading my guide. For more information about Harry Potter books drop by ebay store and check out what is listed for Auction there.