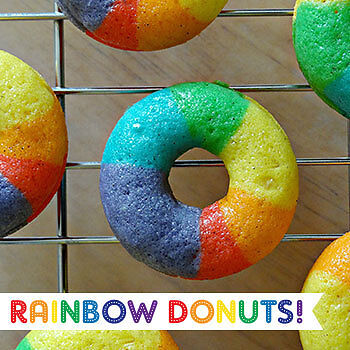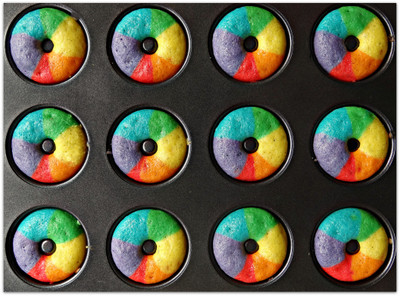 How To Make Vanilla Rainbow Donuts
Looking for a great treat for your little girl or boy to take into preschool or school for their birthday? Or perhaps you a looking for a easy recipe to wow the other mums at mother's group, play group or a afternoon play date at the park for the kids! Whatever the occasion mini Rainbow Donuts are going to be a huge hit with the kids and the kids at heart.
What You Will Need To Make The Donuts
😄 Doughnut Pan (Don't rush out and get one for your first attempt, I just used a medium size cupcake pan for mine ok so the colours might get mixed up a bit but if you are careful and use the Duncan Hines cake mixture it will be fine as it is not very runny.
😊 Decide how many colours you will use I think 4-5 is perfect, once you have made up your mind on how many colours to use get out that many cups, small bowls etc as you need to divide your batter up into each cup later.
😛Food colour at least 4 or 5 different colours try and get your hands on gel colouring as they are more vibrant we got some recently from Woolworths, but your good old Queens liquid food colour set will be fine for your first try.
😋A good quality vanilla cake mix like Duncan Hines or Betty Crocker
😊Vanilla essence.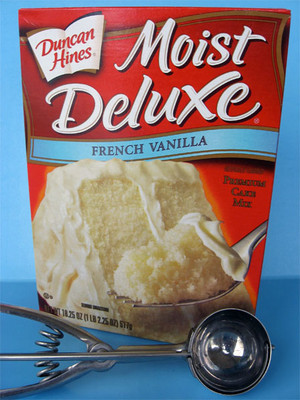 Add a caption
Duncan Hines Cake mix is perfect for making mini donuts available now from Woolworths
Step One
You will need a pack of Vanilla cake mix, spend a little extra money and get a really good brand like Duncan Hines, this is a fantastic American brand that sells at Woolworths honestly it is awesome better than Betty Crocker. It takes a while to get used to it as the mixture is a lot drier when preparing it compared to other mixtures that are a lot more runny but don't be tempted to add more liquid than it says as it turns out super moist and perfect that really surprised me. Ok so you also need to decide on your colours and choose really good food colours go with gels as they are a lot more vibrant that your normal food colours but if you already have normal runny food colours in the pantry they will work fine for the first go anyway.
How To Make
😊Make your cake batter mix according to the packet instructions.
😛Now divide the batter evenly as possible into your small mixing bowls or cups whatever it is you have decided to use to separate the batter.
😋After mixing the doughnut batter, divide it into your 4-6 separate bowls and add the colouring. Then place the batter in resealable bags, you could also use decorator frosting bags, but it's a little less expensive this way. Then just pipe a very small amount of batter into the Doughnut Pan.
😛Bake for 7-12 minutes depending on the size of your donuts and your oven temperature.