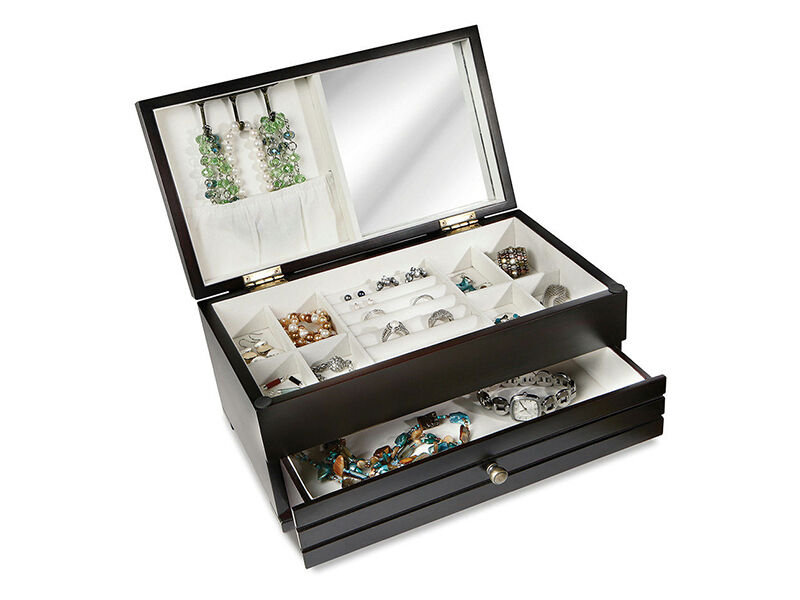 Creating a jewellery box can provide a sense of accomplishment, allow for endless style options, and offer creative ways to recycle material lying around the house. There are also many ways to build a jewellery box by utilising different colours, materials, and designs to make any DIY jewellery box a unique piece of artwork. Learn how to build a jewellery box that offers a beautiful place to store jewellery, knick-knacks, and other heirlooms.
Material and Size
Pick a material for the jewellery box. For larger boxes that can house more jewellery, a sturdier material such as wood, metal, or leather is likely the best choice. Wood is often a good material to build a simple box with, as metal can sometimes require specialised tools to effectively work with.
For smaller jewellery boxes, cardboard, glass, and fiberboard work well. Mixing materials often creates a nice look, such as a wood box with a glass lid.
Recycle Goods
Use items available at home as the base of the jewellery box. It is possible to turn a hat box, a small trunk, or a small briefcase into a stylish jewellery box. Just attach fabrics, glitter, curtain material, or linens with glue, staples, or pins to completely transform the original item's look.
Decide on a Design
There are many ways to design a jewellery box, including using Art Deco, mosaics, collage, or just about anything that allows for total self expression. Choose which shapes would look best for the box, such as a circle, heart or star shape.
For beginners, a simple square shape is probably the best way to start. With more experience, more challenging shapes will be easier to attempt. Remember which skills and materials are available. Sometimes it's good to make a sketch beforehand in order to visualise the jewellery box before it's made.
Build the Box
For projects built from scratch, beginners should start with something simple like cardboard, which can be cut out into sections with a box cutter, bound together with glue and tape, and wrapped in the chosen material. From there, it is possible to add yarn designs, decoupage the box, add sequins, or even attach a small mirror with a decorative border.
For a material like wood, basic tools and materials needed include a wood saw, wood glue, nails, hinges for the cover, a drill, screwdriver, and screws. Measure each piece of wood and cut it out according to the desired size. Attach the pieces together either with screws, nails, or wood glue. Then screw in the hinges and attach the top for a simple but elegant wooden jewelry box. In the end, either stain the wood or cover it in a fabric design or illustration.
For those looking for less of a challenge, premade boxes are available online.

Insert the Interior
For small boxes, simply adding some cardboard or wooden dividers is enough for basic jewellery storage. Pre-made wooden or plastic jewellery trays can save time on construction and design. They are specially designed to store a wide variety of jewellery, including rings, earrings, and necklaces.
Conclusion
There are numerous ways to build, design, and construct a jewelry box. With just a little bit of time and effort, the jewellery box will add a bit of colour and beauty to anyone's home and decor.