Resuscitate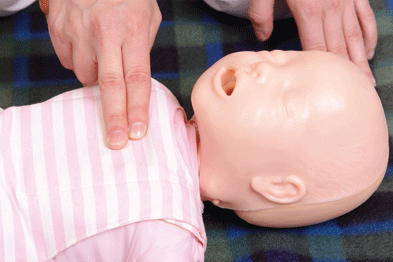 Q. What is Resuscitation?
A.
Resuscitation or Cardio Pulmonary Resuscitation (CPR) involves stimulating the heart and breathing air into the lungs to preserve or restore life. Resuscitation involves establishing or maintaining an airway, breathing and circulation.
Q. Why should I learn resuscitation?
A.
Resuscitation is a skill for life. In most cases when an emergency occurs, a family member is the first on the scene. In fact, many children are alive today because their parents knew how to perform CPR and responded quickly. Having the skills to react in an emergency situation can mean the difference between life and death while you wait for emergency care to arrive.
Q. What are the legal implications of doing CPR?
A. Lay persons or volunteers acting as "Good Samaritans" are under no legal obligation to assist a fellow human being. However, you need not fear litigation if you come to the aid of a fellow human in need. The Australian Resuscitation Council and Royal Life Saving encourages people to provide assistance to any person in need. Having decided to assist, a standard of care appropriate to your training (or lack of training) is expected. Although legislation varies between the States and Territories, if performing CPR, you are generally expected to act in good faith and without recklessness.
Q. What do I need to say when I call 000?
A. When you call 000 you should stay on the line, not panic and answer all the questions the operator asks you. It will be helpful to know your nearest crossroad for the ambulance.
Q. What resources can help me learn CPR?
A.
The Royal Life Saving has a number of CPR related resources and courses available. There is a handy mini CPR chart on a magnet that can be stuck to the fridge, a full size CPR chart that can be used near your backyard swimming pool, CPR in a box and courses that are run in a variety of locations across all States and Territories. To enroll in a public CPR course you can contact Royal Life Saving Australia.
Real Life Story - CPR: A Real Life Saver
In February 2008, knowing CPR helped one husband and wife save their two children from drowning. While their parents were momentarily distracted while visiting relatives, the couple's two sons made their way into a backyard swimming pool. After a relative raised the alarm, the boys were found pale and unconscious. Each parent immediately began performing CPR on the boys and they each vomited up water. Gradually the boys began to gasp for air and started breathing as ambulances arrived. They have since made a full recovery and the parents credit knowing CPR with saving the lives of their boys.
Resuscitate Checklist:
If your baby is not breathing, pick your baby up, as if to 'wind' him, and stimulate him by 'patting' his back.
If he starts to breathe, any immediate danger is over.
If your baby does not breathe you will need to start resuscitation
Clear the airway - If you think there may be an object or vomit in his mouth, wipe the mouth and clear it out with your little finger
Start mouth-to-mouth resuscitation
Place him on his back on a firm surface
Tilt his head back a little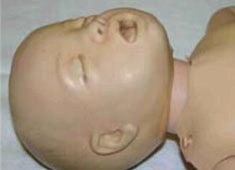 3. Place your lips around the nose and mouth and breathe into him so the chest moves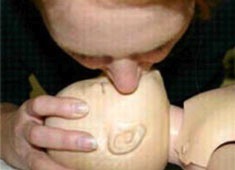 4. Give one breath every 2 seconds
5. Repeat 20 times
6. Stop and observe. If baby is now breathing, stop mouth to mouth and call for help
7. If the baby does not start breathing, you should start cardiac massage
Cardiac massage
1. Use your index and middle finger to depress the centre of the breast bone (sternum) quite hard; move it down about one third of the depth of the chest.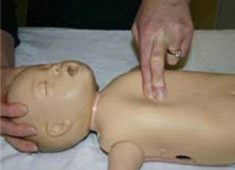 2. Do 30 compressions then 2 breaths and repeat this cycle at least 4 times.
30 compressions - 2 breaths - repeat 4 times
Keep going until baby starts breathing or until help arrives.
Important points to remember
Never shake your baby - this may cause brain damage.
Do not call for help first if you are alone - this wastes time.
The best chance of success is by starting CPR yourself as quickly as you can.
If you are on your own, do resuscitation for about 2 minutes and then call for help. Ring 000 for ambulance and advice, then continue resuscitation until help arrives.
If a second person is present, get that person to call for help fast.
Do not drive yourself to your nearest hospital or doctor. Wait for the ambulance to arrive.
Be safe in the water and enjoy all that swimming has to offer.
The Team @ RedSplat