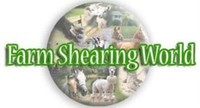 How To Select The Right Shearing Comb Blades
There can be hundreds of shearing blades to choose from when deciding to clip your animals. Brands include, Heiniger, Lister, Supershear (Sunbeam), Oster, Beiyuan and GTS blades. Depending on what animals you run, i.e. sheep, goats, alpaca, will determine which type of comb you choose to use when shearing.
Comb Width
A shearer's ability should also be considered when choosing comb selection for the width of the comb used:
Novice Shearer - use 76mm - 88mm wide comb
Part-time Shearer - use 88mm - 92mm wide comb
Professional Shearer - use 90mm - 100mm wide comb
The wider the comb, the more concentration and experience you need to avoid cutting the animal.




Goat & Alpacas

Usually these animals have open fleece and soft skin. you can use a comb 3.5mm - 4.5mm bevel. These combs allow free entry into the fleece and prevent cuts to the animal, leaving a smooth finish.


Sheep
There are many different wool types on different breeds of sheep. Here is a guide to suitable comb choice for the different breeds:

Long Wool British Breeds - use a 3.5mm - 4.5mm bevel comb
Short Wool British Breeds - use a 4.5mm - 5mm bevel comb
Merino X Border Leicester Ewes XB - 5mm - 6mm bevel comb
Fine Wool Merino - 5mm - 6mm bevel comb
Medium - Strong Wool Merino - 6mm - 8mm bevel comb


Handy Tips
A general rule with comb selection is that the tougher the animal to shear, the longer the bevel on the comb. Do not use a comb that is too wide for your level of experience.



Remember to check our our amazing quality bargain shearing and fencing gear in our eBay store, Farmshearingworld.
Simply click on the link to take you there....
Farm Shearing World Store
We hope you found this a useful review. Please click the 'Yes' button below to help others know.