How To Set Up Your Sheep Shearing Blades
by
Farm Shearing World Store
'Loading Up' (setting up) your sheep shearing blades is another vital aspect of the job. If done correctly it can make your shearing so much easier but if done wrong, you will struggle shearing your sheep.
The first thing you must do is identify easy clipping animals compared to harder shearing animals, so you can decide how much 'lead' you need.
LEAD is the distance between the tip of the cutter to the 'Scallop'. The SCALLOP is where the cutting edge of the comb finishes and dips down to the point.
For all British breeds of sheep, First Cross Ewes, Goats and Alpacas, set the lead to a wider distance. About 5 - 7 mm on the middle teeth of the comb to the cutter.
This allows the wool to comb through the comb to the cutting edge of the cutter. It also lessens the chance of cutting the skin on these softer skinned animals.
For Merinos or Cotted Woolled British Breeds, set the lead to between 2 - 4 mm. This allows less distance for the wool to comb on these denser fleeced animals which means less pushing in denser fleeces. Be mindful not to pick up too many skin pieces!
When shearing, lay your comb back on the comb screws when shearing these animals instead of putting slightly more pressure on the tip of the combs.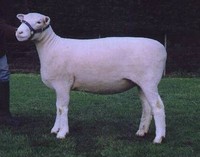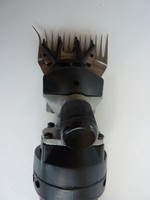 Side to Side Set Up - Cutter
Because electric clippers won't move from side to side unless turned on (this is different to mechanical handpieces where these is movement from side to side), you have to set up the throw of the cutter on the combs from the back of the clipper.
Load up your comb and cutters and only loosely tighten your comb screws to adjust the comb if necessary.
Then, by looking at your comb from the back of the clipper, make sure the comb is sitting square in the middle of the comb and the side of the comb bed on both sides.
All you have to do now is adjust the lead to suit the animals you are shearing.
Tighten your comb screws and then your 'Load Up' is complete.
Remember, never over-tighten your comb screws as you can bust the comb screw and ruin it with any removal attempts to get off an over-tightened screw.
We hope you have found this guide helpful. Please press the 'Yes' Button below to let others know.
Remember to check out our amazing quality bargain shearing and fencing gear in our eBay store.
Click the link to take you there now...Farm Shearing World Store
Kind regards, Farmshearingworld.