Running Rigs Bottom Fishing Snapper Pre-Tied
When Fishing It's Import to Have A Few Different Rigs Set up on your Fishing Rod's , When I am Out Snapper Fishing i Use a Bottom Running Rig as Well as a Flasher Rig By Reedy's Rigz Together its Easy to target a Range Of Red Snapper Flathead and Many other Fish Like Gummy Sharks & Mulloway.
We Off many Types Of Rigs For Snapper We Reccomend from 4/0 to 6/0 you can Choose your Hook Size & Lure Color
Here
10 Snapper Flasher Rigs .
& The Running Rigs are Located Here
5x Running Rig For Bottom Rigs
.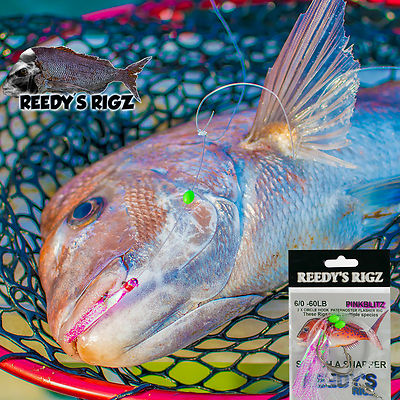 Do I Need Bait On a Flasher Fishing Rig ?
When Fishing a Flasher Rig Feather , Strip bait's fish the best , & yes use Bait. If your in a Boat drop the Rig strait to the bottom, no need to cast out, if your Landbased Flick them Out .



If you would Like To tie the running rigs yourself , i Have made a little video to help New anglers tie snapper rigs. Just Scroll Down .

Fishing Spots The Rig Will Fish Exellent

Stock up For Snapper season this Christmas Holidays With These great valued fishing rigs Top Selling Rig In Australia in All States Such as Adelaide Melbourne Sydney Western Australia Northern Territory . Act
We Like to Fish Our Snapper Flasher Rig With Bait For A Range Of Fish Such As Red Snapper , Flathead , Mulloway ,Pinkies Ruggers ,Australian Samlon, Mullet , Whiting , Bream & Offshore Reef Fishing many Bread Butter Fish Around Australia Such as Port Phillip Bay & St Vincent Gulf & Spencer , Nsw Coastal From Eden to Tweed Heads .if you have any Question Message if you Need to know If they can catch a Type Of fish .
Noteable Rigs Whitting Whispera (whiting ) Exellent King Gorge & Yellow Fin
Proven Fishing Spots Of Reedy's Flasher Rigs V.I.C
Port Phillip Bay - Chealse , Frankston , Mornington , Mt Eliza , queensclifff , sorrento , cowes westner port , wonthaggi, venus bay , werribee , Melbourne , geelong , torquay, Lorne , Port Land , San Remo , Walkerville, inverloch , cape paterson , sandy ponit , port Franklin , Wilson Promontory, port welshpool , crib Ponit , tooradin , corinella , grantville, somers , flinders , rosebud , dromana , rye , sea ford , bon beach chesea , aspendale , mordilloc , parkdale , mentone beaumaris , black rock , hampton, brighton ,elwood , st kilda , williamstown , new port , Altona , Clifton Springs Portarlington Melbourne City . Just to name a few Victoiran Fishing Spots On the Back your Proven Fishing Spots Of Reedy's Flasher Rigs V.I.CFind Gps Marks .
Proven Fishing Spots Of Reedy's Flasher Rigs South Australia
Port Macdonnell , tantanoola, southhend , cape jaffa , kingston SE ,Robe , salt creek , Coorong ,goolwa Beach , Middleton ,Port Elliot , Haybourough, Victor Harbour , Encounter Bay ,Tunkalilla ,blowhole Beach ,cape Jarvis ,rapid bay , Wirrina Cove , normanville , Myponga Beach , sellicks beach , Aldinga Beach ,Maslin Beach , Moana ,Seaford , O Sulivan Beach , Hallett Cove , Marino , Seacliff ,Brighton , Glenelg , West Beach , Henly Beach , Grange , West Lakes , Semaphore , Largs bay , Taperoo , Osborne , North Haven , Outer Harbour , Fishing the Torrens River & Port Adelaide . Adelaide
Metro ,st Kilda , thompson beach , Port Wakefield ,Clinton , Tiddy Widdy Beach ,Ardrossan , James Well ,Rouguse Ponit ,Black Ponit , Port Julia , Pine Point , sheaoak Flat, Port Vincent , Stansbury , Wool Bay , Coobwie , Edithburg , Port Moorowie , Point Turton ,Brentwood,Port Rickaby, Port Victoria These Rigs work Awesome Anywhere in Spencer Gulf & St vincent's Gulf In Snapper Season Like wise The Paternoster Rig For Big Whitting Fishies Great . S.A
Adelaide King Gorgre Whiting .