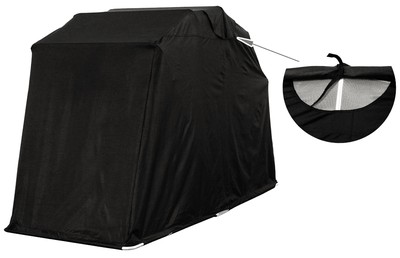 Vents and Material are Critical

The waterproofing is very good. And with the vents on the top, you get good airflow (without condensation). If the Kubby is located on a hard (dry or well drained) surface, then condensation is also kept a minimum. If its placed on wet ground or grass - unfortunately the conditions are not ideal.

Severe weather and continued exposure are not the friends of performance vehicles. So we found a premium manufacturer with over 20 years of design, development and creation of extreme weather camping tents and designed an awesome shelter for out two wheeled fun. Simply put - the experience of protecting lives and performance machines in severe outdoor conditions, means we can offer an individualized solution of protection to motorcycles in the harsh Australian environment.

We have had our Kubbies in use (in Australia) for the last 12 months and decided to share the ideas. The Kubbies have protected our assets (cars and bikes) from everything from hail to sun to driving rain to wind. And they have done a really good job - during a hail storm - the vehicle in the Kubby was fine and the Kubby was fine. My Patrol outside needed a number of parts replaced.
So bottom line - we think they are great and we stand behind our waranty.
At the moment, we have a car version (Car Kubby) on display in Warriewood - and its been there for a year.