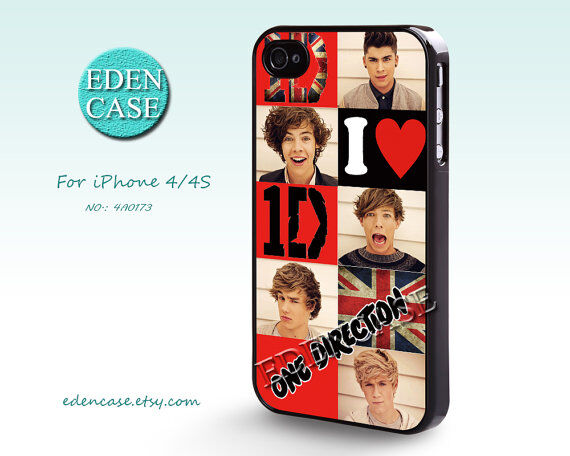 One of the great benefits of owning an iPhone is the amount of accessories and cases that can be bought for it. One Direction fans will be pleased to know that there are a number of cases and stickers that can be bought for their iPhone. The following guide shall examine these products and explain how they can be found on eBay.
One Direction iPhone Accessories
There are a number of different One Direction accessories that can be bought for use with an iPhone, but the most popular type is without a doubt One Direction iPhone Cases. There are a few different types of cases that can be bought, and buyers should choose one they feel most suitable for them.
| | |
| --- | --- |
| Skin Case | A skin case is made from rubber or silicone, and the tightness of the material keeps it safe and secure. Skin cases are also useful because the material is excellent at absorbing shock and will keep the iPhone safe from damage if dropped. There a number of different One Direction iPhone skin cases that can be bought, so be prepared to spend some time going through what's on offer. |
| Protective Case | Protective cases are very handy and are designed to protect the device from scratches, cracks, dents and other damage that could occur if the phone was dropped. Protective cases tend to be made from hard plastics and steels, and buyers will be very happy with the selection of One Direction protective cases available to buy on eBay. |
| Wallet Case | A One Direction iPhone wallet case is a must have for any fans of the band, and is very stylish as well as being extremely practical. The case incorporates the same design as a wallet, but with added room for the safe storage of an iPhone. This is a great way to keep valuables together in one place. |
| Sock Case | Sock cases are inexpensive and very cool. These cases are generally made from wool or cloth and have a One Direction picture or logo on the outside of the case. Buyers interested in purchasing a One Direction sock case should look for those with drawstring openings as they can be closed to keep the iPhone safe and stop it from slipping out. |
One Direction stickers come in a variety of styles and designs, offering the buyer the ultimate selection of One Direction pictures to choose from. Buyers who wish to buy One Direction stickers for their iPhone should specifically look for vinyl stickers, as these are extremely tough and won't peel off. There are also a number of different One Direction lanyards that can be bought. These are attached to the iPhone and worn around the neck, and help keep the phone safe whilst showing off your love for the band.
Searching for One Direction iPhone Accessories on eBay
Many people searching for iPhone accessories use eBay, as the site has a large selection to choose from at very reasonable prices.
· To start a search for suitable accessories head to eBay.com.au, and when the homepage has loaded click on theMobile Phones & Accessories link located in theElectronics tab on the left hand side of the page. On the following page, scroll down and click on the Mobile Accessories link.
· From here buyers can use the Categories table to choose from a number of different accessories includingCase, Covers, Skins, andStraps and Charms. When this is done, type One Direction Accessories into the search bar and press enter.
· Buyers can change the amount of accessories listed per page by scrolling down to the bottom of the listings page and clicking on the relevant box. Items can be listed in groups of 25, 50, 100 and 200.
· Buyers can also use the Sort By tab to arrange how the accessories are listed, including by Highest and Lowest Price, and the Location of the item.
All buyers should also visit eBay Deals, a section of the website that has a large number of iPhone accessories for sale at reduced prices. Buyers may find One Direction Accessories here, and the relevant page can be accessed by clicking on the Deals link found at the top of every page, followed by the Mobile Phone Accessories link located beneath the Phones heading in the Electronics tab.
Conclusion
One Direction fans will be extremely happy with the selection of accessories they can buy for their iPhone from eBay. These include various types of cases for their device, and stickers than can be attached to the back of the smartphone. Buyers should remember to visit eBay Deals before making a purchase as they may find One Direction Accessories here for sale at a reduced price.