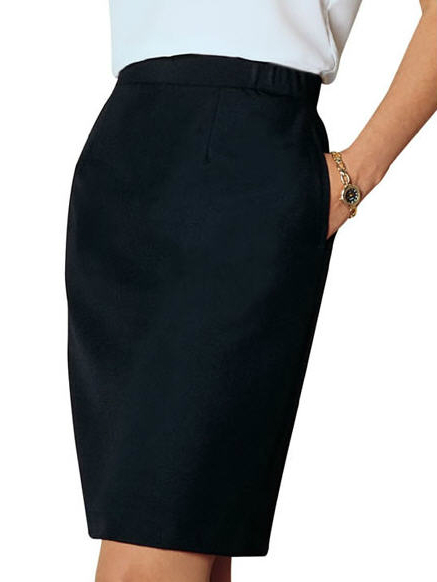 Knee length skirts are ideal for the office; in fact, they are well suited for both business and casual wear. They are a versatile component of many women's wardrobes and they come in a wide array of styles, colours, and cuts. It is a good idea to have at least a few different knee length skirts that can be worn with various other items of work clothing. Accessorising can change the look and feel of the skirt, either dressing it up or down. When considering how to accessorise a knee length skirt for the office, shoppers should choose the right type of skirt, familiarise themselves with the different factors that help them to choose the right accessories, and understand proper sizing. Knee length skirts and accessories can be bought online at eBay.
Types of Knee Length Skirts
There are several types of knee length skirts, including A-line, pencil, wrap, circle, pleated, and tiered. When choosing the best one, consider the formality of the office setting, as well as personal preference.
A-Line Skirts
A-line skirts generally flare out slightly at the hemline, resembling the letter A. These skirts are considered to be universally flattering, and work well on many different body types. Depending on how a woman chooses to accessorise the A-line skirt, it can be either informal or businesslike.
Pencil Skirts
Pencil skirts are considered to be more formal than other types, making them well suited for the office. They are close fitting around the hips and thighs, which can either add or show off curves. To complete the look, consider accessorising with a suit jacket or blazer.
Wrap Skirts
Wrap skirts are best suited for more relaxed office environments. They wrap around themselves before being fastened at the waist. These skirts are often made of cotton, but can be found in other fabrics.
Circle Skirts
Circle skirts tend to be full around the hem, but hang smoothly from the waist without darts, pleats, or gathering. These skirts are cut into sections to make one or more circles.
Pleated Skirts
Pleats can be found on various types of skirt. Some are completely pleated, adding fullness to the garment or have only smaller pleats in particular areas.
Tiered Skirts
Tiered skirts help add shape, creating a more attractive silhouette. Horizontal bands of fabric are sewn together to create the look, so this is a more casual type of skirt, but in certain fabrics it can be appropriate for a work setting.
Body Type
Before picking out a knee length skirt to accessorise for the office, it is important to consider how body type can affect the look of the garment. Women should focus on accentuating their positive features, while downplaying any other areas.
Petite
Petite women should look for straight or slightly flared skirts, such as pencil and A-line, but avoid excessive details. Slender women should choose a skirt that falls just above the knee, while those that are larger on top should consider a skirt that covers the kneecap. Vertical patterns, including stripes or seams, can make a woman look taller, as can an off-centre slit, which gives the illusion of longer legs.
Curvy
Curvy women should choose a knee length skirt with a slight flare to balance out the figure. Consider a skirt with a flat front and back closure. Those that are bottom heavy should choose a skirt that ends at the narrowest part of the knee, while those that carry their weight in the midsection should avoid skirts with defined waistbands. It is also a good idea to avoid skirts with pleats that start at the waist as they may pull open in an unflattering manner.
Boyish
Women that have a straight or boyish figure should choose a pencil skirt in order to give off the illusion of curves. A tiered, pleated, or circle skirt can also add definition to the figure. To add attention to a small waist, consider wearing a wide belt.
Short
Shorter women should choose a tapered, straight or A-line skirt at or just above knee length; skirts that fall below the kneecap can make a woman appear even shorter. An off-centre slit can help elongate the legs, as can vertical embellishments and details. It is best to avoid hem details, patch pockets, and skirts in thicker materials.
Colour of a Knee Length Skirt for the Office
Knee length skirts can be found in every colour imaginable. However, neutral colours, such as white, black, grey, and brown are best suited for the office as they provide a more professional and polished appearance. On the other hand, brighter coloured skirts and those with prints and patterns are quite popular for trendier offices. Floral prints, stripes, paisley, and geometric designs are also appropriate for those kinds of work settings.
Standard Knee Length Skirt Sizes
Most knee length skirts come in standard sizes, making it easy to find one well suited for the office. However, sizes tend to vary significantly depending on manufacturer. This means that it is important to take personal measurements and compare them to those of the skirt.
| | | | |
| --- | --- | --- | --- |
| Single Size | Dual Size | Waist (cm) | Hips (cm) |
| | XXS | 58 | 87 |
| | XS | 63 | 92 |
| | S | 68 | 97 |
| | M | 73 | 102 |
| | L | 78 | 107 |
| | XL | 83 | 112 |
Some manufacturers may also provide measurements on a skirt to indicate the length. If this is not provided, then find the perfect knee length by measuring the distance from the waist, or where the skirt sits on the hips, to the back of the knee where it creases.
Accessorising a Knee Length Skirt for the Office
There are many ways to accessorise a knee length skirt for the office, depending on the look a woman is trying to achieve. Women with larger thighs or ankles may choose to hide them under a pair of mid calf or knee high boots, while more slender women may choose to show off their legs in a pair of high heels. For a more casual office environment, pair the knee length skirt with a blouse, while a blazer can create a more professional appearance.
Bracelets and necklaces or a pair of dangling earrings can complement a knee length skirt and add a touch of individuality to a formal look. The material or colour of the skirt can have also have a direct impact on the type of jewellery that should be worn. Full skirts can be balanced with slender chains, while a pencil skirt can be paired with a chunky necklace.
Buying a Knee Length Skirt and Accessories on eBay
Buying a knee length skirt and accessories online offers shoppers a wide variety of choice in any price range to meet any budget. Buyers can find the right items easily by using eBay's keyword search. Buyers are free to type in any related key terms, such as "knee length skirts". This is likely to render a large number of listings. For more limited search results, buyers should type in more specific key terms, such as "A-line knee length skirts". Further, consumers can search eBay's deals page for skirts and other items.
Alternatively, buyers can use eBay's advanced search function. This allows them to limit their search by price or condition. Buyers can also limit results to products listed by Top-rated sellers. Top-rated sellers are recognised by the eBay community for their high levels of customer service. These sellers receive consistent positive feedback ratings, which are left by past buyers.
Conclusion
Knee length skirts are versatile and can be found in a wide array of colours, cuts, and styles. With the right accessories, the skirt can be dressed up or down accordingly for an office environment. When searching for a knee length skirt, buyers should consider the various types with respect to their body shape. Slender women should show off their figures in a pencil skirt, while plus size women can balance out their look with a slight A-line flared skirt. It is also important consider the size of the skirt because this can have a large effect on the look of the outfit overall. With so many options to choose from, eBay can help any woman find the right skirt for the office.