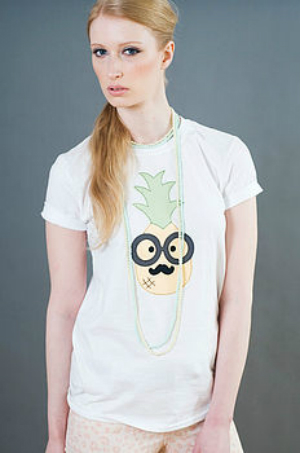 For most men, getting dressed every morning is an automatic action. Depending on one's profession, the choice of clothing available is rather drab so the response is to pull together something simple and classic. Yet, men's fashion is a booming business, despite what it seems. Even though most fashion magazines and websites are dedicated to women's fashion, men have every right to look as good as their female counterparts.
In fact, a few small additions to one's wardrobe has the ability to make a simple item such as a T-shirt something unique and a totally new clothing item. The trick is employing simple fashion tips and learning how to accessorise a T-shirt, as well as where and how to get a great deal on those accessories.
T-Shirt Features to Know
Before moving on to the ways in which a man can accessorise his T-shirt, it is important to designate the types of T-shirts that are available through the common features that clothing makers offer. 'T-shirt' is a term that gets thrown about a lot, meant to apply to several different items. This is why knowing how to classify a T-shirt according to its features, as described in the table below, helps a guy as he begins the accessorising process.
T-Shirt Feature

Description

Options

The shape of the hole at the top of the shirt

Crew neck

V-neck

'U' neck

Fit

The cut of the garment and subsequent way in which that cut clings or drapes around one's body when worn

Fitted

Loose

Baggy

Design

Describes the colour or other design features of the shirt

The options pretty endless, though they all fall into one of the categories at right

Coloured

Graphic

Patterned

Combination of above
Each of the key features described above are important to keep in mind when trying to accessorise a T-shirt. It is only through paying special attention to all three of these elements that one properly matches an accessorising technique with his available wardrobe. In addition, making sure that one owns 'classic' T-shirts that employ some of these key features, such as a solid-coloured, fitted, or crew neck, is important when trying to achieve a maximum amount of utility from one's wardrobe.
4 Ways to Accessorise a T-Shirt
After a man feels comfortable identifying the basic features of any T-shirt, there are a few important fashion tips he can employ to build out his wardrobe to help accessorise that T-shirt. Not all of these four techniques works with all T-shirts, which is why knowing those features is so important. In addition, there are also some T-shirts, such as graphic T-shirts, particularly those with sayings and lettering on them, that need little accessorising since their designs alone serve as an accessory. Therefore, it is important to keep in mind not only these fashion tips, but to carefully consider the types of T-shirts best suited for each of them.
Fashion Tip 1: Use 'Traditional' Accessories
One of the simplest ways to accessorise a T-shirt is through the addition of 'traditional' accessories such as necklaces and scarves. Which of these options one chooses obviously depends on the season, so take a look at each one separately.
Necklaces
No, necklaces are not only for girls. In fact, many men's fashion publications frequently feature men wearing long necklaces in more masculine colours, which are adorned with items such as arrowheads or dog tags, and are secured with fabric or leather. There are also more traditional short gold or silver chains or puka shells that cast a casual 'surfer' look.
Which option one chooses depends on the T-shirt. Short necklaces are best worn with V-necks that are designed to show off the clavicle area, whereas longer necklaces go better with rounded crew or 'U' neck shirts. Long necklaces are best with solid-coloured, fitted shirts, while shorter necklaces pair nicely with patterns and loose-fit shirts as well.
Scarves
During the winter months, the addition of a scarf serves the dual purpose of insulating one's neck from the cold, and accessorising a T-shirt. Scarf/T-shirt combinations under jackets produce a casual, yet sophisticated look and help eliminate the need for layers on brisk days during autumn and spring. Opt for simple, solid-coloured scarves that wrap up high and which complement the colour and/or pattern of the T-shirt. Any neckline works with a scarf since it is essentially covered and many designs work as well. Opt for fitted or loose shirts rather than baggy ones since the goal is to layer, and extra fabric gets in the way of a jacket.
Fashion Tip 2: Produce Some Long-Sleeved Layers
Another great between-season option is to layer classic T-shirts with long-sleeved shirts to create a whole new outfit. This accessorising strategy is best done with loose or baggy T-shirts since fitted shirts may not leave enough room for an extra layer underneath. Try to find a solid-coloured, long-sleeved shirt that complements the colours and/or patterns of the T-shirt. Also, stick with crew and 'U' neck shirts for this type of layering, since V-necks only show off the shirt below in an awkward way.
Fashion Tip 3: Add a Layer on Top
The opposite layering effect is achieved by placing a buttoned, long-sleeved shirt, such as a flannel, or a light jacket or blazer over a T-shirt. These effects either dress down (flannel) or dress up (blazer) the T-shirt look while providing extra warmth. Again, to accomplish this look, it is important to choose complementary colours when layering and focus on simple colours or word-based graphics rather than busy patterns. Any cut of T-shirt works, however, as well as all necklines.
Fashion Tip 4: Add Suspenders or a Belt
The final option for accessorising a T-shirt is to add depth through suspenders or a belt. A more 'fashion forward' move, especially when talking about suspenders, this addition really makes a dull, solid-coloured T-shirt fade away as other items take over the style. When accessorising in this way, stick to fitted T-shirts that are on the shorter side and therefore easily display the belt or suspenders. Also, make sure that the pants worn along with these accessories are actually ones that require them. That is to say, avoid pairing jeans and suspenders at all costs.
Buying Men's T-Shirts and Fashion Items on eBay
There are plenty of places where people shop for men's fashion items and T-shirts. This ranges from high-end stores to discount racks. However, eBay offers buyers one place to find it all. Bringing together over 100 million users from around the globe, registering for an eBay account is easy and gives buyers access to great deals and excellent options when it comes to men's fashion items.
One special feature that eBay offers is a Daily Deals section with new, discounted goods from top sellers. In addition, buyers looking to save money on post costs can find local sellers on eBay who allow buyers to pick up their items in person, which saves money and further personalises the eBay buying experience.
Conclusion
For many men, fashion seems like a losing game. With the world focused on women's clothing, they often wonder if it is even possible to accessorise men's clothes, but so many options exist. An item as simple as a T-shirt presents a whole range of accessorising options that take little to no time and minimal investment.
Indeed, as long as men understand the basics T-shirt features, employing a few simple fashion tips, like adding classic accessories or long-sleeved layers, is very simple. In addition, knowing where to shop for men's fashion saves guys time and money, which is why using eBay is such a great option to buy a T-shirt and all the accessories that go along with it.
Men's T-shirt|Belt|Long-Sleeved Shirt|Suspenders|Necklace