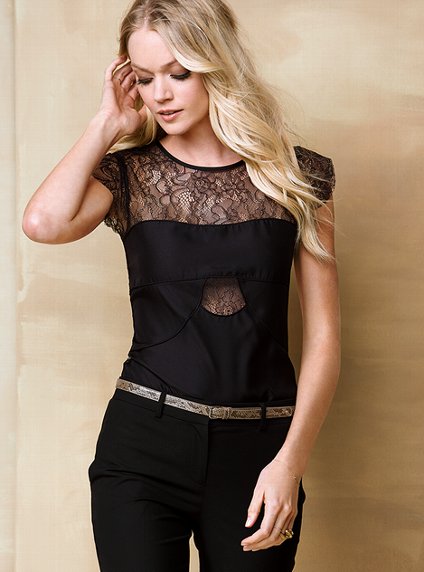 Women can go directly from work to an evening out by using the right accessories for a blouse. Mix and match different accessories to create a range of night-time styles. Accessories can dress up a blouse or create a completely different outfit. The trick is to select the right items and use them in the right combination.
Accessories can include scarves, jewellery, and belts, as well as other items of clothing, like jackets and cardigans. Pieces chosen with an eye for colour and texture always look good together. A blouse can be taken from elegant to flashy by using different types of materials and colours. Accessories for a women's blouse for an evening out can be found in clothing and department stores, and online at eBay.
Accessories a Women's Blouse for an Evening Out
Dressing up a blouse for an evening out is a simple task with the right accessories. Start by choosing a scarf, a few long necklaces, or a belt. Also, consider dressing up a blouse by adding patterns, colours, and layering the outfit.
Scarf for Accessorising a Women's Blouse
A sheer or silk scarf can make the perfect addition to a plain blouse. When choosing the scarf, look at the length and the colour. Patterns and rich, contrasting colours add interest for an evening look. Longer scarves, from waist to floor length, are more dramatic and eye-catching. Consider the way the scarf is worn. It can hang from the neck, across the shoulders, or around the waist of the blouse.
Necklaces for Accessorising a Women's Blouse
A necklace is an easy way to enhance a blouse. Consider beaded necklaces, gold chains, and ropes. These necklaces should be long and feature large beads to draw attention at night. Wear multiple necklaces with an open necked blouse for a layered look. To layer necklaces, wear at least three at a time and pick items that match for a stylish evening outfit. Stick to the same colours or materials, such as all metallics or warm colours. Very long necklaces can be wrapped around the neck a few times for added layering.
Belts for Accessorising a Women's Blouse
Instead of wearing a scarf around the waist of the blouse, consider a belt. This is an easy way to dress up a blouse. Look for wide belts to draw attention to the waist, especially if the wearer is small waisted. Metallic or glittery belts are ideal for a evening out. Skinny belts can work too if they are used to create a dramatic contrast the blouse, for example, wearing a skinny white belt with a black silk blouse.
Garments to Complement the Blouse
As well as accessorising the blouse, consider the other items that could enhance the outfit. Layering garments helps add colour, visual interest, and can offer warmth on a chilly evening. The more stylish and bold the piece that is added to the blouse, the better. Look for bright, contrasting colours, and patterns that highlight the blouse and other accessories.
Jackets and Cardigans to Wear with a Blouse
Structured leather and fabric jackets can make a bold statement. Cardigans and jumpers have a softer look, but can still be eye-catching in bright colours. Elaborate details, like extravagant buttons can create a similar visual effect as accessorising with jewellery.
Vests to Wear with a Blouse
A fitted vest worn over a long sleeve blouse creates a look that is simple and elegant for an evening out. Choose a short vest to highlight the waist of the blouse, or wear a longer version for a more relaxed and casual evening.
Camisoles to Wear with a Blouse
A camisole can be worn under a low-cut blouse. The lacy and silky material peeking out of the top of a neckline adds a sensual, soft look for night-time. Pink and neutral colours are more understated, while dark colours add more contrast between the camisole and the blouse.
Style Themes to Consider when Accessorising a Women's Blouse
Accessorising a blouse for an evening out is best done by combining several elements together. When choosing accessories, try to consider the outfit as a whole to get the greatest benefit from each individual piece. There are a number of styles that offer some guidance on how to pick the right accessories.
Bold Accessories
Make a bold statement by using just a few strong accessories with the blouse. Choose items in contrasting colours to the blouse. For example, if a blouse is white or another light colour, wear a scarf in a dark colour. Alternatively, choose a scarf pattern that matches some of the colours found in the blouse. Use a matching belt to mirror the dark colour in the scarf. Complete the look with beaded necklaces or dark chunky bracelets.
Sleek Accessories
A sleek style is more understated, but still sexy and perfect for an evening out. Accent a low-cut blouse with a camisole and a structured, fitted jacket. The colours should be all matching or within the same colour family to create a stylish and harmonious look. A single gold or silver necklace, or bracelet, helps to complete the outfit.
Elegant Accessories
An elegant look may be just the right style for a evening out. A large scarf featuring an intricate pattern made from sheer silk looks great wrapped around the shoulders or waist. A neutral coloured camisole underneath the blouse can add interest at the neckline. Jewellery should be understated, such as a thin gold chain or even a classic women's watch.
Flashy Accessories
The flashy outfit is all about attracting a lot of attention. Layer multiple metallic necklaces around the neck and wear metal bracelets at the wrist too; the more that are worn, the flashier the outfit. A bright jacket with a large collar and three-quarter sleeves leaves plenty of room for the bracelets. Complete the look with a contrasting belt.
Buying Accessories for a Women's Blouse on eBay
You can buy all of the accessories needed to make a blouse ready for an evening out on eBay. Use the search engine to find a list of items, for example, by entering keywords, like "leather belt". The search engine looks through all of eBay's product listings for matching product descriptions. Buyers can refine the results by adding more details, like a colour. The matching descriptions are then returned in a refined results page. After completing a search, you can browse through the list, reading the item descriptions to get the best idea of what the seller is offering.
If you want to save some extra money on eBay, consider heading to the eBay Deals page. The deals section features tops and accessories at low prices or available with free postage.
Conclusion
Women have many options when it comes to accessorising a blouse for an evening out. Start by looking at accessories that can be used together with the blouse to create an overall night-time outfit. Scarves, necklaces, and belts can all be used in combination with a blouse.
Other pieces of clothing can be worn with the blouse to further enhance it for the evening. A camisole provides a feminine look, while a structured jacket adds warmth on a chilly evening and more visual interest, especially if it has elaborate buttons. Cardigans and jumpers create a softer look, but can be made more eye-catching in bright colours. A vest, either fitted or loose, adds another layer of interest and elegance to a long sleeve blouse. Accessories to make a blouse just right for an evening out can be found on eBay.