To create a beautiful base, start out with a clean face.
Remove all traces of eye and lip make up. Eye Make Up Remover also refreshes and de-congests the eye area, making it ready for the next step in make up. How to Use: Place a small amount of product around the eye area, massaging very gently. Rinse the skin with lukewarm water or remove the product with damp cotton wool.
CLEAN
Simply place a small amount of cleanser on neck, face and décolleté. Gently massage the area. Finally, rinse the skin with lukewarm water or remove with damp cotton wool.
PRIME
Essentially most primers are a light moisturiser to prepare the skin for foundation. The best ones are silicone based and sometimes glycerin is added to give more bulk and to be water binding. These are great for smoothing over pores and fine lines. You can simply use a light moisturiser prior to foundation. If you are excessively shiny through the t-zone Di Kennedy also has the Ultimatte T-Zone Mattifier. Apply to T-Zone to assist in the reduction of shine on hot or long days. Great for oily complexions. Perfect for the hot climates, sticky days and long events.
FOUNDATION
Foundation is a product designed to be use as a make up base, which helps to even out skin tone.
Apply stick foundation or concealer in the areas you really need it. Foundation comes in a variety of textures, shades and levels of coverage. You don't have to use it all over. If you have to blend it too much, get another shade that matches your skin tone better. We offer a matching service in most stockists. Din't be afraid to go out into the sunlight to look.
Di Kennedy recommends the Signature Pink Foundation Brush to apply your Liquid and even stick foundation for an even, quick and seemless base. It's synthetic, so washes out thoroughly and dries quickly, so suitable for professionals too.

The purpose of foundation is to even out skin tone and to minimise minor skin imperfections. Foundation is also pretty much essential if you want to wear eye shadow, as it allows for seamless blending.
* Foundation Stick with SPF18:
Super convenient with buildable coverage, can be applied just to those areas that need coverage or over the whole face. Can also double as a concealer (see notes regarding concealer). Good for professionals. SPF18 also. Either apply directly onto the face or use a foundation brush to swoosh over the top of the stick then apply that to the face. This gives more natural, sheer coverage. These sticks are silicone based, and glide on like silf, with a soft, lightly illuminated finish.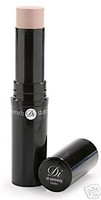 * Liquid Powder Mineral Foundation with SPF 15 :
Medium coverage product, and often has a light moisturising effect which is good for dry or mature skin. Apply the correct shade starting at the forehead, using fingers or a foundation brush, applying in the direction of the hairs in the face. Blend well into the jawline. Photographs well, even with flash.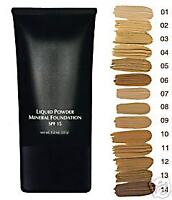 * Tinted Moisturisers with SPF15:
These are a two in one product with a moisturiser and foundation together, usually incorporating an SPF 15. These are great for everyday use, where a teeny bit of coverage doesn't go astray, and sunscreen is the best antiaging product available.
Pigmentation:
If you want to cover pigmentation, it is best not to use a heavy layer of foundation as it will look cakey. The Janssen White Secrets range caters to those wishing to treat age spots and unwanted pigmentation problems while providing a naturally beautiful overall lightening effect to the skin's tone. The Liquid Powder Minerals Foundation by Di is also great for post procedure skin, as it is gentle and cares for skin.
Problem Skin:
Instead of trying to cover the problem, it is a good idea to try to solve the underlying issues of problem skin. It may be hormonal (as with teens or pre/post menapausal women), diet, stress, lifestyle factors or it may be that your skin care range isn't working for you. Please make sure if you have acne prone skin you keep your tools scrupulously clean, especially your foundation brush, and avoid wearing heavy make up to cover skin. Use a well matched concealer where needed only, and a light base if necessary. You will find that the foundation stick provides excellent coverage and skin-true colour matching.
APPLICATION
Use either your fingers or foundation brush. Apply foundation to the nose and mouth area to minimise redness. If you prefer all over coverage, begin at the forehead and blend in the direction of your facial hairs. Make sure that the foundation matches your skin exactly and blend well into the jaw line to avoid a "mask". Only use a little at a time on your brush and add as needed.
Selecting the right foundation colour: Once you have decided on the level of coverage you want, next comes the difficult task of selecting the right shade for you. 90% of women have golden based skin tones and only 10% have beige (or rose) undertones. Unless you are a porcelain beauty, chances are you will need a gold based shade.
Find the 3 closest shades to you skin tone and put a small stripe of each near the jaw line. The one that disappears is your colour. Easy...
CONCEALER
Concealer does what it says and is designed to hide blemishes and under eye circles. Whether you apply it before or after foundation is a matter of choice. Keep to the yellow based shades even if you have pinkish tones, because the majority of blemishes/shadows are pink/mauve undertone, and a golden tone will help to disguise this.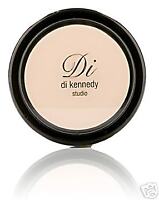 Use an oval or point brush that is the width of the width of the flaw you are disguising (dark circles need an oval about 1cm wide, whereas a pimple only needs a tiny point) and dot the concealer on, carefully blending the edged. The closer the concealer is to the rest of the face, the easier it will be to blend. The lower diagram (right) shows how to conceal under eye circles, with "a" as the darkest area on the face.
POWDER
The purpose of powder is to remove shine and reflect light. There are several types of powder including:
* Loose translucent powder: weightless texture, with sheer coverage. Used over foundation, to "set" make up.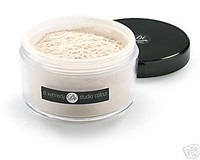 * Pressed powder: more opaque and can also be used alone or over foundation.
Applying powder: You can use either a velour puff (high coverage), circular sponge (medium even coverage) or a brush (sheer coverage).
If you have any further questions regarding bases, please don't hesistate to email us, we have make up artists here to answer any queries you may have.