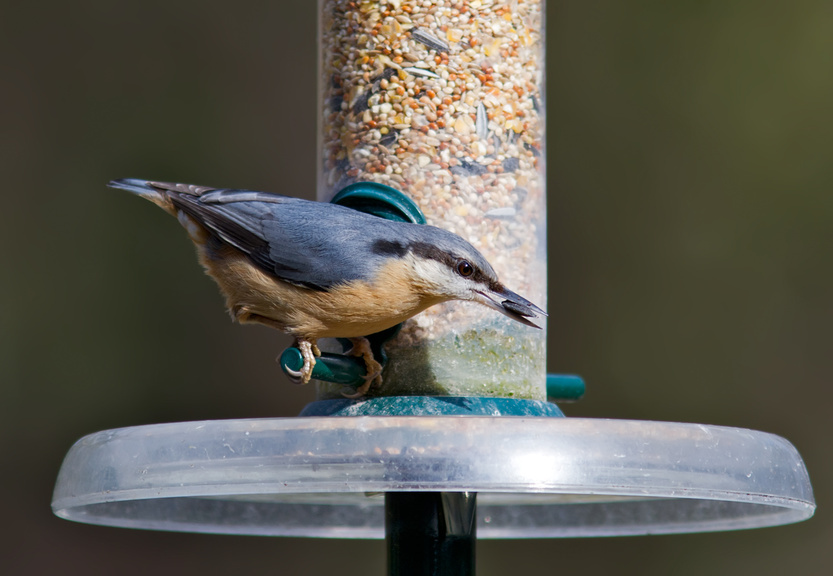 Most people want to attract wild birds to their garden do so simply because birds can be a joy to watch. However, there are other good reasons to feed wild birds. More and more of wild birds' habitats are privately owned and being developed. As such, food can be scarce, especially during winter months. Feeding birds is a good way of giving the birds in an area some extra nutrition and providing a safe haven.
Many homeowners with a garden like to place feeders out for birds. If wild birds aren't used to being fed in that area, however, they might prefer to feast elsewhere. There are ways to draw birds to a new feeder, and potential bird watchers only need to consider a few details to make their gardens attractive to birds.
Choose the Right Feeders
Different kinds of birds are attracted to bird feeders helps to attract a variety of birds.
Platform Feeders
Platform feeders can either come mounted on a post or require hanging. They're more likely attract larger birds (such as members of the parrot family) and ground-feeding birds (such as pittas or scrub birds) than other feeders.
Hopper Feeders
These kinds of feeders can hold a lot of feed, making them convenient to use. However, they must be cleaned regularly to avoid the spread of disease. Depending on the size of the hopper feeder, they can attract a variety of wild birds.
Tube Feeders
Hanging tube feeders usually attract smaller birds – such as wrens, robins, and finches – because larger birds often find them harder to use.
Choose a Good Position for the Feeder
Birds won't visit a feeder if it's in a place they think is unsafe, so be sure to position the feeder carefully. Place it in quiet areas that aren't frequently visited by humans or household pets. Try to position the bird feeder no more than 3 to 3 1/2 metres away from the nearest tree or shrub. That said, it should be easily visible, so it's best to place it in a sunny, open area where passing birds can spot it.
Pick the Right Food
Birds aren't going to be enticed to a bird feeder if there aren't any suitable foods on offer. The type of food to put out depends on the type of birds in the area. In some countries, it's common to feed bread to birds, but this isn't healthy. Look for a wild bird seed mix, which will be suitable for many types of birds. Some birds more commonly consume nectar than seeds, nuts, or fruits, so these species are unlikely to visit a feeder.
Offer a Water Source
Providing a permanent water source will attract birds into a garden, and once they regularly visit that garden, they're likely to stick around and use the feeder. It is possible to purchase bird baths specially designed for this purpose. However, any bowl of water should do nicely. Just make sure to raise it off the ground and change the water regularly. Make sure it's located in an area where birds will have a clear view of it.
Provide the Right Plants for Birds
Another way of attracting birds into a garden is to provide the right sort of plants. Small birds, such as scrubwrens and thornbills, like to have dense shrubs for shelter. These include acacia, hakea, sweet bursaria, and leptospermum. Bigger birds, like as owls, parrots, and magpies, prefer tall trees, such as eucalyptus, banksia, or casuarina. Robins, treecreepers, and wrens, all of which are insectivores, are enticed to gardens with plants like hardenbergia, acacia, and melaleuca.
Buying Bird Feed and Feeders on eBay
Anyone who wants to feed birds in their garden or outdoor space will need to purchase the right equipment. Buyers can find both feeders and seed or other bird foods for sale on eBay. Buyers can find what they need by entering a query into the search bar at the top of the homepage, such as "bird seed" or "bird feeder." Buyers should be sure to review seller ratings, shipping information, return policies, and item descriptions thoroughly before placing a bid on an item or selecting the Buy It Now option.
Conclusion
Attracting birds to a new feeder is simple, as long as the right steps are followed and proper things are considered. Buyers looking for unique merchandise and/or deals should examine the listings on eBay.