Dear friend,
It's easy to bead with ring blank, here some pictures and steps to guide you to start your beads ring making: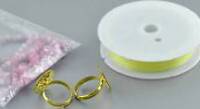 Step 1.
Prepare your favourite
Ring Blank
, desired
Beads
and
Elastic Cords
, if you don't already have them, fell freely to select from my store, it doesn't matter what kinds of beads you use as long as they are appealing to you, but crystal beads are used the most for beaded rings.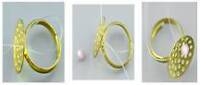 Step 2.
Slip a bead on Elastic Cords, the beads you will be using depends on how many shanks or loops there are on your ring blank. Generally you will only be attaching one bead onto a shank, but you can attach two per shank if you want to get a tighter, larger bead cluster. Repeat the beading steps until all of the shanks on your ring blank are occupied by beads, and then tie a small knot, conceal it under the beads.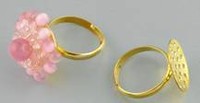 Step 3.
The Beads Ring Blanks will looks like the picture shown, you can exchange the beads easily and conveniently.
Hope you have a happy shopping and jewelry making time!

Hong(Lisa)