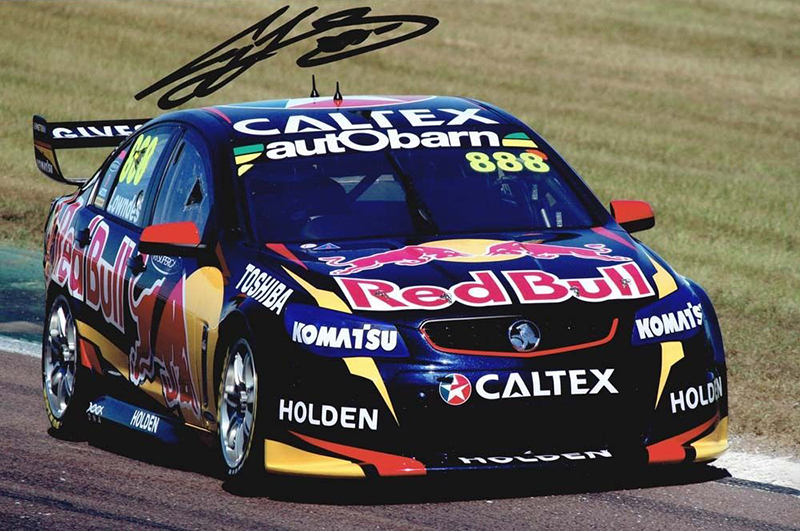 There are two distinct paths to becoming a V8 Supercar driver: to have access to significant wealth, or to develop the talent, self-discipline, and patience to become one of the best race car drivers around.
Attracting Sponsors
Drivers that have the several million dollars needed to field a racing team could potentially find themselves racing rather quickly. An aspiring driver that doesn't have this kind of cash needs to attract the attention of potential sponsors. Sponsors are always looking for new talent, but they are also very selective because the competition among drivers is intense.
The ascent into the stratified world of V8 Supercars is undoubtedly a long and arduous climb for most. Some children begin racing go karts at the age of 7 or younger. Success at each level may eventually take them to the pinnacle of V8 Supercars. Regardless, the trek to ultimate success is definitely a long one. Even with prodigious skills, a driver may not make it to V8 Supercar events for a decade or two.
Competition and Further Success
A future V8 Supercar race driver may move from go karts to Formula 3000 and/or Formula Ford events. Success in 24-hour endurance events around the world can help a driver earn a much-needed reputation as a skilled racer. An invitation to drive in the Australian GT Cup might be another key step.
Driving as a guest in an Australian endurance competition may open doors, especially with a victory or two. An appearance in the Fujitsu series that culminates in a series victory certainly doesn't hurt. Finally, driving for the back half of a V8 Supercar team can eventually lead to becoming a prime-time V8 Supercar driver. If everything along the way goes exceedingly well, a relentless competitor who started racing early in life might become a V8 Supercar racer by the time he's in his twenties.
Becoming a V8 Supercar Driver: A Case Study
Rick Kelly joined the Toll HSV Dealer Team when he was in his early twenties. Kelly says that a "110 percent" focus helped him achieve his dream. The Mildura, Victoria native established himself quickly as he won the 2003 Bathurst 1000 endurance event. He became the youngest driver ever to become the "King of the Mountain" at Mount Panorama. Kelly proved that this tremendous achievement was no fluke when he went on to emerge victorious in the 2006 V8 Supercars Championship series.
Starting Young
In addition to maintaining laser focus from day one, Kelly attributed both his and his brother's success to getting started early. In the highly competitive world of V8 Supercars, the Kelly family saw two of its members achieve membership in this most exclusive of professions. Rick Kelly recalls that his brother was 7, and he was just 3 when they hopped on their first motorbikes. Go karting started just two years later. Kelly recalled how his father would run behind him just in case something went awry.
Higher-Level Competition
Formula Ford competition commenced at age 17 for Rick. The single-seat cars represent the point-of-entry into motor racing for many. His success quickly catapulted him into driving Formula V6 Holdens just a year later.
The Holden Young Lions recognised Kelly's prowess, and the organisation mentored him through more Formula Holden success before introducing him to racing big V8 Holden Commodores. Rick Kelly had the many critical abilities needed to excel in supercars, and he made it into the winner's circle just five years after his first Formula Ford race.
V8 Supercar Driving Success
Once the pinnacle of V8 Supercar success is achieved, Kelly says that it's a demanding task to remain there. He cites the full-time nature of a job that includes numerous sponsor appearances and serious physical training. He relates that temperatures inside the car can reach 60 degrees, and that peak performance is consistently demanded during races that last two hours and more.
The successful V8 Supercar driver will also spend a fair amount of time in meetings. There are debriefings following races and planning meetings that prepare for future events. In Kelly's case, he relates that only six days a year are set aside for actual test drives. To prepare for those test drives, engineers, mechanics, the team manager, and data analysts all work hard to find every possible way to optimise speed and performance.
Conclusion
Becoming a V8 Supercar driver requires years of persistence and hard work, beginning in childhood. The numerous examples of V8 Supercar memorabilia for sale on V8 Supercars models can inspire those young drivers to become accomplished motorsport racers one day.