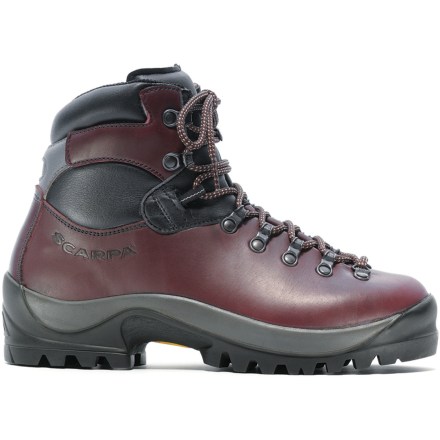 Hiking Boots in General
Hiking boots are the most important piece of equipment for hikers. The comfort and durability of the boot dictates how far, fast, and safely a hiker is able to travel. They must be durable enough to handle inclement weather, rugged terrain, and steep climbing, yet flexible enough that the user is able to wear them for extended periods of time without pain or discomfort.
Hiking boots aid in supporting the feet and legs of a hiker, and help prevent injuries such as twisted ankles and foot injuries. Furthermore, the additional support provided by the sole of the hiking boot makes carrying loads easier on the hiker. Some hiking boots may be waterproof, while others may be made more breathable for warmer and drier climates.
Types of Hiking Boots
Hiking boots generally break down into three different categories. The activity the buyer intends to use the hiking boot for should dictate the type of boots to ultimately consider. Hiking boots range from heavy duty mountaineering boots to streamlined trail running shoes. The chart below outlines the most popular types of hiking boots and the activities they are designed for.
| | | |
| --- | --- | --- |
| Trail Shoes | Trail Hikers | Mountaineering Boots |
| Light hiking | Steep, rugged terrain | High altitude |
| Trail Running | Soggy, wet conditions | Ice travel |
Trail shoes are the most versatile. Trail shoes may be worn for both light hiking and just as a casual shoe that is often thought of as a more durable sneaker. Trail hikers are the most familiar as they are similar to any type of work boots. Since they are usually worn in wet conditions, waterproofing is essential. Finally, mountaineering boots are highly specialised items used only in high altitude situations where ice is likely to be encountered. Mountaineering boots are often compatible with crampons to assist with slippery conditions.
Trail Shoes
For shorter trips where heavy loads are not going to be carried, trail shoes are the choice of most hikers. Within the trail shoes category, there a few varieties. Some extremely lightweight and stripped down versions, commonly known as trail runners, are available. These are typically used by runners who wish to travel long distances in the shortest amount of time. These runners often do not have any sort of pack so the need for support is minimised. Trail shoes may offer may support and be a good choice for shorter hikes where only smaller loads are required.
Trail Hikers
Trail hikers refer to the boots that we are most familiar with. They may be leather or synthetic. This is an important consideration in regards to fit, as synthetic materials do not stretch. Conversely, leather boots may stretch over time so buyers need to size the boots appropriately based on the material they are made of. They are an excellent choice for general hiking where the user expects to carry a significant load.
Trail hikers are often very sturdy and waterproof. They may offer additional ankle support and also protect against roots, rocks, and other protruding objects that pose a potential danger, but they also come in ankle cut models for lighter applications. For any extended periods of time out in the backcountry where it is not a high altitude situation, trail hikers are an excellent choice.
Mountaineering Boots
Mountaineering boots are highly specialised. They are basically only used for high altitude applications where lots of snow, ice, and cold is going to be encountered. They are often very sturdy and in some cases, are actually made of hard plastic with a soft liner inside. Mountaineering boots are also very rigid to assist the user when they are used in conjunction with crampons. Crampons are a set of spikes attached to the foot to help users navigate over slick terrain that is usually covered in ice and snow. They are also intended to be used for ice climbing applications as well.
How to Break in a Pair of Hiking Boots
There are a variety of considerations and methods when it comes to breaking in hiking boots. The first thing for users to consider is what type of hiking boots they are trying to break in. Different materials require different strategies and amounts of time for breaking them in. Leather hiking boots for example, stretch more than synthetic boots do. Therefore, buyers should size leather hiking boots somewhat smaller than they would with synthetic boots. Some mountaineering boots require the liners to be "heat moulded" to the foot which requires specialised equipment.
A good basic strategy is to first find a hiking boot that fits snugly. From there, plan out appropriate shorter hikes. The best way to break in hiking boots is simply to put in the time to log some mileage on them. What buyers want to avoid is planning a long hike with new boots as any discomfort is going to be magnified exponentially. There are some other less recommended strategies such as wearing the boots in the shower, wearing extra pairs of socks to stretch the boots out, and leaving shoe horns in overnight. These methods are of questionable effectiveness and are certainly not recommended by the manufacturers.
How to Buy Hiking Boots on eBay
Buying hiking boots online is made affordable and simple when buyers use eBay for their shopping needs. One thing for buyers to consider however is that trying the boots on prior to purchase is essential. Therefore, buyers should not hesitate to purchase the hiking boots on eBay as long as they have a chance to physically try them on prior to purchasing.
eBay has many different intuitive search functions that assist shoppers in finding the ideal product amongst eBay's huge selection. Shoppers may search by keyword or category and then refine, sort, and organise those results until they have honed in on the items with the specific features that appeal to them. eBay also has other avenues of purchasing items such as their deals website and other buying formats.
Conclusion
Hiking boots are a necessary item for anyone who wants to travel in the outdoors or in the backcountry. They provide support and protection for hikers, trail runners, and mountaineers. They are also useful in protecting against inclement weather. Like any shoe, it is imperative that hiking boots are sized appropriately. Depending on the type of boot and the material it is made out of, the fit may be different from model to model. Some materials stretch more and some types of hiking boots should fit more snugly than others. Regardless, the buyer must be very clear about how they intend to use the product to guide their final purchasing decision as not all hiking boots are suitable for all activities.
Hiking Boots|Trail Shoes|Trail Runners|Trail Hikers|Mountaineering Boots