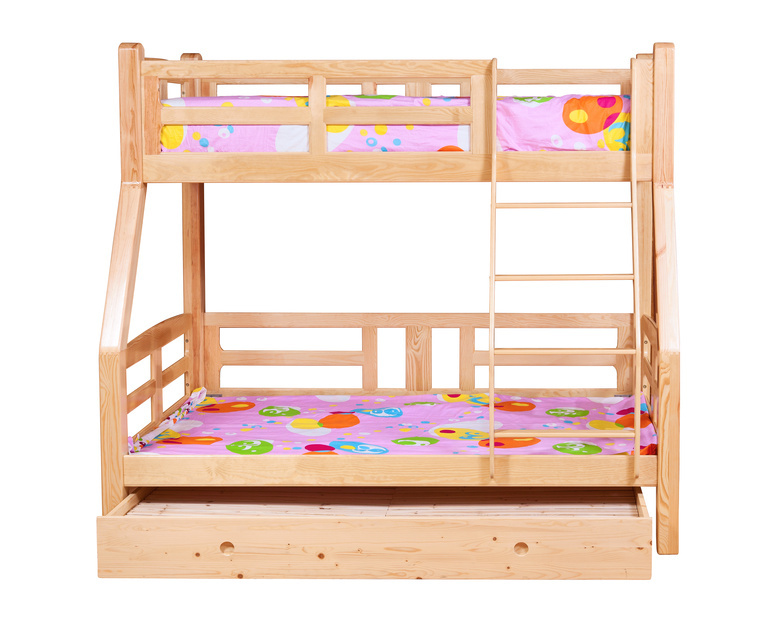 Building a bunk bed is a rewarding activity that creates a finished product to pass on to future generations. Use high-quality materials to ensure safety, but save money wherever possible. Decide which style of bunk beds is best before purchasing plans and material. Keep size requirements in mind, and make the beds standard in order to make buying mattresses easier. Purchase all necessary materials and plans, and then begin constructing the new beds.
Design Choices
Deciding which bunk bed design to go with is very important. There are many different designs and plans available on eBay. Amalgams of features can leave do-it-yourself builders with a weighty decision to make. Compare features and decide which choices are best for kids' bedroom sizes, storage needs, and imaginative desires.
Bed Size
Children of different ages may have different needs when it comes to the size of the bed. For example, larger kids may need more room. If the beds are holding children of different ages, a large bottom bunk and a smaller top bunk is an excellent option. When customised to fit the needs of the sleepers, beds become unique. However, finding mattresses for custom bed sizes can be costly and time consuming. When purchased in a standard size, finding bedding is easy. If customising the size of the mattress, plan on special ordering sheets at a premium rate or sewing them at home at a significant time investment.
Building Materials
Cheap bunk beds are often comprised of compressed wood or metal. It is very easy to order bunk bed building kits on eBay or from other websites. Assembly is quick, but quality is sometimes questionable. Because safety and durability is paramount, using high-quality materials is necessary.
The most popular building materials for bunk beds are pine and cedar hardwood. Cedar is generally more expensive than pine, but its distinctive scent lingers for years. To reduce costs, use plywood to support the bed mattresses rather than hard wood slats.
Custom Bunk Bed Features
Customised beds include many unique features. With the right building diagrams and blue prints, building a set of bunk beds with storage drawers, slides, steps, ladders, princess towers and book shelves is easy. Look online for special customised plans that include standard bed sizes but features that are unusual and useful.
Tips and Tricks
Materials are expensive, so it pays to proceed with caution. Never use nails to construct the bunk beds because they fall apart too quickly and could be dangerous. Instead, use wood screws or nuts, washers, and bolts. Measure twice and cut once. Use a paddle drill bit or self-tapping screws to avoid cracking boards when using screws. When working with children, be sure to use safety equipment and instruct the children very clearly and concisely. Never allow a child to use saws without adult supervision.
How to Find Bunk Bed Plans on eBay
eBay offers many different styles of bunk beds, design plans, and building materials. Search for simple terms, such as 'bunk beds'. Purchasing beds online can be more expensive than building your own. Plans are affordable and easy to follow. Building bunk beds at home can be a rewarding activity for families, and these beds tend to linger in the memories of your children for years to come.
Homemade furniture is precious to family members, and is a worthy household item to pass on to children and grandchildren. Begin building your bunk beds today and enjoy the benefits for years to come.